Beefeater 24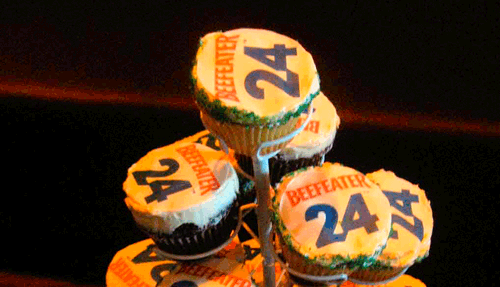 While we here at the Drink Nation try our hardest to stay out of politics, we were recently invited to a tea party that we just could not refuse. It was for the launch of Beefeater's newest product: Beefeater 24. You may be asking yourself what gin has to do with tea, and the answer is, well, everything! Beefeater 24 represents a contemporary take on London gin, in which twelve natural botanicals are steeped in fine grain spirits for 24 hours.
To the palate, Beefeater 24 has an obvious subtlety not found in your typical London gin. While there are definite citrus notes provided by Seville orange, grapefruit, and lemon peels, there is also the presence of something else that one may be shocked to learn, is tea. Over an incredible 18-month period, Gin Master Distiller Desmond Payne found the perfect combination of rare Japanese Sencha tea and Chinese green tea, which creates a gin that contains both complexity and simplicity: perfect for your standard martini or your complex mixology-derived concoction!
We urge you all to go out and throw your own tea parties with Beefeater 24, and to help, here are a few recipes developed by master mixologists exclusively for Beefeater 24:
The Fourth Golden Scarab
Created by Preston Eckman of Apothecary, Philadelphia
2 Parts Beefeater 24
3/4 Parts Lillet Blanc
3/4 Parts Yellow Chartreuse
10 rosemary leaves
Muddle 10 rosemary leaves and a lemon peel then add the Beefeater 24, Lillet Blanc and Yellow Chartreuse. Stir gently and double strain into a cocktail glass. Garnish with a rosemary sprig wrapped in a lemon twist.
24 Martini
Created by Dan Warner
5 Parts Beefeater 24
1 Part Lillet Blanc
2 Dashes of Regan's Orange Bitters
Stirred and served up with a grapefruit twist.
Triple Citrus 24&T
2 Parts Beefeater 24
1 Part Fever-Tree Tonic


Recent Articles
Where to Drink on Memorial Day Weekend in Washinton, D.C.
B Too Brings More Beer to Logan Circle
Memorial Day Drinks: 5 Fun and Easy Summer Pitcher Cocktails
Feedback
How are we doing? Tell us what you like or don't like and how we can improve. We would love to hear your thoughts!