Beer Review: Sam Adams 26.2
A marathon's worth of refreshment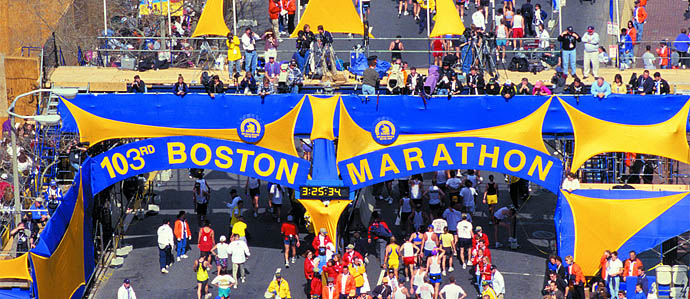 Most runners will agree — a good, cold beer is just the thing they're looking for after a long, hard run. In fact, some people I know (myself included) run mostly to make up for the all the good beers they enjoy! In celebration of the Boston Marathon, and as the official beer sponsor of the race, Samuel Adams gives runners (and non-runners) a new option to look forward to this year — the 26.2 Brew.


26.2 is named for the distance that the marathoners will cover. It's a Gose, a beer style that while new for me, is actually quite old. It's a German style beer brewed with over 50% wheat, and flavored with coriander and salt. As a runner and beer lover, I was excited to try this one.

The pour is a deep amber honey. The smell is light, with lemon, some spices and malted wheat coming through. The taste follows suit — I got lots of the malted wheat, some citrus zestiness, and some spice. I was curious as to how the salt would play in the flavor of this beer, and for the most part it came through as an after-taste on the back of my tongue. This is a very light (4.5% ABV), refreshing beer with a good deal of carbonation that is really ideal after a good sweat session.

Boston Beer is only offering the beer on draft at around 100 local Massachussetts establishments, in leadup to the race itself, but if response is good enought, they might eventually expand distribution. Whether you're a marathoner or couchsitter — or anything in between — the 26.2 Brew would be a beer to try if you want to feel refreshed.
Top photo via Greater Boston Convention & Visitors Bureau on Flickr; Bottom photo via Samuel Adams blog courtesy of Michael Casey
Recent Articles
Sign Up for Early Word on Brad Pitt and Angelina Jolie's Next Wine Release
DC Central Kitchen Sound Bites Food and Music Festival, May 19
Where to Find Boozy Milkshakes in Washington, D.C.
Feedback
How are we doing? Tell us what you like or don't like and how we can improve. We would love to hear your thoughts!