America Eats Tavern Cocktail Classes: The Whimsy of Whiskey
Learning about booze is fun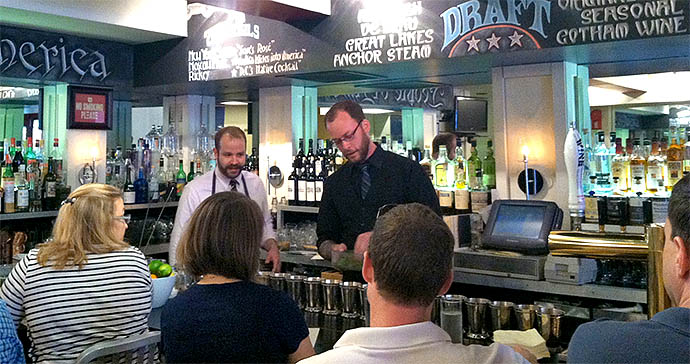 Would you spend $50 and your Saturday afternoon to learn about levies to the Whiskey Tax of 1791? You would if that $50 included four full-size cocktails, two scholarly bartenders, and endless small plate samplings of a José Andrés menu.

Though the sold-out June 9 edition of the monthly America Eats Tavern cocktail classes — which attract history buffs and day-drinkers alike from all over the metro area — is the last on the schedule, there are rumblings that more may be added soon, so stay tuned for your chance to snag a ticket.

Whiskey was the guest of honor at the May course, where Owen Thomson, beverage director of ThinkFoodGroup, led the class in a rousing lesson on the history of the traditionally rye distilled spirit. While he gave a lengthy background of its origins, this ain't your seventh grade history teacher's lecture on the Whiskey Rebellion.

After learning what whiskey actually is (anything that ferments naturally from rye, corn, barley, or wheat), Thomson gave a preamble about each of the four featured cocktails (Mint Julep, Old Fashioned, Manhattan, and Ward 8), while his sous-bartender crafted the drinks. Read on for details on the sips, including history, tasting notes and recipes.

Mint Julep
"Like a woman's heart, it gives its sweetest aroma when bruised"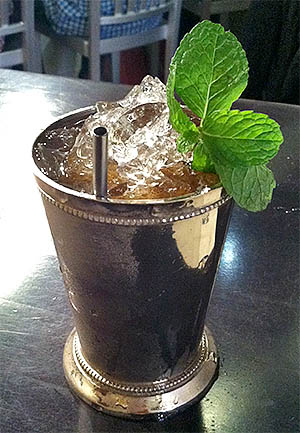 Born in Washington, D.C. but bred in the South, the Julep is synonymous with the Kentucky Derby. Though it has its roots in medicine, it was traditionally considered a breakfast drink. At night, men (and women) would go to the bar, have a shot (or several) of bourbon, then to cure what ailed them the next morning, would drink Juleps, or cocktails in general, for breakfast.

The Julep was once considered a drink of nobility, as ice — a vital ingredient — was an expensive commodity and a rare luxury in the 1800s, with very few households owning iceboxes.

Today, however, the Mint Julep is readily available at bars and horse tracks across America. It is made with 2½ oz. bourbon, ½ oz. simple syrup, and 10-12 pressed mint leaves. Buyers beware: if you're looking for the super sweet version of this drink, tell the gents at America Eats to add a little more simple syrup to the mix, as these men are julep purists.

If you really love Mint Juleps or cocktail making in general, check out the original recipe for the Mint Julep. There was once an entire book dedicated to this southern delight. If ever there was poetry in drinking…


Old Fashioned
"The drinking woman's cocktail"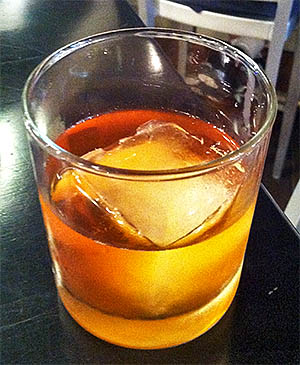 By the 1800s, mixing drinks was a common practice among Americans, though there were very few guidelines for what constituted a cocktail. While there are many tales that claim the invention of the Old Fashioned, the idea of the drink stemmed from bar-goers wanting a traditional, old fashioned cocktail, without a lot of other fuss.

Interestingly enough, the Old Fashioned can be quite the mélange, though typically it is made with 2 oz. bourbon or rye, ¼ oz. simple syrup and 3 dashes Angostura bitters, served over a cube of ice, with a twist of a lemon or orange peel, depending on which type of bourbon is used.

While drinking an Old Fashioned, it is hard not to be transported to the Mad Men era, where it is proudly considered the drinking woman's cocktail. It's true, the Old Fashioned is Betty Draper in nature: sweet on the outside, hard on the inside, and best left to small sips.


Manhattan
"The king of cocktails"

Named for the eponymous borough, and not the nightclub that Churchill's mother allegedly frequented, as it has been inaccurately told, the Manhattan is made of 2 oz. bourbon or rye, 1 oz. sweet vermouth, 2 dashes Angostura bitters and garnished with a cherry. It — along with the Old Fashioned — is considered one of the six basic quaffs listed in David A. Embury's 1948 book The Fine Art of Mixing Drinks.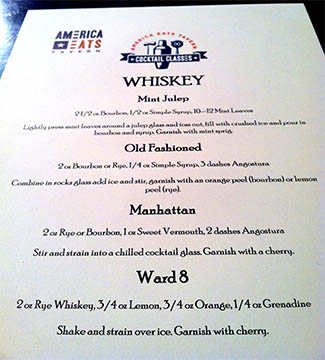 What is so riveting about the Manhattan is the use of vermouth, which is a fortified wine that expires quickly after but a few days (for dry), or a few weeks (for sweet). After that time, the pleasant herbal flavor changes rapidly; refrigeration is required to prolong its lifespan.

The Manhattan has long been hailed as the king of cocktails, and nowadays seems to be a staple among the Depression-era crowd.

Ward 8
"1934's Cocktail of the Year!"

No, Councilman Marion Barry has nothing to do with the name of this drink, as it was created in 1898 in Boston. For many years, it was a delight only known to Massachusetts, until 1934, when it rose to popularity after being named "cocktail of the year" by Esquire.

Though there are many variations for how this drink can be mixed, America Eats Tavern makes it with 2 oz. rye whiskey, ¾ oz. lemon juice, ¾ oz. orange juice and ¼ oz. Grenadine, which it is shaken, strained over ice and garnished with a cherry. Note that if bourbon is substituted for rye, and the orange is omitted, you have yourself a Whiskey Sour.


If whiskey isn't your thing, not to worry, there are plenty of other craft drinks to be enjoyed at America Eats. It would behoove any palate to visit the Penn Quarter establishment, where the bartenders, so full of unassuming virtue, are ardent practitioners of craft cocktail making.
Photos by Marie Coleman
Recent Articles
Sign Up for Early Word on Brad Pitt and Angelina Jolie's Next Wine Release
DC Central Kitchen Sound Bites Food and Music Festival, May 19
Where to Find Boozy Milkshakes in Washington, D.C.
Feedback
How are we doing? Tell us what you like or don't like and how we can improve. We would love to hear your thoughts!