Five SAVOR 2012 Breweries We Wish Had Wider Distribution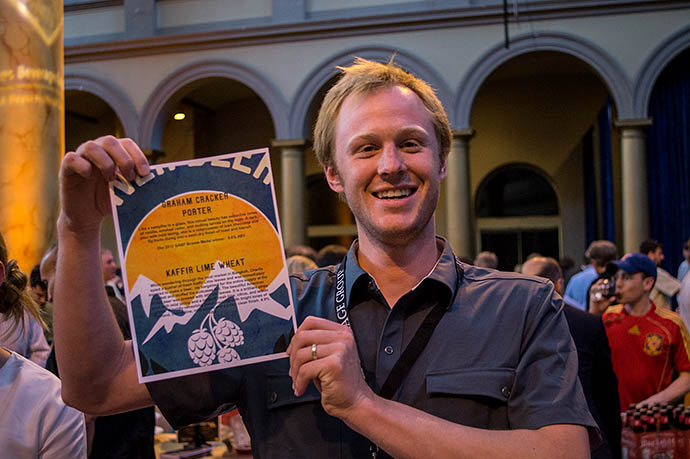 Charlie Berger of Denver Beer Co.
Over the weekend, we were lucky enough to attend SAVOR, the Brewers Association's annual craft beer and food festival. Along with the larger craft brands that help sponsor the event — think Sam Adams, Rogue and New Belgium — any of the nearly 2000 independent brewhouses in the U.S. can apply to present their wares. A lottery determines the final lineup each year, resulting in a wide variety of brewery types and sizes on display.

This means when beer-lovers, writers and experts from across the country descend on the National Building Museum, several of the beers to sample aren't usually available outside the breweries' home states. That tease is one of the (fun) side effects of the craft beer boom, but several of the pours we tasted left us wishing we could easily try them again. Read on to check out five breweries we would love to see expand in the near future.

Capitol City Brewing Co.
After launching the first brewpub in Washington, D.C. since prohibition in 1992, founder David von Storch expanded his concise portfolio to a second, Arlington, VA location. After our taste buds were shocked to attention with a sip of head brewer Mike McCarthy's cleverly titled Tripel/Double, we were left wishing the team would expand further. As the name suggests, this golden ale was a Belgian tripel and a double IPA, and somehow combined the sweet maltiness of the former with the bright bitters of the latter for a unique and pleasing sip. Another seasonal we're itching to try is the Cherry Blossom Ale, made in honor of D.C.'s famous festival with over 300 pounds of real cherries.

Coop Ale Works
Only Oklahomans get to enjoy the creations of this Oklahoma City-based commercial brewery, founded in 2008. DNR is a worthy Belgian-style strong ale that hides its 10% ABV with aplomb. Complexity comes from dried fruit, cinnamon and vanilla that mixes with the Noble hops for an altogether pleasing, though powerful, sip. The team of head brewer Blake Jarolim and co-founders Mark Seibold, JD Merryweather and Daniel Mercer already have a production brewhouse in operation, so it shouldn't be so tough for them to start crossing state lines. Please?

Denver Beer Co.
The cookie-campfire taste is so obvious in the Graham Cracker Porter from this Colorado-only brewery that when brewers Charlie Berger and Patrick teased they used actual graham crackers in the brewing process, we were tempted to believe them. This 5.9% ABV Great American Beer Fest bronze medal winner is one of their standards, and uses smoky malt and chocolate to achieve the flavor. Hitting the completely opposite side of the palate was the Kaffir Lime Wheat, a bright, lightly sour session sip that goes down smooth with a touch of tropical blossom, thanks to the exotic citrus. The brewery recently increased production, so there's hope we'll get our lips on more offerings sometime soon.

Odd Side Ales
True to their name, this Grand Haven, MI brewery produces beers that feature unusual flavors and combinations. Judging from the two that we tried, they avoid falling into the trap of gimmick, producing sips that are actually pleasant. Derelicte Pineapple IPA is not at all sweet (which we expected) with the namesake fruit adding just a touch of the tropics to the citrus and hops, creating a very refreshing — albeit 6.25% ABV — sip. On the other hand is the Mayan Mocha Stout, which tempers its obvious sweetness with a touch of chilli pepper for a well-rounded body and interesting finish.

Wilmantic Brewing Co.
From this brewpub and restaurant - located smack in the center of Connecticut along the banks of the Wilmantic River - we tried the Flowers Infusion. Brewer David Wollner's saison is a winner for those who enjoy floral scents in the nose, thanks to the variety of buds used in the brew: hibiscus, calendula and rosebuds. There are just enough Marynka hops, however, to add a slight bite, and at 5.9% ABV, a touch of alcohol keeps the sip from being overly sweet. Pony Espresso Stout was the other option, and the seven-malt black ale is packed with three espresso infusions, creating a pick-me-up pour we wish was available at home.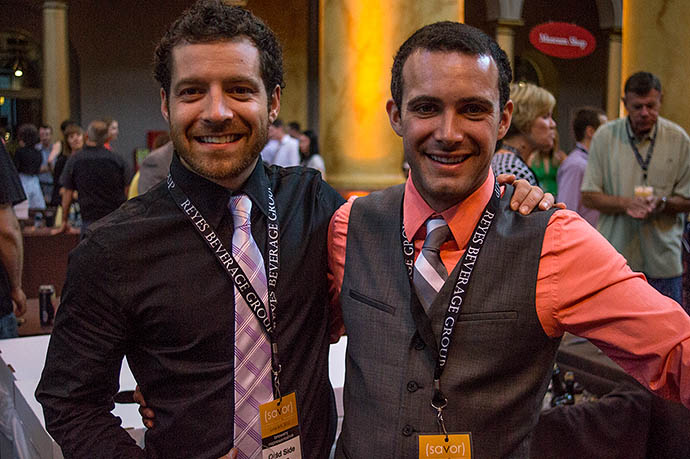 Odd Side Ales representing in style
Photos by Danya Henninger
Recent Articles
Sign Up for Early Word on Brad Pitt and Angelina Jolie's Next Wine Release
DC Central Kitchen Sound Bites Food and Music Festival, May 19
Where to Find Boozy Milkshakes in Washington, D.C.
Feedback
How are we doing? Tell us what you like or don't like and how we can improve. We would love to hear your thoughts!