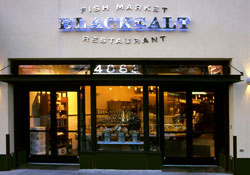 Address
4883 MacArthur Blvd
(V & MacArthur Blvd)
202-342-9101
www.blacksaltrestaurant.com
Neighborhood
Georgetown
About
BlackSalt Fish Market & Restaurant, Washington's premier seafood restaurant, is wholly committed to the sustainability of fish and shellfish stocks worldwide. We constantly strive to source our products from companies and individuals who are like minded. Through conscientious consumption and education we can all work to protect the invaluable resources that are provided to us by the sea.
Events
06/19 - DC's Top Chef's Featured at Chef's Best
Time: 6 PM
Enjoy and evening of food and drink, an exciting auction and the chance to help.
Monday
Happy Hour (4:00 pm - 7:00 pm): Special food and drink menu
Tuesday
Happy Hour (4:00 pm - 7:00 pm): Special food and drink menu
Wednesday
Happy Hour (4:00 pm - 7:00 pm): Special food and drink menu
Thursday
Happy Hour (4:00 pm - 7:00 pm): Special food and drink menu
Friday
Happy Hour (4:00 pm - 7:00 pm): Special food and drink menu
Saturday
Happy Hour (4:00 pm - 6:00 pm): Special food and drink menu
Sunday
Happy Hour (4:00 pm - 6:00 pm): Special food and drink menu
Beers on Tap
Brooklyn Lager
Star Hill IPA
Amstel Light
Speciality drinks available
Full Bar