Type
Bar/Pub
Restaurant
Wine & Spirits
Cuisine
Italian small plates, pasta, grilled meats, seafood, and oyster bar. Click here for full menu.
Average Drink Price
$10 and up
Average Food Price
$15-$20
Hours of Operation
Mon-Thu: 11:30 AM-10 PM; Fri: 11:30 AM-11 PM; Sat: 4:30 PM- 1 AM
Atmosphere
Casual
Impress a Date
Relaxed
Dress Code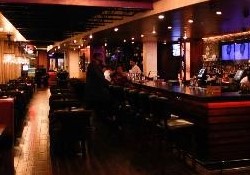 Address
1518 K Street NW
(K street NW and 16th Street NW)
202-969-2858
www.catch15dc.com
Neighborhood
Downtown
About
From Catch 15's Website:
Catch 15 Italian Kitchen + Oyster Bar is a chic and relaxed gathering place in the heart of downtown DC, offering a bi-coastal variety of freshly shucked oysters and Italian dishes. Chef Vincent Torres takes pride in his housemade pastas and gnocchi, grilled meats and other trend-setting dishes.
Monday
Happy Hour (4:00 pm - 8:00 pm): $5 select beers, wines and cocktails; $1.50 oysters of the day and $4-8 food menu (available at the bar, hightop, couches and outdoor patio only)
Tuesday
Happy Hour (4:00 pm - 8:00 pm): $5 select beers, wines and cocktails; $1.50 oysters of the day and $4-8 food menu (available at the bar, hightop, couches and outdoor patio only)
Wednesday
Happy Hour (4:00 pm - 8:00 pm): $5 select beers, wines and cocktails; $1.50 oysters of the day and $4-8 food menu (available at the bar, hightop, couches and outdoor patio only)
Thursday
Happy Hour (4:00 pm - 8:00 pm): $5 select beers, wines and cocktails; $1.50 oysters of the day and $4-8 food menu (available at the bar, hightop, couches and outdoor patio only)
Friday
Happy Hour (4:00 pm - 8:00 pm): $5 select beers, wines and cocktails; $1.50 oysters of the day and $4-8 food menu (available at the bar, hightop, couches and outdoor patio only)
Saturday
Happy Hour (4:00 pm - 8:00 pm): $5 select beers, wines and cocktails; $1.50 oysters of the day and $4-8 food menu (available at the bar, hightop, couches and outdoor patio only)
Sunday
Brunch (11:00 am - 3:00 pm): A 3-course meal along with a mimosa, champagne, Bellini or Bloody Mary for just $28 or make the drink bottomless for an extra $15