Bars in D.C. Open on New Year's Day
Hair of the Dog?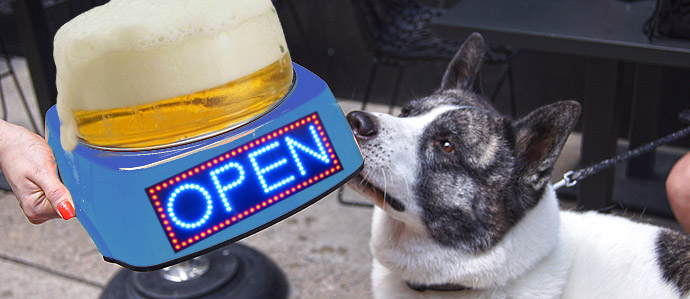 The first day of the year offers tipplers an interesting conundrum: after partying the night before (and – to be honest – most of the week before), what should one do on January 1? Some may choose to spend the entire day in bed, alternately dosing with aspirin and chocolate. Others might get the kinks out by taking to nature with a bike ride or hike. And then, there's the rest of us, who know enough to get our hair of the dog on at one of the several bars and restaurants open just for us. Check our list of open establishments and specials below. Happy New Year, and Happy Recovery!
51st State Tavern: Open at 12:30 PM; showing NFL games; drink specials throughout the day
Acadiana: Open at 11 AM
Agora: Open at 11 AM

Argonaut: Open 10 AM–3 PM for brunch; open for dinner at 5 PM
Asia Nine: Open at noon
Birch & Barley: Open 11 AM–4 PM
The Black Cat: Open 8 PM–2 AM; "Post-Amateur Hour Happy Hour" with $5 Jameson, Maker's Mark, Dewar's 12, and Crown Royal
The Blaguard: Open at noon
Blue Duck Tavern: Open at 11 AM
Breadsoda: Open at noon
The Bottom Line: Open 11:30 AM–2 AM; NFL Sunday Ticket; NCAA basketball; NHL games
The Bungalow: Open 11 AM–2 AM
Chef Geoff's (New Mexico Ave.): Open 11:30 AM–3 PM for brunch; open 4 PM–close for dinner
ChurchKey: Open at noon
Cuba Libre: Open noon–9 PM
Dino: Open 4–8 PM; until 7 PM $3 off antipasti, $5 cocktails and wine, $4 craft beers
District Commons: Open at 11 AM; $1 Bloody Marys and mimosas with a brunch entree until 4 PM
Duffy's Irish Pub: Open at noon; football all day
El Centro DF: Open at 11 AM
Eighteenth Street Lounge: Open at 9 PM
Firefly: Open 9 AM–11 PM; $2 mimosas from 9 AM–2:30 PM; 1/2-price bottles of wine from 5:30–10 PM
Fruit Bat: Open 1–7 PM

Green Lantern: Open 4 PM–2 AM; from 4–9 PM $3 Smirnoff drinks; 9:30 PM Trailer Park Karaoke; free iPhone, Droid and Blackberry charging
Hank's Oyster Bar: Open at 11 AM
Jimmy Valentine's Lonely Hearts Club: Open 10 PM–2 AM
Little Miss Whiskey's Golden Dollar: Open 5 PM–2 AM
Marvin: Open noon–10 PM
Masa 14: Open at 11 AM
McFadden's: 11:30 AM–midnight; $12 bottomless Bloody Marys, mimosas, domestic drafts; 1/2-price burgers
Northside Social: Open 8:30 AM–10 PM
The Queen Vic: Open at noon
Red Derby: Open 11 AM–3 PM for brunch
Rhino Bar & Pumphouse: Open noon–7 PM with $8 pitchers of Miller Lite and Coors Light and 25-cent jumbo wings; open again at 8 PM with $20 open bar 8–10 PM and Champagne toast at midnight
Rocket Bar: Open at 4 PM; from 4–7 PM $4 glasses of wine, Champagne, rail drinks and draft of the month
Smith Commons: Open 11 AM–3 PM; $5 bottomless drafts; bottomless mimosas for those who dined at Smith Commons on New Year's Eve
Town Tavern: Open noon–2 AM; during NFL game $3 domestic bottles, $8 domestic pitchers, and $10 pitcher and wing basket combo
Urbana: Open at 8 AM; $16 bottomless Bellini bar during brunch
Note: our editor does not feel at all bad about suggesting her Akita might drink beer in the above image, but please know that no animals were gotten drunk in the making of this Photoshop
Feedback
How are we doing? Tell us what you like or don't like and how we can improve. We would love to hear your thoughts!