Bars and Restaurants Open on New Year's Day in Washington, D.C.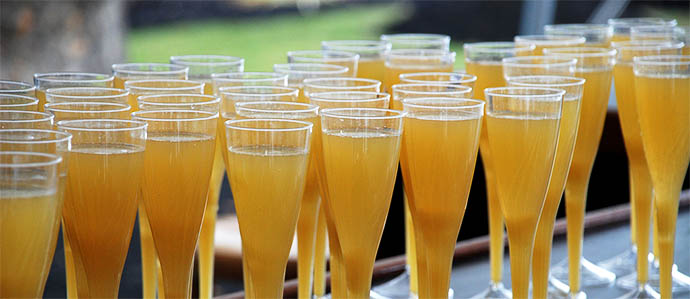 In many ways, January 1 is the best day of the year. A clean slate awaits, and it's easy to imagine doing anything and accomplishing everything. However, it's can also be a tough day — especially for those of us who took advantage of New Year's Eve parties the night before.

Happily, plenty of bars will be open and serving on New Year's Day. Check out our list to find out where to cure your hangover with hair of the dog brunch specials or set a precedent for the year with a great night out. Happy 2013!
The 18th Amendment: Open 11 AM–2 AM. Showing the Georgia vs. Nebraska bowl game, and serving sports specials: $10 Coors Light pitchers, $12 Abita pitchers, $15 Terrapin pitchers, $5 chicken tenders and wings.

Art and Soul: Open 6:30 AM–midnight.

Assaggi Mozzarella Bar: Open 4–10 PM.

Black Cat: Open with food and drink specials.

Blue Duck Tavern: Open 6:30 AM–2:30 PM for an la carte breakfast and lunch.

Bottom Line: Open 11:30 AM–2 AM.

Bourbon Steak: Open 5:30–10 PM.

Breadsoda: Open with ping pong and tacos.

Chef Geoff's (Rockville and Tysons): Open 11:30 AM–10 PM.

Commissary: Open at 9 AM for brunch.

Crystal City Sports Pub: Open 8 AM–3 PM. Serving a special brunch, including multiple stations such as a fresh omelet station, pancake and French toast sation, and entree station ($14.99 ages 13–Adult, $6.99 ages 9–12, $4.99 ages 4–8, Children 3 and under are free).

DC Reynolds: Open 5 PM–2 AM.

Dino: Open 4:30 PM–9:30 PM serving á la carte menu with specials.

EatWell: Open at 11 AM for brunch.

51st State: Open at 4 PM.

Firefly: Open 9 AM–2 PM for brunch with $2 mimosas and $5 Corpse Revivers.

Front Page: Open at 11:30 AM for regular brunch.

Grilfish: Open 11 AM–10 PM serving oyster brunch, plus the regular dinner service. Also offering $55 prix fixe for two, including a bottle of sparkling wine with unlimited mixers for mimosas.

Hank's (Dupont Circle and Capitol Hill): Open 11 AM–4 PM for "New Year's Day Pajama Brunch," including the regular a la carte brunch menu, along with a New Year's Day special of Filet Mignon and Eggs with your choice of Bloody Mary or Mimosa ($20.13).

The Heights: Open at 9 AM with brunch specials.

J&G Steakhouse: Open noon–9 PM with a special tasting menu in addition to regular menu.

Logan Tavern: Open at 10:30 AM for brunch.

Rocket Bar: Open 4 PM–1:30 AM.

Masa 14: Open 11 AM–3 PM; serving $35 per person prix fixe brunch for entire table or á la carte options.

Meridian Pint: Open 10 AM–3 PM for brunch.

Mighty Pint: Open 11 AM–2 AM with happy hour specials: from 11 AM–8 PM enjoy $3 drafts and $5 16-oz. rail drinks; from 8 PM–2AM find $2 Yuengling and Miller Light pints.

Nellie's Sports Bar: Open at 11 AM serving breakfast menu and a special hangover cocktail; showing all the football games.

The Pig: Open at 11 AM for brunch; serving three-course prix fixe menu for $49 per person, or $65 including a bottle of wine for two.

Poste Moderne Brasserie: Open 8 AM–2 PM for brunch.

The Queen Vic: Open at 11:30 AM for brunch.

RFD: Open 11 AM–2 AM.

Rosa Mexicano: All locations open 12:30–10:30 PM; for every $100 you spend here on New Year's Eve, you'll get $10 to spend at New Year's Day brunch, or through January 6.

Tel'Veh: Open 11 AM–3 PM; serving á la carte menu and unlimited brunch cocktails.

Town Tavern: Open 5 PM—2 AM with beer and burger Tuesday special of $5 burger basket and domestic pints through midnight.

Zaytinya: Open 4–10 PM.

Zengo: Open 11:30 AM-2:30 PM; serving bottomless brunch with small plates and cocktails for the entire table ($35).
Photo via Flickr user Joe Shlabotnik
Feedback
How are we doing? Tell us what you like or don't like and how we can improve. We would love to hear your thoughts!