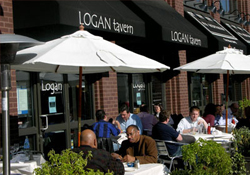 Address
1423 P Street NW
(P and 14th)
202-332-3710
www.logantavern.com
Neighborhood
Logan Circle
About
From the website: Located in the dynamic Logan Circle neighborhood, Logan Tavern is a neighborhood restaurant and bar that is as perfect for a quick weekday bite as it is for a Friday night out with friends. Come by for dinner, lunch, happy hour, or our great weekend brunch for some comfort food with a twist.
Events
06/19 - DC's Top Chef's Featured at Chef's Best
Time: 6 PM
Enjoy and evening of food and drink, an exciting auction and the chance to help.
Monday
Happy Hour (3:00 pm - 7:00 pm): Select cocktails $6.50-$7, select wines $3.50-$4 and all other wines by the glass $2 off, select beers $6.50 by the glass and $21.50 by the pitcher, Miller Lite bottles $3.50, Rolling Rock bottles $4.50 and all other bottles $1 off; food menu (HH available at the bar, communal table and patio only)
Tuesday
Happy Hour (3:00 pm - 7:00 pm): Select cocktails $6.50-$7, select wines $3.50-$4 and all other wines by the glass $2 off, select beers $6.50 by the glass and $21.50 by the pitcher, Miller Lite bottles $3.50, Rolling Rock bottles $4.50 and all other bottles $1 off; food menu (HH available at the bar, communal table and patio only)
Wednesday
Happy Hour (3:00 pm - 7:00 pm): Select cocktails $6.50-$7, select wines $3.50-$4 and all other wines by the glass $2 off, select beers $6.50 by the glass and $21.50 by the pitcher, Miller Lite bottles $3.50, Rolling Rock bottles $4.50 and all other bottles $1 off; food menu (HH available at the bar, communal table and patio only)
Thursday
Happy Hour (3:00 pm - 7:00 pm): Select cocktails $6.50-$7, select wines $3.50-$4 and all other wines by the glass $2 off, select beers $6.50 by the glass and $21.50 by the pitcher, Miller Lite bottles $3.50, Rolling Rock bottles $4.50 and all other bottles $1 off; food menu (HH available at the bar, communal table and patio only)
Friday
Happy Hour (3:00 pm - 7:00 pm): Select cocktails $6.50-$7, select wines $3.50-$4 and all other wines by the glass $2 off, select beers $6.50 by the glass and $21.50 by the pitcher, Miller Lite bottles $3.50, Rolling Rock bottles $4.50 and all other bottles $1 off; food menu (HH available at the bar, communal table and patio only)
Saturday
Happy Hour (4:00 pm - 7:00 pm): Select cocktails $6.50-$7, select wines $3.50-$4 and all other wines by the glass $2 off, select beers $6.50 by the glass and $21.50 by the pitcher, Miller Lite bottles $3.50, Rolling Rock bottles $4.50 and all other bottles $1 off; food menu (HH available at the bar, communal table and patio only)
Sunday
Happy Hour (4:00 pm - 7:00 pm): Select cocktails $6.50-$7, select wines $3.50-$4 and all other wines by the glass $2 off, select beers $6.50 by the glass and $21.50 by the pitcher, Miller Lite bottles $3.50, Rolling Rock bottles $4.50 and all other bottles $1 off; food menu (HH available at the bar, communal table and patio only)
Beers on Tap
Allagash White
Dortmunder Gold
Scrimshaw Pilsner
Beer in Bottles & Cans
21st Amendment Back in Black IPA
Bell's Lager of the Lake
Brooklyn Brown
Bud Light
Goose Island Belgian Pale
Lagunitas Downtown Pale Ale
North Coast Stout
Original Sin Hard Cider
Sea Dog Blueberry Wheat Ale
St. Louis Framboise Lambic
Stone Arrogant Bastard Ale
Speciality drinks available
Paloma Moderna
Allagash With a Splash
Stoly Doly
Frozen Sunrise
Infused Strawberry Martini
Blood Orange Martini
Perfect Pear
Logan Tavern Bloody Mary
Sweet Tea Lemonade
The Right Bank
Cucumber Spritzer
Passion Fruit Caipirinha