Search Out Great Brews at the District Beer Hunt, April 28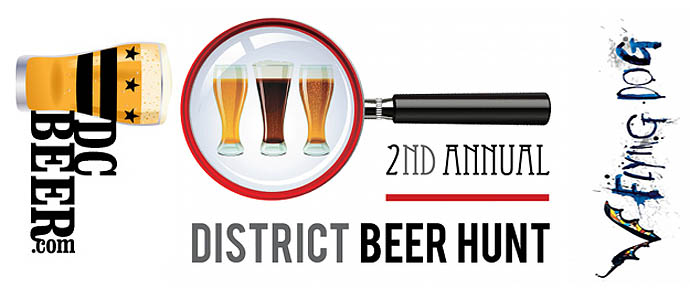 What do The Big Hunt, Smith Commons, The Black Squirrel, Meridian Pint, Belga Cafe, Granville Moores and Smoke & Barrel have in common? If you guessed great craft beer selections, you're on the money. More specifically, they're just a few of the 19 bars participating in DCBeer.com's second annual District Beer Hunt.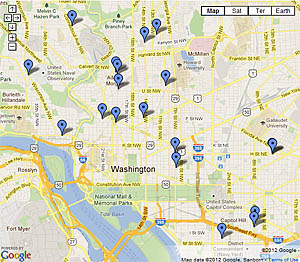 The brewmeisters at DCBeer.com have teamed up with Flying Dog to host this year's event, which sees teams compete on a scavenger hunt for a special list of beers scattered around the city. For $30, groups of up to four can register to participate in the hunt, which takes place on Saturday, April 28.

Players will gather in the back room of Chinatown's RFD on the evening on Friday, April 27 to check in and receive their list of clues. The next day, teams will fan out through the participating bars in search of as many as possible of the beers described on the sheet, buying and drinking at least one when they've figured it out. Many of the bars will be offering discounts to Beer Hunt participants throughout the day.

At 10 PM, all teams are due back at the Iron Horse Taproom's lower level, where checklists will be tallied and prizes awarded. To avoid the mess that can come with too much rush, prizes aren't awarded solely on a basis of finishing first. Instead, there will be a raffle, with tickets given for speed, correctness, best team name and best costume (so get creative!).

Check out a full list of participating bars below, and then head to DCBeerHunt.com to get all the sudsy details (they've even got a slick Google map of the locales) and register your team. Space is limited, so act fast to get in on the game.

American Ice Company – 917 V Street NW
Belga Cafe – 514 8th Street SE
The Big Hunt – 1345 Connecticut Avenue NW
The Black Squirrel – 2427 18th Street NW
Bourbon (Glover Park) – 2348 Wisconsin Avenue NW
Granville Moore's – 1238 H Street NE
The Heights – 3115 14th Street NW
Iron Horse Taproom – 507 7th Street NW
Jack Rose Dining Saloon – 2007 18th Street NW
Justin's Cafe – 1025 First Street SE
Logan Tavern – 1423 P Street NW
Meridian Pint – 3400 11th Street NW
Molly Malone's – 713 8th Street SE
Nanny O'Briens – 3319 Connecticut Avenue NW
RFD – 810 7th Street NW
Scion – 2100 P Street NW
Smith Commons – 1245 H Street NE
Smoke and Barrel – 2471 18th Street NW
Thunder Burger – 3056 M Street NW
Event Date: 04/28
Event Time: All Day, 10 PM Finish
Location: Various Bars
Price: $30 Registration
Website: DCBeerHunt.com

Recent Articles

Feedback
How are we doing? Tell us what you like or don't like and how we can improve. We would love to hear your thoughts!