Metropolitan Washington Restaurant Week Drink Deals: 8 Reservations to Make Now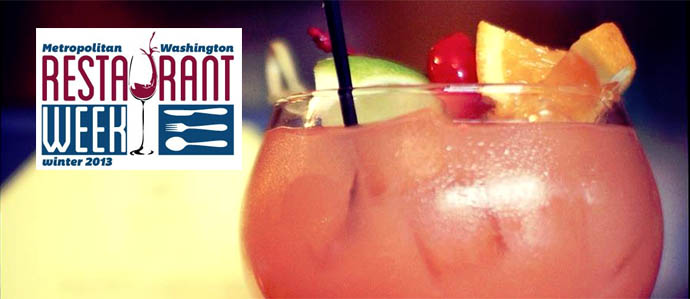 It's time to start making reservations again — the winter installment of Metropolitan Washington Restaurant Week debuts February 4 and runs through February 10. Though it's traditionally a time to enjoy three-course lunches and dinners for $20.13 or $35.13, respectively, this twice-yearly ritual isn't just about food — there are plenty of drink deals and specials to be had, too. Here are our recommendations for dining with a drink lover.

Adour: Save a bundle at the St. Regis' "nature-inspired" restaurant when you dine on a three-course gourmet lunch (think artisanal pasta and braised beef cheeks chased with a hazelnut milk chocolate bar) for the RW price — spend the savings on one of the recommended specialty drinks, like the Basil Mule made with watermelon juice and ginger beer (923 16th St. NW; 202-509-8000).

Bistro Bistro: A complimentary glass of Champagne is included with the dessert course at this Dupont French restaurant — choose from gelato, creme brulee or chocolate souffle to go with that glass of bubbly (1727 Connecticut Ave. NW; 202-328-1640).

Firefly: Featured wine selections — including a brut, sauvvignon blanc, chardonnay, cabernet sauvignon and zinfandel — are just $6 a glass with RW dinner, for which you can choose from a large selection of options (not just two or three) on every course. We have our eye on the deviled eggs, vegetable risotto and Nutella ice cream sandwich (1310 New Hampshire Ave. NW; 202-861-1310).

Georgia Browns: End your dinner at this traditional Southern spot with the berry "martini" dessert, which combines seasonal berries with a Maker's Mark mousse and pumpkin seed brittle. You can't go wrong with the restaurant's famous buttermilk fried chicken for the main course (950 15th St. NW; 202-393-4499).

The Hamilton: In addition to the usual three courses, dinner at this downtown establishment includes your choice of glass of wine from the by-the-glass list; pair it with the pork belly, short ribs and malted chocolate cake for a truly decadent feast (1600 14th St. NW; 202-787-1000).

Kora: Named after after one of the daughters of owners Mouru and Heather Quattara, Kora — a Crystal City Italian spot — is offering a complimentary wine pairing with its restaurant week dinner menu, which includes items such as butternut squash tortelloni, seared salmon and tiramisu (2250-B Crystal Drive, Arlington; 571-431-7090).

Logan Tavern: Score a free beer, cocktail or glass of wine (from a select menu) with RW dinner at Logan, where you can choose any starter, entree and dessert from the regular menu for the standard total price (1423 P St. NW; 202-332-3710).

Oyamel: Jose Andres' upscale Mexican eatery puts an entirely new spin on Restaurant Week with two drink-centric options in addition to the standard multi-course dinner; add a select bottle of wine for $35.12 or try the bar tasting menu (two cocktails, two wines and a house-made plaintain liqueur), also available for $35.12 (401 7th St. NW; 202-628-1005).
Tags:
Food
Recent Articles

Feedback
How are we doing? Tell us what you like or don't like and how we can improve. We would love to hear your thoughts!