The Breaking Bad Drinking Game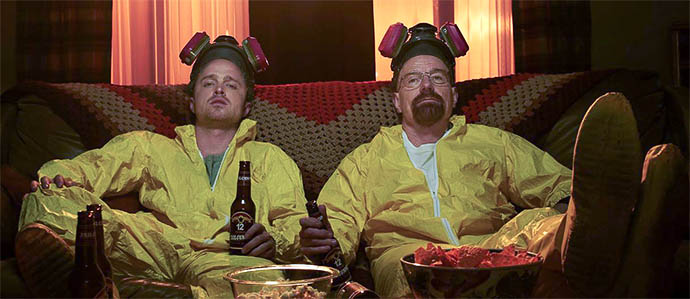 "All bad things must come to an end," tease the posters touting the return of hit TV series Breaking Bad. While the AMC show will hopefully live on in the streaming annals of Netflix, the second half of its fifth and final season starts August 11.
While each episode of the series certainly holds plenty of surprises, there are several tried-and-true tropes that recur across most episodes. Whether you're watching the old episodes for the first time to catch up or going back to refresh your memory in advance of the new season, we present rules for a Breaking Bad Drinking Game. Bookmark it for August 11 and the weeks that follow.
Some things are ultra common, but still deserve recognition. Take a sip when:
1. Someone does drugs on screen
2. Anyone says the word "meth"
3. You heard the word "Heisenberg"
4. Jesse says "bitch"
5. Marie wears purple
Other events do happen, but with slightly less regularity. Take two sips when:
1. Someone eats breakfast
2. Someone is in the hospital
3. You hear the name "Flynn"
4. Someone cries
5. Someone uses a slang term for meth (for example, "ice")
We don't want you to get too, too buzzed, so only take a shot when:
1. You see Walt's tightie whities
2. Someone gets shot
3. Someone has sex
4. Someone eats fried chicken
5. It's raining cash!
Recent Articles
Official Easter Cocktail: Zombie Peep Corpse Reviver
Bars That Rock: Where to Grab a Drink and Enjoy Live Music in Washington, D.C.
Win a Pair of Tickets to the Sold Out SAVOR Craft Beer & Food Experience in Washington DC!
From Around The Web
Feedback
How are we doing? Tell us what you like or don't like and how we can improve. We would love to hear your thoughts!