Inside Look: Campari's Stylish North American Headquarters in New York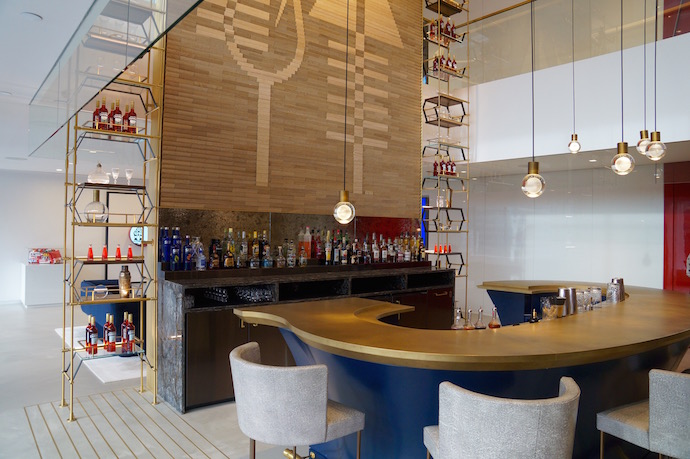 If you're a frequent Negroni drinker, always order Wild Turkey Bourbon in your old fashioneds, or prefer your margaritas made with Espolón Tequila, Campari's North American headquarters will look like a dream come true.
Located in Midtown Manhattan in the Grace Building, the Campari HQ overlooks Bryant Park, offering a stunning view of the New York City skyline as well as a veritable shrine to the Campari Group's diverse line of liquors and spirits. After moving from San Francisco, this new space officially opened its doors in March of 2019.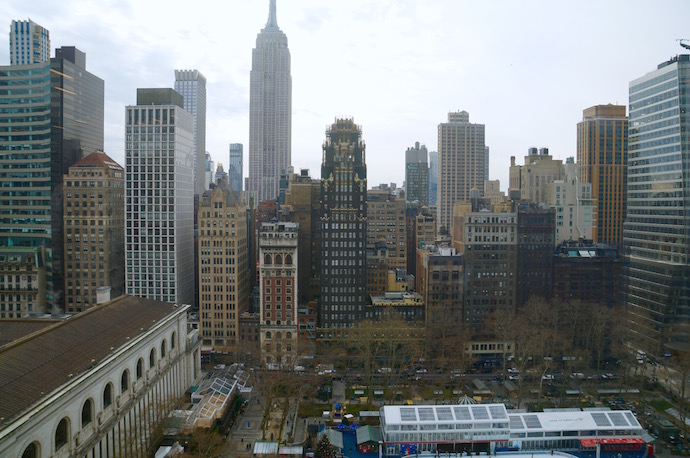 Split between the 18th and 19th floor of the building, the sprawling Campari complex occupies 65,000 square feet, with four bars, a full educational space, several unique meeting rooms, and more.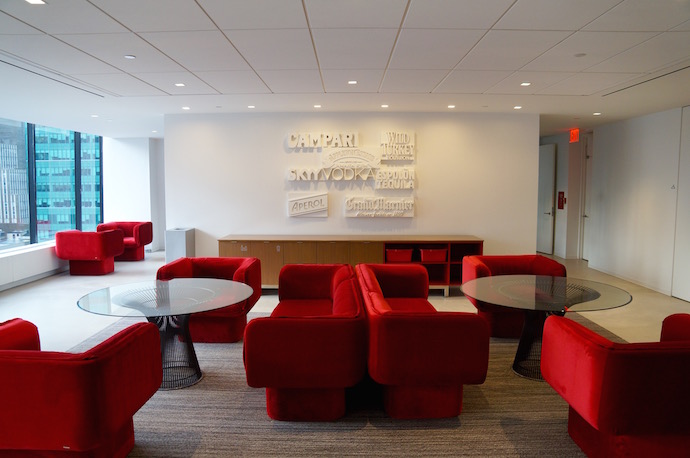 Designed by Gensler, a global design and architecture firm, the space incorporates Campari's signature accents, including its distinctive red color and classic C from its logo, as well as flourishes from other Campari Group brands like SKYY Vodka.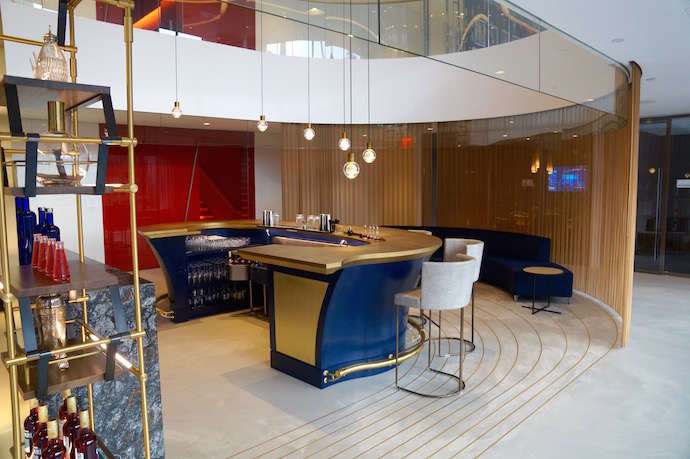 "The design vision centered around employee collaboration – not dissimilar to how the perfect balance of ingredients collaborates to create the perfect cocktail – with special attention to design details, such as proper proportions, distinct experiences, and an emotional connection," said Stefanie Shunk, Design Director and Principal at Gensler. "The design reimagines Campari's Italian heritage through the lens of New York City."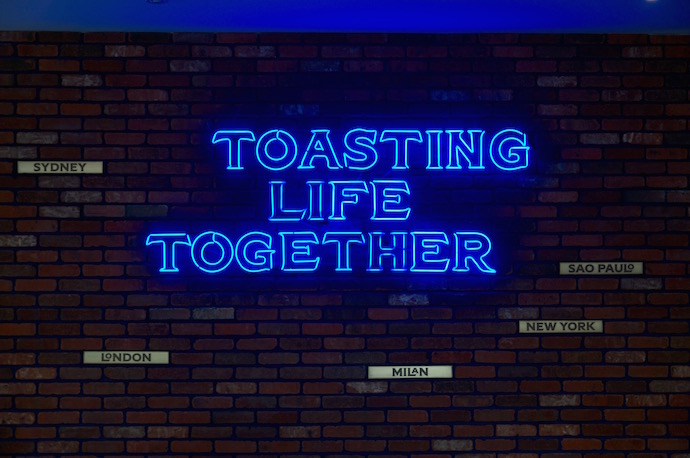 Lest you think Campari only focuses on its namesake bitter spirit, the group encompasses several other brands, including Aperol, SKYY Vodka, Wild Turkey Bourbon, Grand Marnier, Appleton Estate Jamaica Rum, and Espolòn Tequila.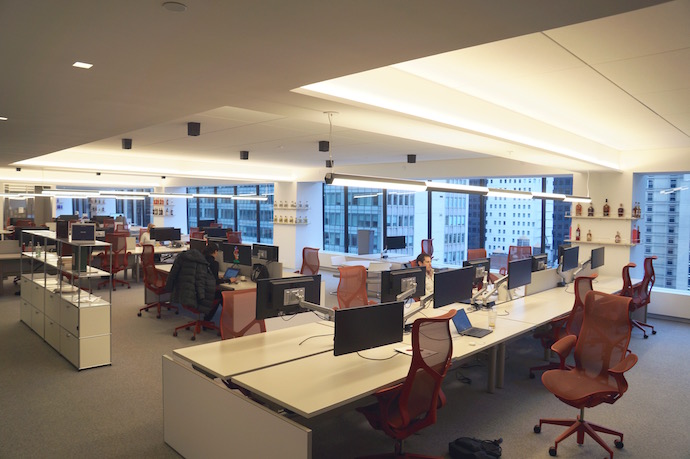 The office space, which includes departments from finance to marketing, is a completely open floor plan to make sure that every single Campari Group employee enjoys the incredible view of New York City.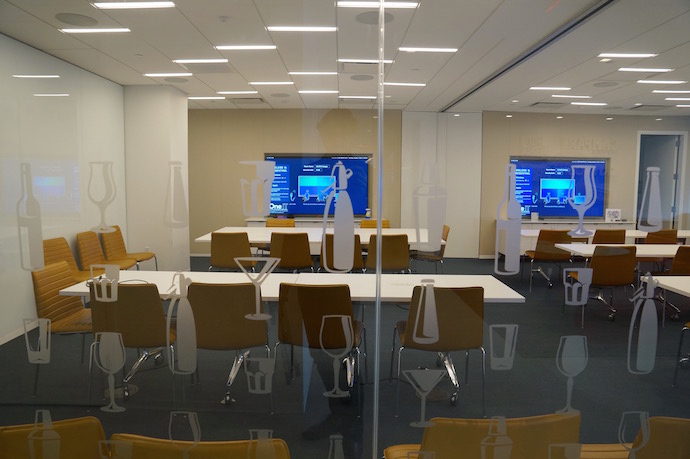 No detail is overlooked at this office; as you walk around, you can spot frosted outlines of Campari's most famous products and images, like small soda bottles and classic Negroni glasses, adorning the glass walls throughout the space.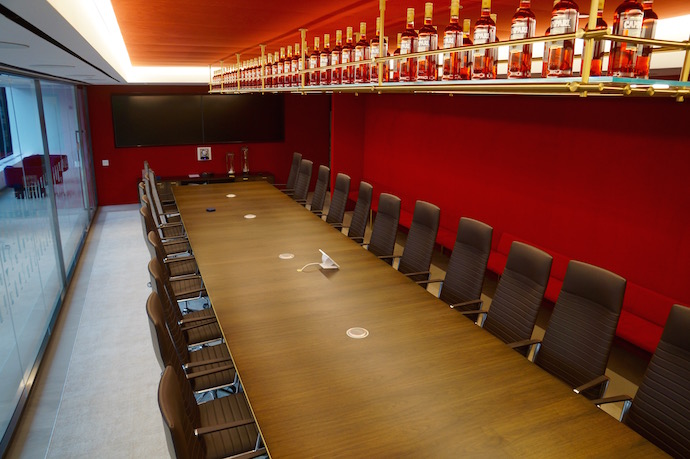 The conference rooms are also themed after many of Campari's signature products; for example, Campari's conference room is outfitted in red, with bottles adorning the ceiling.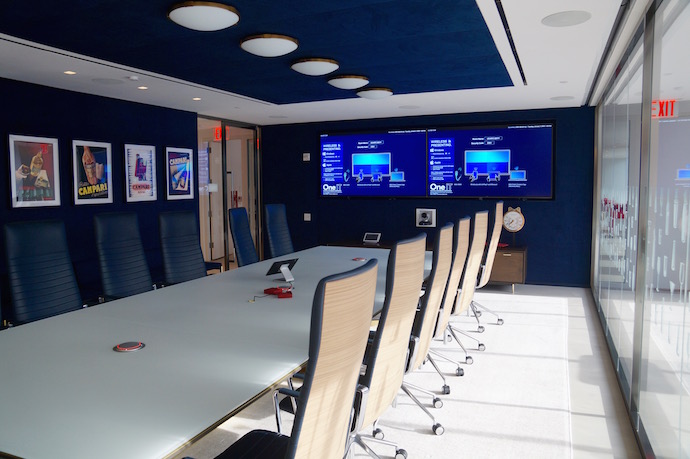 Meanwhile, the SKYY conference room is adorned with plush blue velvet as a nod to the vodka's signature deep blue bottle.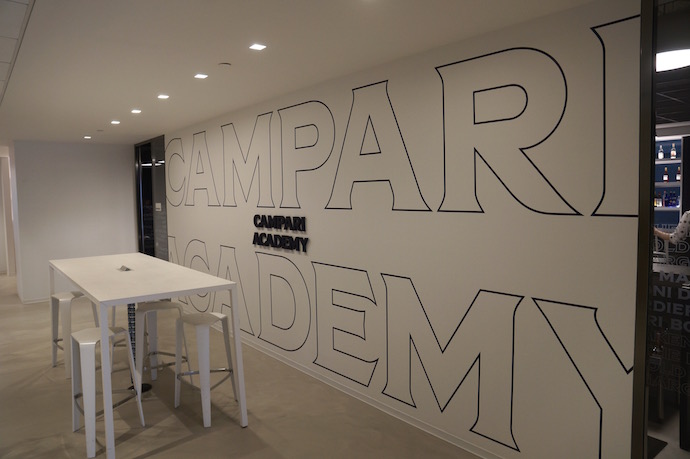 One of the most fascinating elements of the space is the Campari Academy, which is the brainchild of Academy Lead Jessamine McLellan and Campari's executive team. With nine fully functional bar stations, the Academy aims to educate the industry on Campari's product line and history.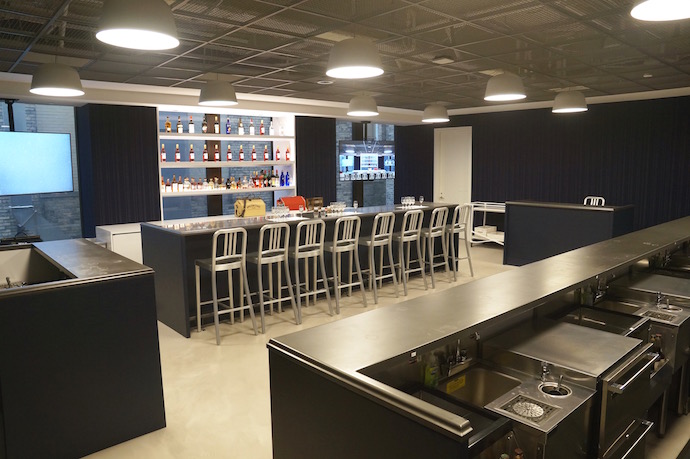 McLellan frequently runs classes and demonstrations within the Academy, arming brand representatives and bartenders with all the information and knowledge they need to share the gospel of Campari with consumers and other members of the industry.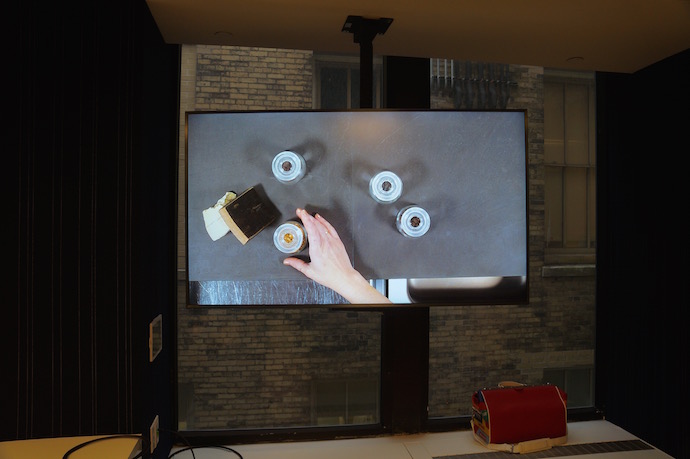 Thanks to state of the art cameras, McLellan can project her work on the countertop as well as a view of the full bar onto televisions within the room as well as live-stream to other students around the world.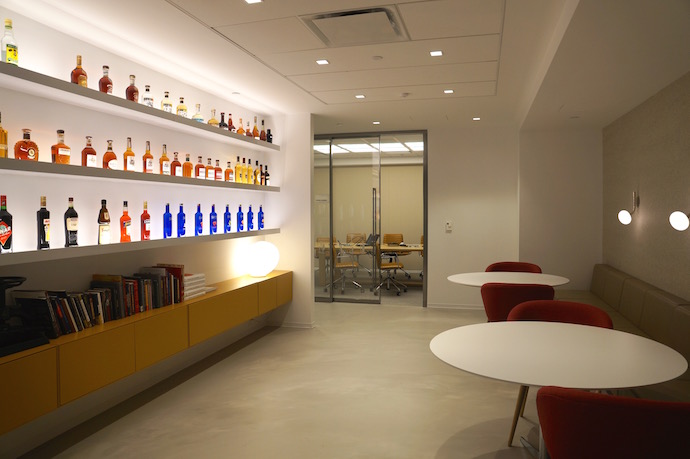 Just outside of the Academy itself, there's also an educational nook for visiting members of the industry, which includes a comprehensive library of cocktail books as well as bottles representing nearly all of Campari Group's brands.
Of her educational program, McLellan said, "I am really passionate about seeking truth, especially in an industry that has almost never been led by formal education. It's an amazing time to fit those pieces in that are more official; bartenders have been around for well over a century and have gone through an incredible evolution of cocktail trends, and we're the best this industry has ever been today. Now, you can find a good cocktail bar in almost any city in America. The fact that we're at that stage is amazing. If I can help bartenders get even better, that's my goal."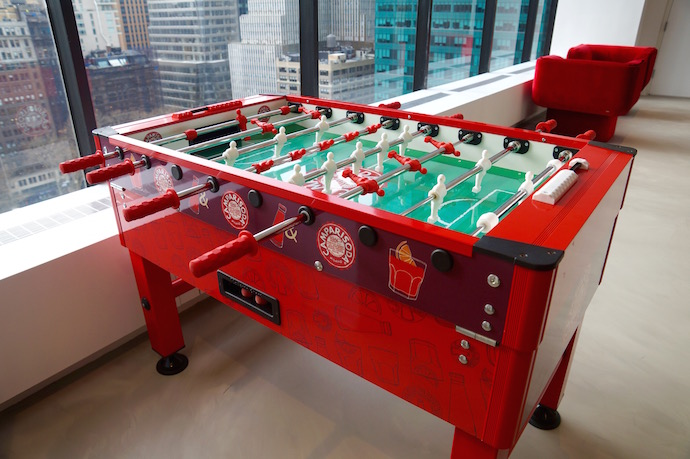 Of course, there's also plenty of recreation for both visitors and Campari's employees; right as you walk in, you can't miss the Campari-themed foosball table right in the middle of the space.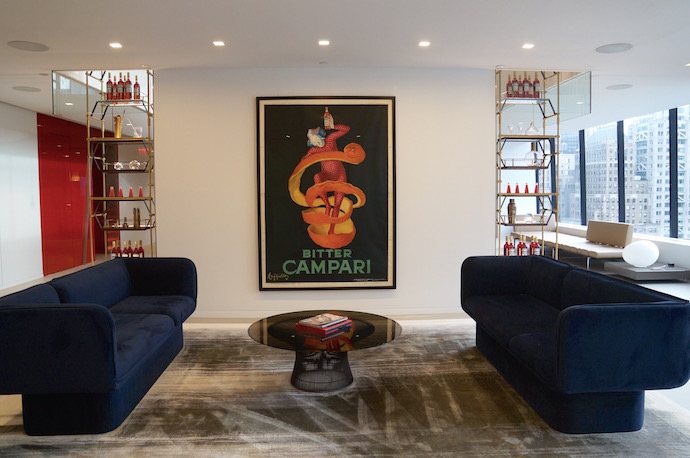 The office is also home to plenty of unique, vintage Campari art, including viewfinders that echo the Campari Bar in Milan's Galleria as well as posters that were once featured in an immersive Campari campaign in Milan's metro.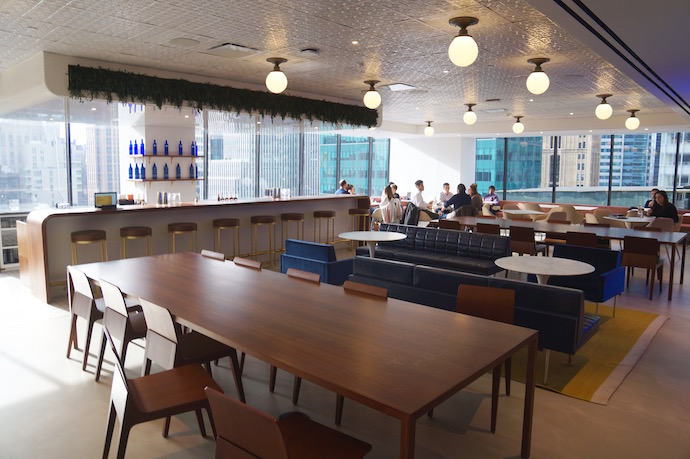 Employees are encouraged to mingle throughout the day in the Cafe, which features one of the office's four bars.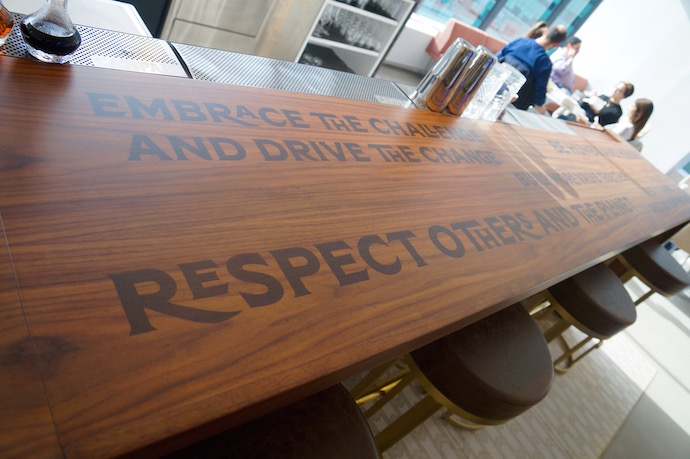 This particular bar is adorned with some of the "behaviors" of the Campari group, including "be humble and hungry," "respect others and the planet," and "build more value together."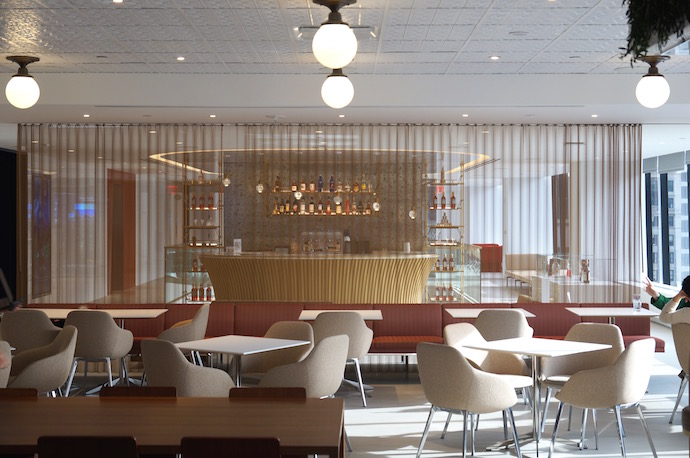 After grabbing lunch outside of the office, Campari's employees can enjoy a plethora of snacks — as well as pick-me-ups from multiple Italian espresso machines — in the cafe, which, of course, also offers incredible views of Manhattan.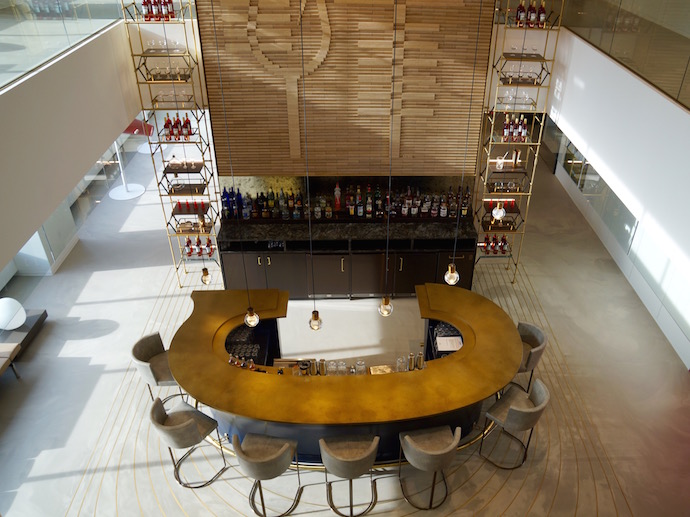 Naturally, there are plenty of bars within the Campari office. Aside from the Cafe and Concierge bars, you can also visit the gilded Fortunato bar. This sunlit, luxurious bar, which is shaped like Campari's classic C, sits beneath a 1,500 foot wooden mural, which was inspired by Futurist artist Fortunato Depero (who once designed works for Campari in the 1900s).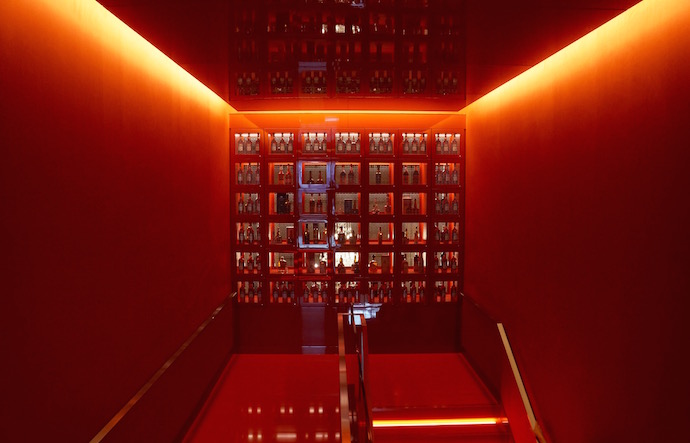 As you search for the fourth bar in the space, descend the red staircase, and keep an eye out for the vintage scotch and Campari bottles in cases along the back wall. The design of the stairwell was meant to make you feel like you're floating through a giant bottle of Campari.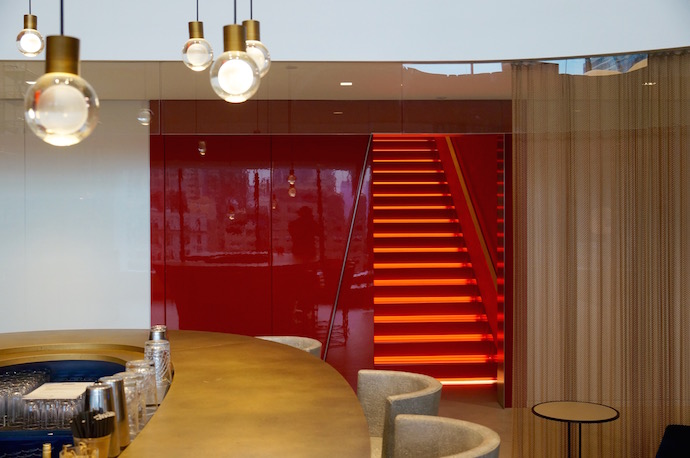 If you're looking for Campari's speakeasy bar, you won't have to go very far; stay by the stairs.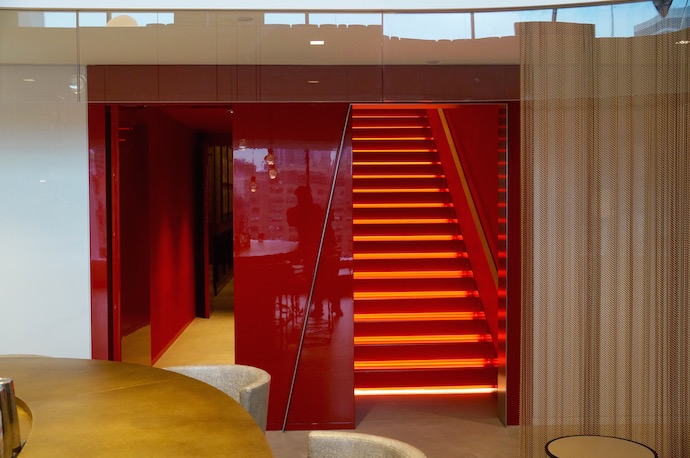 One of the wall's red panels opens to up to reveal a small hallway, which will lead you to the fourth and final bar within the office.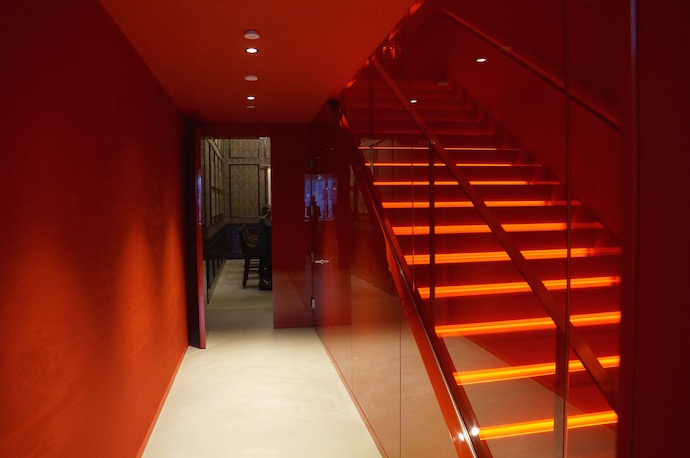 You might feel like you're traveling back in time when you find the hallway to Campari's secret Boulevardier Bar, a tiny space tucked behind the highly Instagrammable red stairs.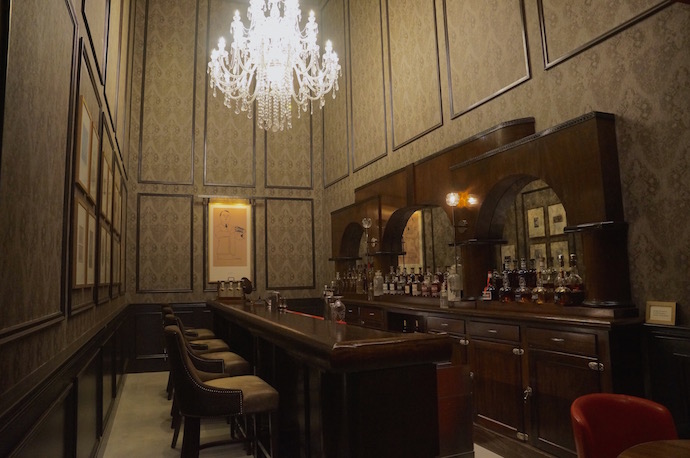 Named for the Boulevardier cocktail — a relative of the Negroni made with Campari, bourbon, and sweet vermouth — this secret vintage bar is an homage to classic speakeasies, and it's filled with acquired vintage accents (including the bar itself, which comes from Western Pennsylvania and is studded with cigarette burns).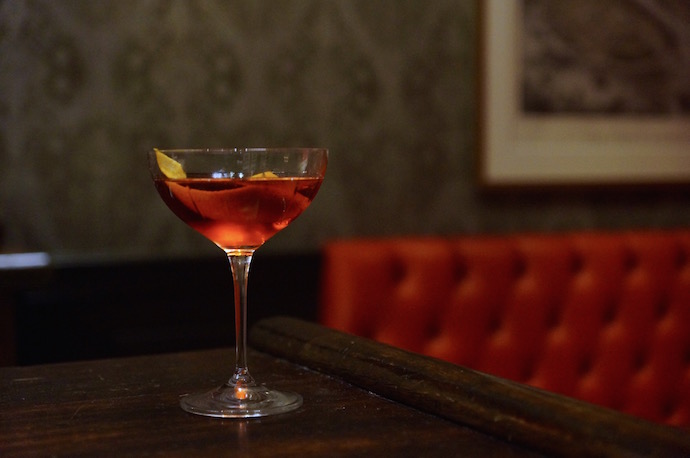 The Boulevardier.
At the end of the bar, you can spot a portrait of Harry McElhone, who first served the Boulevardier at Harry's New York Bar in Paris' 2nd Arrondissement. A favorite drink of socialite and writer Erskine Gwynne (who was also a nephew of Alfred Vanderbilt), McElhone popularized the drink in his 1927 book Barflies and Cocktails.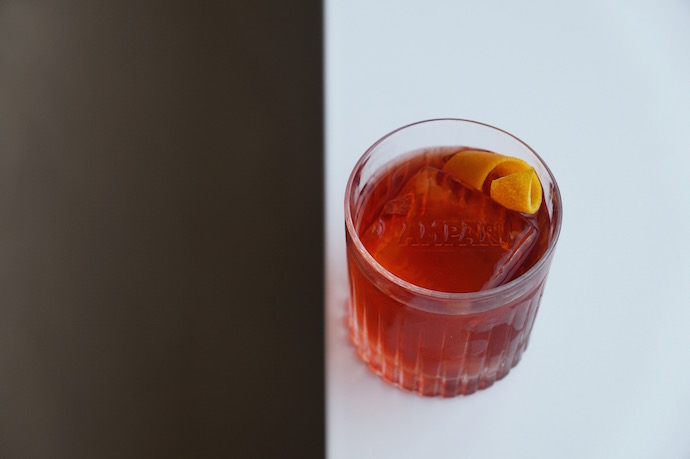 A classic Negroni with a Campari-branded ice cube.
As McLellan mixed drinks that included classics and her own creations, she shared what she wants everyone to know about the Campari brand: "I would say that the automatic assumption is that [people] think we're only an Italian red bitter. Ultimately, we are a diverse portfolio of so many different things. We have great bourbon, excellent tequila, high end rum... there's so much within our portfolio. Even though we're named after Campari, that's not all we are."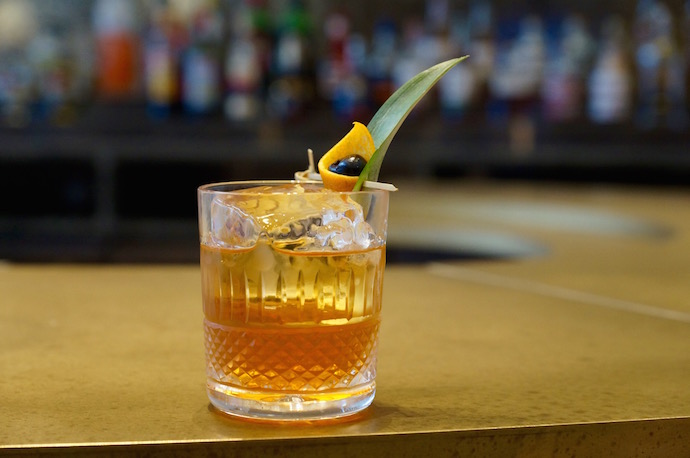 A Jamaican old fashioned.
Access to Campari's offices and bars is currently limited — as of now, it's on an invite-only basis for select media and members of the industry — but in any case, it's pretty thrilling that a group populated by some of the industry's most popular brands has such an incredible home right in the bustling heart of Manhattan.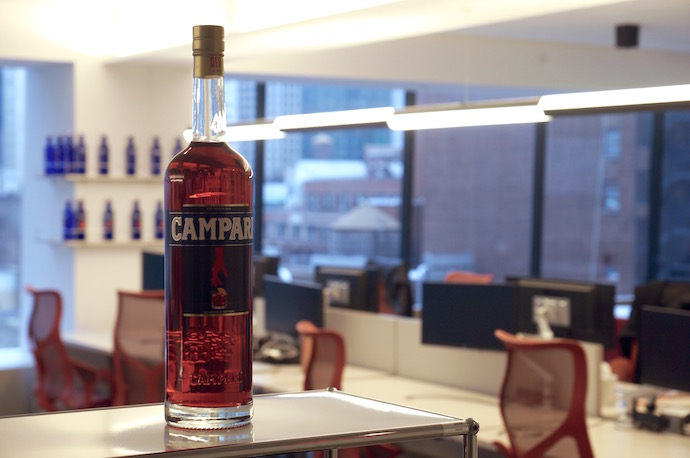 Photos via The Drink Nation
Recent Articles

Feedback
How are we doing? Tell us what you like or don't like and how we can improve. We would love to hear your thoughts!