Pabst Blue Ribbon Launches Blue Ribbon Whiskey in Select US Markets
Shot and a beer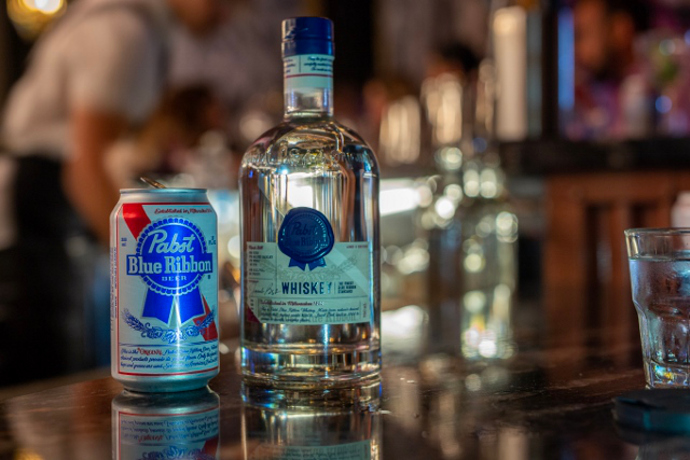 In a surprise move, Pabst Blue Ribbon announced a new product in select markets for this fall. The product is not a canned beer with the blue seal we know and love, but a whiskey. That's right, you can now have a PBR and a shot from the same company. Confused? We are too, but let's keep an open mind and see what is inside this bottle.
Per their press release, "For over 175 years, Pabst Blue Ribbon has celebrated the individuals and doers who choose to forge their own path… In 2019 the iconic Pabst Blue Ribbon brand continues to blaze its own trail with the release of its first distilled spirit Blue Ribbon Whiskey."
The release goes on to say that the brewery's founder Jacob Best was a distiller before he started making beer in 1844. With that in mind, the company partnered with New Holland Brewing in Grand Rapids, MI, to create a unique mash using ingredients believed to be available to Best when the brewery was founded. The press release also jokes that the whiskey was aged for all of "5 seconds."
"We're incredibly proud of what we have made with our distilling partners at New Holland," says Matthew Bruhn, PBR general manager in the release. "We have done our best to create an amazing mixable, drinkable, and shareable white whiskey that can be mixed, shot, or transformed into a cocktail. We created this whiskey to be drunk, not judged, just like our beer."
The mash bill for the whiskey is 52% corn, 28% malted barley, 17% wheat, and 3% rye. The bottles are 80 proof and PBR partnered with several visual artists to create original art for the first limited edition bottles. The bottles will retail for about $25.99, depending on the retailer.
That leaves one question. How does it taste? Some markets, including Denver, got to find out first with a release party at ReCreative in late August. Surrounded by canvases of art from the bottle label artists and whiskey-infused donuts from local donut maker Habit, the spirit tastes exactly like you would think Blue Ribbon whiskey should, a little rough around the edges, but centered around a clean, crisp grain whiskey. Call it down-to-earth, like the beer.
Varun Ramanujam, Head of Field Marketing for PBR, said the whiskey works best in cocktails and handed out recipe cards. Guests were also able to sample the whiskey straight, try it in some cocktails, or just enjoy a can of PBR.
"It's just a really good whiskey," said Ramanujam. "It's not a traditional aged whiskey, but it's not moonshine either. It's crafted."
When asked if PBR was trying to corner the market on a beer and a shot, Ramanujam laughed. He said they didn't think about it that way, but it could be a fun idea.
"We didn't think about it that way, but I guess we could," he noted.
Blue Ribbon Whiskey is slowly rolling out in markets across the US. Those states currently are Arizona, Colorado, Florida, Georgia, Illinois, Missouri, New York, Oregon, Texas, and Washington. Tasting parties have been held or are being held in Austin, Brooklyn, Chicago, Manhattan, Miami, Milwaukee, Portland (OR), and Tampa.
If you come across a bottle, tell us what you think.
Photo by Infamous PR
Tags:
Beer
,
Whisky
Recent Articles

Feedback
How are we doing? Tell us what you like or don't like and how we can improve. We would love to hear your thoughts!