Join Up: Support Your Local Brewery Network
There are more than 2,100 craft breweries in the United States now, and growth is stronger than it has been in decades, with the number of breweries-in-planning estimated at 1,252. However, all of these companies combined make up only 5.7% of the U.S. beer market, by volume (it's actually around 9% by dollars — those Coors Lights come awfully cheap).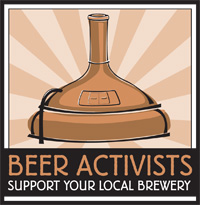 With small operating margins and even tinier marketing budgets, the micro- and nano-breweries don't have the funding to hire lobbyists to make sure legislators — especially on the local and state level — are aware of issues facing their unique companies, and watch for detrimental new bills and policy changes. It doesn't necessarily take a professional lobbyist to make a difference, though, and that's where the 40,000-strong Support Your Local Brewery network comes in.

When you sign up for free with your email address and zip code, you'll receive occasional action alerts that let you know about local issues, and who to contact to make a difference. As Dogfish Head's Sam Calagione (Brewers Association Board of Directors Chair) says in the video above, sometimes it doesn't take hundreds of people — just a couple dozen voices raised can turn the tide on harmful legislation. Check out the rest of Sam's pitch, and then head over to sign up. Great beer is depending on you.
Recent Articles
Sign Up for Early Word on Brad Pitt and Angelina Jolie's Next Wine Release
DC Central Kitchen Sound Bites Food and Music Festival, May 19
Where to Find Boozy Milkshakes in Washington, D.C.
Feedback
How are we doing? Tell us what you like or don't like and how we can improve. We would love to hear your thoughts!