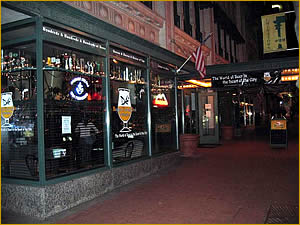 Address
810 7th St NW
(7th and I)
202-289-2030
www.lovethebeer.com/rfd.html
Neighborhood
Chinatown
About
From the website: From the website: RFD offers over 30 beers on tap, including a cask-conditioned ale and constantly rotating selection of rare beers and specialty handcrafts. That extensive list is further expanded by RFD's 300-plus inventory of bottled beers from around the world. At the full-service bar, premium liquors and wines are also available, including an impressive list of single-malts and small-batch bourbons.
Beers on Tap
30+ beers on tap.
Beer in Bottles & Cans
300 bottles.
Speciality drinks available
Events
Articles that mention this
12/30/2015
Jumpstart 2016 at the Strong Ale Tasting at RFD, Jan. 26
10/28/2014
Ghosts & Goblets: Where to Drink in DC This Halloween
09/15/2014
Where to Celebrate Oktoberfest in D.C.
08/07/2013
DC Beer Week Coast to Coast Tap Takeover at RFD
04/17/2013
Best Tap Lists in Washington, D.C.
12/28/2012
Bars and Restaurants Open on New Year's Day in Washington, D.C.
10/11/2012
Where to Watch: Washington, D.C. Bars Showing the Presidential Debates
09/27/2012
BrewDog vs. Flying Dog International Arms Race Debut, Oct 15-17
05/24/2012
RFD: Flying Dog SAVOR After-Party
04/17/2012
Hoppy Monday
03/29/2012
New Belgium Beer Dinner
03/16/2012
Search Out Great Brews at the District Beer Hunt, April 28
02/29/2012
Leap Day Drinking Events in Washington, D.C., February 29, 2012
02/22/2012
Brickskeller Strong Ale Tastings at RFD with Bob Tupper, Feb 26 and 29
02/16/2012
Bars in D.C. That Serve Gluten-Free Beer