The Tony Starr at Graffiato: Angelo Sosa's Favorite Drink
Mezcal, tequila, blood orange, oh my!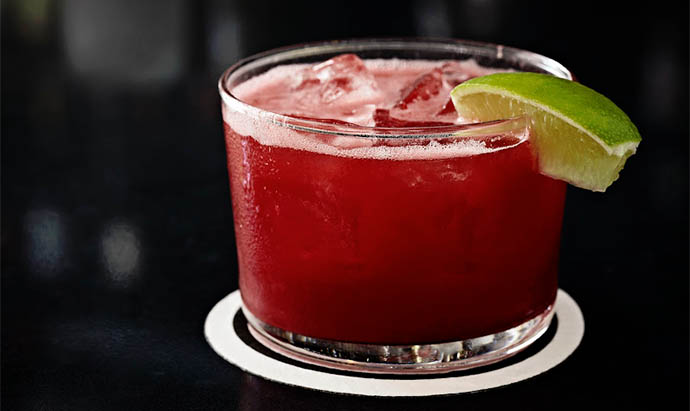 We recently had the chance to interview celeb chef Angelo Sosa about his new cookbook, and during a tangential conversation about boozing (because that's where all discussions lead), we asked the Top Chef alum if he had a favorite cocktail. Without hesitation, the NYC-based toque gave his answer: the Tony Starr at Graffiato.

The Tony Starr is currently on the menu at the Chinatown small-plater, and from what we gather, it's one of the most popular among bar patrons. Chef/owner Mike Isabella dishes on the origins of the drink:

"Tony Starr is a nickname I gave to my chef de cuisine at Bandolero, because he always orders pink drinks at bars. When we opened Graffiato, I asked my beverage director to make a drink that looks girly, but is strong and tastes great."

The bright pink color of the cocktail comes from the blood orange, which is shaken with vida mezcal, cucumber, agave nectar, lime and ginger beer. But the sip hasn't always been exactly so — in fact, the menu lists the name as "Tony Starr 3.0."

"Just as dishes and menus evolve, so do our cocktails," Isabella tells us, "We've been working on the drink to make it perfect. The first two versions only contained mezcal, but 3.0 also contains tequila and cucumber for balance."

Sosa and Isabella consider each other friends. "Angelo has been to Graffiato multiple times since it opened and he has tasted all three versions," Isabella notes, "When he visited most recently, I asked him to taste it again and he loved it."

We're betting you'll love it, too.
Recent Articles
Memorial Day Drinks: 5 Fun and Easy Summer Pitcher Cocktails
Sign Up for Early Word on Brad Pitt and Angelina Jolie's Next Wine Release
DC Central Kitchen Sound Bites Food and Music Festival, May 19
Feedback
How are we doing? Tell us what you like or don't like and how we can improve. We would love to hear your thoughts!