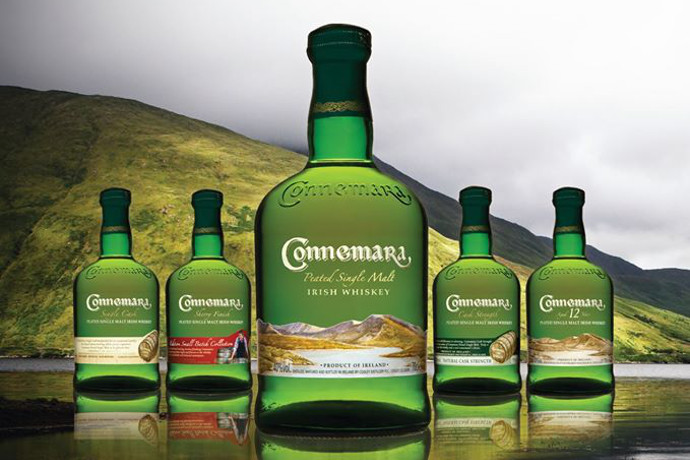 Tastings Pt. 3:
Connemara's next. "This is one I would recommend for a Scotch drinker. This has fourteen to sixteen PPM." Phenols per million, with their hits of peaty smoke. "This is also single malt . . . one of the few that is actually peated." It's a deep autumn of a whiskey, but "for someone who wants more 'oomph," Baker says, "there's always the cask strength Connemara." Cask strength whiskies are a higher proof; Connemara's is fifty-seven percent. "Very often, it comes out of the cask at seventy percent. What they do is add water to bring it back down and open out the flavor." Connemara's cask strength will have more raw strength. Add a dollop of water and you'll find yourself with a well-tempered glass
Baker's face lights as she pours Green Spot. "This is the pure pot still whiskey that has brought pot still back to the market. It's blended at Midleton." Smiling over the bottle, Baker says, "This is such a beautiful whiskey . . This is the one that introduced me to pot stills. It made me realize that this is the whiskey that I love." Green Spot shows the purpose of pot stills. Production is slower than with continuous stills, yes, but "this is where you're going to really taste that spice, the honey – lots of honey – a little bit of heat, and smoothness." Baker's relationship with Green Spot is personal. "This is where I grew up with Irish whiskey. This where I moved on . . . to becoming more of a connoisseur and appreciating whiskey for the sake of whiskey." Green Spot is a world opener.
These spirits are just a starting point. The Dead Rabbit has over 130 Irish whiskies on the ground floor. That's more than a barrel of knowledge, and excellent reason to park yourself downstairs and order a flight of whiskies – four one-ounce tasters – from one of the most spirited teams in town. "It's a good way to taste. It's broken up into blended, pot still, single malt, and then the luxury brands."
You know enough about Irish whiskey to get started. Now choose your bottle and raise a glass to the return of pot-still Irish whiskey to your local shore.
7/8
Photo via Connemara

Recent Articles
The History of The Boulevardier Cocktail - and How You Can Make it at Home
Inside Look: Campari's Stylish North American Headquarters in New York
Behind the Bar: Liana Oster of Dante
Feedback
How are we doing? Tell us what you like or don't like and how we can improve. We would love to hear your thoughts!