Guide to German Bars in Washington, D.C.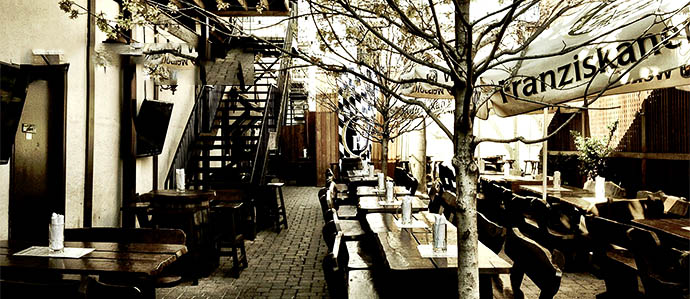 If you're a beer fan, you already know that Germany is nearly synonymous with beer culture. The country that gifted the world the Bierstiefel (beer boot) is also the home of the reported oldest brewery in the world—Weihenstephan Brewery, located at a Benedictine abbey, has been brewing since 1040. Just in time for Oktoberfest, we've rounded up the best places to find your favorite German malts, from Hefeweizen to Kölsch, to Doppelbocks and Dunkles.
Sauf Haus Bier Hall: Fans of the traditional beer hall have a big reason to celebrate. This brand-spanking new place just opened in Dupont with a huge outdoor space, communal tables, 16 different German beers on tap and a great happy hour: weekdays from 4–7 PM, half liters are $8, liters are just $14, and did we mention the gargantuan pretzels that can feed a whole table? (1216 18th St. NW; 202-466-3355)
Dacha Beer Garden: A true beer garden, Shaw's popular outdoor patio serves up mostly German brews from the famous Weihenstephan brewery with a focus on Hefeweizens in the warm summer months. And it's about to get even better: WCP has reported that they'll be taking over the China Express next door and turning it into a three-story beer hall offering kegs of exclusive German and Belgian beers. (1600 7th St. NW; 202-524-8790)
Biergarten Haus: A long-standing go-to for fans of German beer, Biergarten Haus is always reliable for a wide variety of Germany's best, like brews from Hofbräu, Paulaner and Spaten. A huge outdoor space ensures you feel like you're right at home in a Bavarian beer hall. (1355 H St. NE; 202-388-3053)
Bier Baron: With over 600 different brews available, Bier Baron has your German beer needs covered with 12 different Hefeweizens, plus Kölschs and the harder to find Kostritzer Schwartzbier. (1523 22nd St. NW; 202-293-1885)
Tyber Bierhaus: Opened last March, Tyber is a relative newcomer to the beer hall scene and offers a mix of German, Belgian and Czech beers. Beers come in three sizes, but we recommend grabbing a boot—one liter of delicious for $15. (7525 Old Georgetown Rd., Bethesda, MD; 240-821-6830)
Doner Bistro: Named after a traditional Turkish dish — the doner kebab — this Adams Morgan spot offers a nicely curated selection of German beers (think Warsteiner Pilsner), not to mention the traditional hot spiced red wine perfect for colder nights. (1654 Columbia Rd. NW; 202-462-8355)
Cafe Berlin: Capitol Hill's go-to spot for German food has an extensive and creative beer list, plus you can try their beer-centric brunch specials like the Bier Cheese Spread: beer, camembert, butter, caraway, and paprika with two Bavarian style pretzels. Wash it down with beer-based twists on classic brunch cocktails like the Radler (pilsner with Sprite) or Bloody German, which swaps vodka for Jagermeister. (322 Massachusetts Ave. NE; 202-543-7656)
Cafe Mozart: Established in 1981, Cafe Mozart grew out of a German deli that's been owned by the same woman since 1964. Both establishments are still going strong and Tuesday happy hours are bringing in a younger crowd to enjoy $9.95 liters of beer in addition to the excellent food. (1331 H St. NW; 202-347-5732)
Old Europe: Another going-strong D.C. establishment, Old Europe has been serving authentic German food since 1948. Enjoy a beer list focused on wheats and German regional specials and be transported back to the Old World in their dining room adorned with antique steins, wood paneling, and a house pianist. (2434 Wisconsin Ave. NW; 202-333-7600)
Lyon Hall: Though not strictly German, this brasserie serves delicious Continental cuisine and a great happy hour for German beer fans: from 3–7 PM everyday, enjoy $4 drafts of Weihenstephaner Hefeweissbier, Hofbrau Seasonal or Korstritzer Schwarzbier. (3100 N Washington Blvd., Arlington, VA; 703-741-7636)
Tags:
Beer
,
Food
Recent Articles

Feedback
How are we doing? Tell us what you like or don't like and how we can improve. We would love to hear your thoughts!