Izakaya at Daikaya Serves Up Japanese Whiskey, Cocktails
This is not your college sake bomb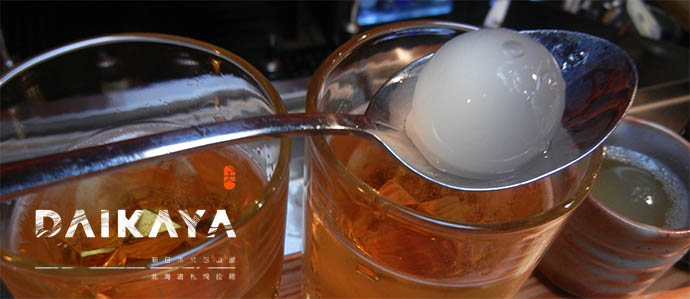 Behind the chain establishments and hole-in-the-wall Chinese joints of Gallery Place, a small cadre of high-concept eateries are adding serious cred to the Chinatown food and beverage scene. In February, Daikaya started serving up Sapporo-style ramen, followed in late March by its upstairs izakaya. As in populous Tokyo — in which multiple establishments are stacked within the same building — the 90-seat Japanese bar was designed as a nightlife destination serving up cocktails, shochu, sake and Japanese whiskey alongside small plates to complement the downstairs eatery.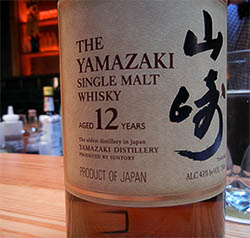 The ramen shop and izakaya boasts a seasoned team of founding partners, including Daisuke Utagawa (owner of Sushiko), Yama Jewayni (an original founder of Eighteenth Street Lounge) and Executive Chef Katsuya Fukushima (Cafe Atlantico and Minibar). Helming the bar: Beverage Director Eddie Kim, a former cheesemonger (Cheesetique; Cowgirl Creamery) and DCist food writer (2005-2006) turned mixologist who earned his chops with Dan Searing at Room 11 ("I had to beg Dan to give me a job there," he says) and in Derek Brown's Columbia Room before being recruited to team Daikaya.
All of Kim's concoctions are ripe for pairing with Japanese food — think apéritifs and vermouths that, as is izakaya tradition, allow you to sample a variety of sips. As a pre-med undergrad, Kim developed a love of food while tuning in to the Food Network during long study sessions. He went on to earn an MA in international public health in Sweden, an experience that informs the izakaya's cocktail list. The Empress of Stockholm, for example, combines Swedish Right gin and herb bitters with brown rice vinegar syrup, Thai basil and Dimmi Liquore. Collectively, the beverages paint a picture of Kim's experiences — the green tea-spiked Rickey-san was created for a D.C. rickey contest; Of Hearth and Home is meant to represent this new chapter in his 'tending career.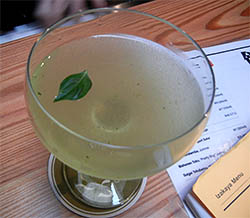 While there's a story behind everything on Kim's list, we have three favorites. The Cram School Cup combines a tizane (a non-caffeinated infusion of herbs and spices — in this case cinnamon, ginger and persimmon) with cognac and a sprinkling of pine nuts for a cold but spicy drink that Kim likens to "Christmas in L.A." The Dai-Drops (Kim's take on the sake bomb) are also a must-try. Drawing on chef Katsuya's experience at the molecularly-minded Minibar, this version uses reverse spherification to create a ball of yuzu juice and sake that is first dropped into a shot glass of Sapporo and then explodes into a burst of sake as it hits the mouth. Finally, don't miss the Japanese whiskey program: Kim stocks all six versions currently available in the U.S. (variety is limited by some bottling red tape) and is apt to serve them with a ceremony common in Japan that involves chilled glass, clean ice and perfectly diluted spirit, turning a shot into a meal-length beverage.
Intrigued? Another spirit-based bar from the same team is slated to open down the road this fall, and will feature a glam vibe, intimate space and similar Asian inspiration.
705 6th St. NW; 202-589-1600
Photos by Lauren Sloat
Recent Articles

Feedback
How are we doing? Tell us what you like or don't like and how we can improve. We would love to hear your thoughts!