Beer Review: Jagged Mountain Craft Brewery's Session Saison
Drinks like a gentle hill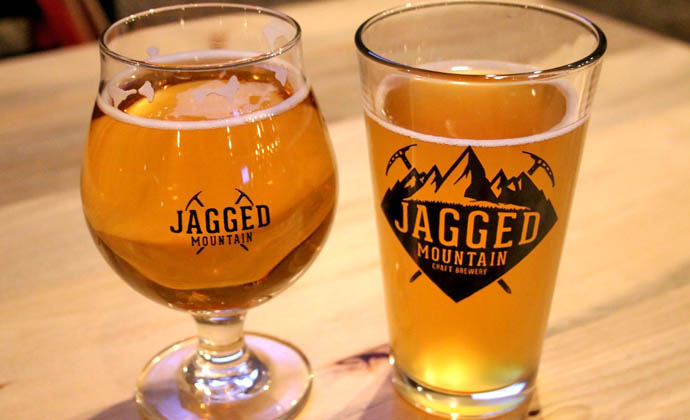 A very friendly couple from the British Isles were relaxing on a warm sunny day at Jagged Mountain Craft Brewery's outdoor seating area waxing philosophical about American craft beer. Their existential question was simple: Why is American beer so strong? It's a fact that lots of craft beers manage to blow one's face off with an avalanche of flavors or alcohol. Some of these beers win awards or earn cult status. Some are simply undrinkable. Some make it an early night. The couple's question is perfectly legitimate.
Fortunately, Jagged Mountain's many taps offered some variety—including a top seller called Session Saison that is equidistant between the poles flavorful craft beer and watery yellow fizzy.
While Jagged Mountain's goal is to brew beers as big as Colorado's mountains, Session Saison is more of a foothill. A saison—or Belgian farmhouse ale—was developed for consumption by field workers on Belgian farms during hot summer months. Yet Session Saison betrays its heritage with a fairly mild character. Though there are hints of citrus on its nose, those scents don't translate to the beer's flavor. True-to-style saisons are supposed of have a more pronounced fruit character. If anything, there are very faint flavors of toffee or malt in this beer. Session Saison isn't overly bitter, though there's a bit of dankness involved.
At 4.9 percent ABV, Session Saison is a farmhouse ale that can be consumed over long drinking sessions. Its finish is clean, it's light on the palate and its straw-coloration looks refreshing in its snifter. It's dead summer in Denver, which means temps in the 90s. Therefore, Session Saison does have some drinkability given the right season.
Jagged Mountain has plenty of other beers that are bigger and bolder than Session Saison. But for people who quite rightly question why American beer is so strong, Session Saison provides at least one example of brew made in the United States isn't so strong.
Tags:
Beer
Recent Articles

Feedback
How are we doing? Tell us what you like or don't like and how we can improve. We would love to hear your thoughts!