DC Bar, Mockingbird Hill, Paves Way for U.S. Sherry Cocktail Revolution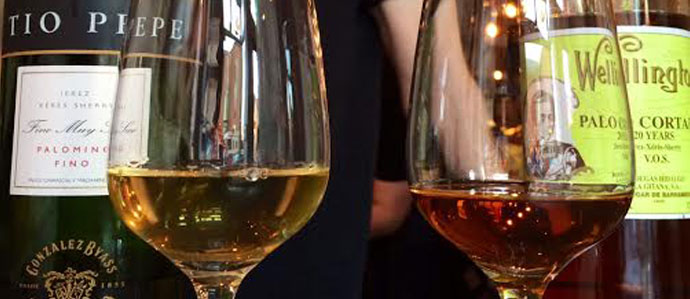 It's 5 PM on a warm 2013 June evening. Up-and-coming Washington, D.C. restaurateur Derek Brown sits anxiously at the end of a stainless steel L-shaped bar inside his newest venture, Mockingbird Hill.
The grand opening parties have finished, the buzz has fizzled and now it's the moment of truth: The inaugural day of business for the country's first sherry wine and jamón joint modeled after many bars in southern Spain. Brown's mind is racing.
"Nobody is there. I'm like (expletive.) 'I'm done! This is it. What (expletive) idiot opens a sherry bar?' I was like, 'This is cool, I'm one of the first, but I'm going to go down in flames for this.'" The first guests arrived at 5:03 PM that day and they haven't stopped pouring in since.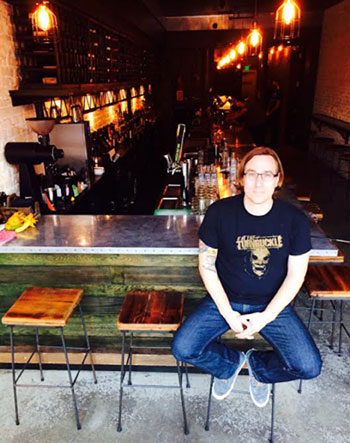 Fast forward a year-and a-half later, Mockingbird Hill is leading the sherry cocktail revolution in the U.S. And Brown, already the owner of The Passenger and Columbia Room, has opened two restaurants next door to Mockingbird Hill. The adjoining restaurants are Southern Efficiency, a whisky bar that specializes in comfort food, and Eat the Rich, which serves up healthy doses of local fish from the Chesapeake Bay. The trifecta of restaurants taking over the food and beverage scene on 7th Street in D.C.'s trendy Shaw neighborhood has earned Brown the hashtag #DB3 on Twitter.
Brown said there is no coherent reason for opening such distinctively different bars and restaurants on this slice of Shaw heaven, other than the fact that all three include the foods and drinks he and his partners salivate over.
"We just love stuff and we put it out there," he said. It is that simple mantra that led this heavy-metal loving, cocktail-slinging, native Washingtonian to go all in and open a full-scale sherry bar. Sure you can order other wines and even a gin and tonic but Brown is hoping people will give sherry a real try. There are plenty of other bars in America with extensive sherry programs, but none have moved the needle as far as Mockingbird Hill.
Brown and bar manager, former Tabard Inn mixologist, Chantal Tseng, and their team of merry bartenders (all whom must pass a test before starting) are on a mission to change the sherry perception. It's not always sweet, it's not just used for cooking and it's especially not just for old people.
"I don't know… They think old ladies drink it. But I just say - if they did drink it - they drink this sherry, like a VORS sherry, a Palo Cortado, then they are (expletive) badass old ladies and I will follow them," said Brown.
When you stop by Mockingbird Hill for a glass of sherry, you may just leave with the following knowledge – if you so choose. All sherry wines hail from the Jerez region of southern Spain and are made up of a blend of Palamino, Pedro Ximenz and Moscatel de Alejandria grapes. The wine is vinified in a variety of ways to create sherries that ranges from super dry and savory to bright and nutty.
"It's a really beautiful beverage and one of the most complex and interesting in the world," said Brown.
Mockingbird Hill serves more than 80 varieties of sherry. Brown's obsession of the month is the Tio Pepe – a crisp dry fino. For a full sherry immersion, flights based on region and aromas are available. The most popular cocktail may as well be the Adonis, the sherry equivalent to a Manhattan. In fact, that was the first sherry-based cocktail that ever met Brown's lips and sparked his love for this distinct wine.
Mockingbird Hill opens at 5 PM, seven days a week, and serves as a coffee bar from 8 AM to 3 PM.
Mockingbird Hill, 1843 7th St. NW D.C.; 202-316-9396
Photos by Marina Cracchiolo
Tags:
Dinner
,
Food
,
Wine
Recent Articles

Feedback
How are we doing? Tell us what you like or don't like and how we can improve. We would love to hear your thoughts!