Where to Find the Best Tacos in Washington, D.C.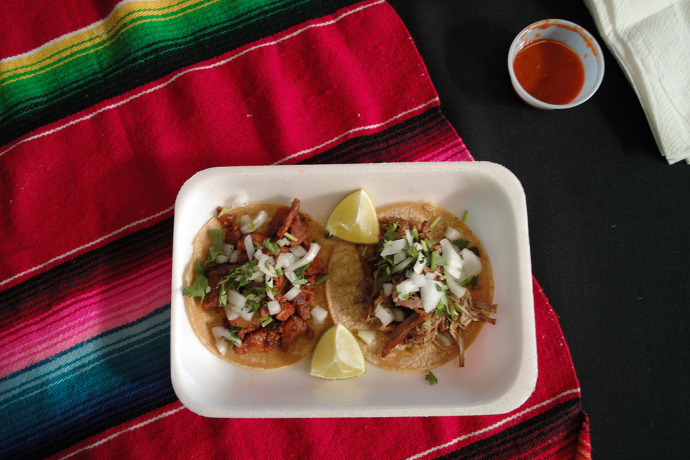 Cinco de Mayo is right around the corner and that means two things need to happen: tacos and margaritas. From taco stands to food trucks and brick and mortar restaurants, here are the places you need to go for tacos in DC.
What started out as a farmer's market taco stand has since turned into a Georgetown force to be reckoned with. Offering seasonal, plant-based tacos, head to Chaia for healthy tacos like mushroom with feta, red sauce and cilantro; creamy kale and potato with pepper jack, poblano crema, green sauce and pickled onions; and spring greens with creamy ricotta, smoky tomatillo salsa and fresh radish. Don't limit yourself to just one kind — order a trio for $11. (3207 Grace St, NW; 202-333-5222)
Chupacabra Taqueria
With plenty of outdoor seating, this H Street taqueria will be a prime taco spot once the weather decides to play nice. Build your own tacos (or rice/bean bowl, arepa, or tostada) by choosing from one of the 10 filling options which include al pastor, beef barbacoa and pollo sofrito. Are you a fan of spicy food or just feeling adventurous? Try the Inferno salsa, which comes complete with a signed waiver requirement. Stop by for happy hour and pair your tacos with $2 off margaritas and $1 off beers. (822 H St., NE; 202-505-4628)
With 5 locations in DC and Virginia, District Taco is slowly taking over the DMV. The menu offers everything from huevos rancheros to salads and nachos, but in our opinion, it's blasphemy to visit an establishment with the word "taco" in its name and not order tacos. The al pastor and barbacoa are a must-order; grab three tacos for $8, otherwise, they're $3 each. Pro tip: Come for the shrimp tacos, which are only offered on Mondays and Thursdays. (multiple locations)
Head to Bloomingdale for El Camino's camarones (shrimp tacos). Also on the menu? Carnitas, lengua, pollo asada, carne asada, baja fish and mushroom. Come during happy hour (Monday–Friday, 5–7 PM and 10:30 PM–Close) and pair your tacos with $5 margaritas, $5 Negra Modelo, $5 red or white wine, $5 rail drinks, $3 Tecate, and $1 chips and salsa. (108 Rhode Island Ave., NW; 202-847-0419)
El Chucho - Cocina Superior
At this Columbia Heights taqueria, tacos come two per order. Choose from marinated steak, beef tongue, adobo marinated pork, smoked chicken, squash blossoms, or lightly battered catfish. Come during happy hour, where you'll find discounted tacos and beverages like frozen swirl margaritas for $5.50. (3313 11th St, NW; 202-290-3313)
El Rey
The unique shipping container exterior on U Street will draw you in, and the delicious tacos will make you stay. Options include al pastor, carne asada, Thai shrimp, grilled fish, adobo chicken, depescado, queso con hongos, and a taco of the day. Come for brunch and get breakfast burritos with bottomless mimosas and micheladas for $20. (919 U St., NW; 202-506-6418)
Espita Mezcaleria
The newest Mexican restaurant to hit Shaw specializes in Southern Mexican food and as the name would suggest, mezcal. Here, tacos come in either twos or threes and include everything from lamb barbacoa, smoked pork jowl, maitake mushroom, and crispy chanquetes. Enjoy your tacos with speciality cocktails or flights of mezcal. (1250 9th St, NW; 202-621-9695)
You can grab these Asian-fusion tacos at either food truck or restaurant location in NE. The truck menu offers tacos, burritos or bowls, whereas the restaurant menu also includes quesadillas and kimchi fries. Either way, build your own taco by choosing from fun ingredients (with equally fun names) such as Hot Sexy Tofu, Spicy Flying Pig, Powerful Steak, and Bang Tang Chicken. (409 15th St., NE; 202-601-4346)
Tacos at Fuego come two per order with all the traditional fixings. Adventurous eaters should try the Lengua (slow braised beef tongue) or the Birria (Jalisco-style roasted goat). Whenever you visit, be sure to order the daily featured cocktail for just $5. (2800 Clarendon Ave., Arlington, VA.; 571-970-2180)
Johnny Pistolas
Tacos at Johnny Pistolas range from $3-$6 per and options include everything from braised lamb to fried oysters. Can't decide? Get the Taco Tour and sample one of each of the most popular tacos. Coming with a group? Order one of the taco trays, which can feed up to 4 people and include tacos, guacamole, and grilled corn. (2333 18th St., NW; 202-817-3255)
Open 24 hours a day, this Dupont Circle taco stand is the place to go when the inevitable midnight munchies hit. As you could probably gather from the name, there are plenty of seafood options, including grilled rockfish, blackened tilapia and grilled shrimp tacos. The special 11 PM–11 AM menu features grilled steak or chicken tacos and a scrambled egg/bacon version. (1800 N St., NW; 202-466-1830)
From Victor Albisu, Taco Bamba's tacos all come at $3 per. Unique protein options include beef intestine, beef tongue, and spicy goat. If you're feeling less traditional, order up La Poutina, which may just be the taco of your dreams. Made with fries (yes, you read that correctly), barbacoa jus, spicy mayo, onions, cotija cheese and bacon, it's a fun twist on the Canadian comfort food. (2091 Pimmit Dr., Falls Church; 703-639-0505)
Tacos El Chilango
Steps from U Street, Tacos El Chilango offers authentic Mexican tacos and agua frescas. Choose from a variety of carne and vegetarian tacos (all orders come with three tacos) and pair your food with homemade fruit drinks or margaritas. (1119 V St, NW; 202-986-3030)
From its humble beginnings as a food truck, TaKorean has since expanded to Union Market and a brick and mortar in Navy Yard. Serving up tacos with a Korean twist, you'll find steak bulgogi and tofu as protein options on the menu. Pair your taco up with kimchi slaw and Sriracha sauce and you'll never look at a taco the same way again. (1212 4th St., SE)
Choose from 10 different proteins here, including shrimp, mushroom, cactus, al pastor and more. Here, tacos are $2.50 each and come topped with cilantro, diced onions, radish and cucumbers. A refreshing complement to your tacos, order a glass of the Habanero Sangria made with brandy, wine and fresh fruits. (3710 14th St, NW; 202-722-7700)
Taqueria Nacional
Here you'll find no frills, traditional Mexican-style tacos. Choose from steak, carnitas, chorizo, chicken, fish or lamb. Come during happy hour (Tuesday–Friday, 7 PM–Close) and order up a fresh squeezed lime margarita to go with your tacos for only $5. (1409 T St., NW; 202-299-1122)
Photo via Flickr user leduardo
Tags:
Food
Recent Articles

Feedback
How are we doing? Tell us what you like or don't like and how we can improve. We would love to hear your thoughts!