Drinks Decoded: Piña Colada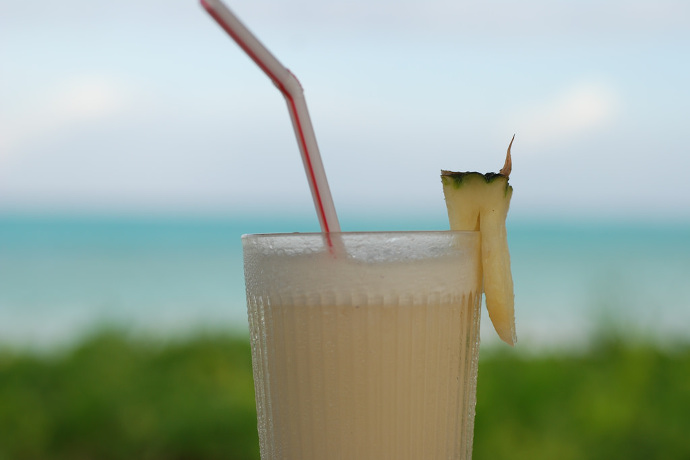 In this series, we take a closer look at well-known cocktails. Get to know the history behind these classic drinks as well as where you can find them in the DMV area. This week's Drinks Decoded takes on the Piña Colada.

The Basics
A world-famous cocktail, the Piña Colada is made with rum, cream of coconut, and pineapple juice. A Spanish word, "Piña Colada" literally translates to "strained pineapple" - a reference to the process of extracting pineapple juice from the fruit that is used in the drink. It can be served frozen or shaken with ice in a Poco Grande glass; typical garnishes include a pineapple wedge or maraschino cherry.
The Backstory
Now known as a popular beach drink, the Piña Colada traces its roots back to Puerto Rico and is the island's official National Drink. The first reference to the cocktail dates back to the 1800's where various sources state that the Puerto Rican pirate Roberto Coresi served his men a morale rallying beverage of white rum, coconut and pineapple. With his demise in 1825, so too went the recipe for the first Piña Colada. Fast forward a century and a quarter later, and the modern Piña Colada was said to have been re-born. There are a few contested stories as to who owns true ownership over the drink's creation, with the most believable story giving credit to Ramon Marrero. A bartender at the Caribe Hilton Hotel in San Juan, Perez first whipped up the drink in 1954, after three months of experimenting before coming up with the final recipe. Utilizing the newly developed product Coco Lopez (a mix of coconut cream and cane syrup) in his recipe, Marrero served up the drink to the swanky hotel's guests who took word of the delicious and refreshing cocktail back to their homes, thereby spreading the drink's popularity. Fellow Caribe Hilton bartender RIcardo Garcia also lays claim to the drink's invention, as does another bartender, working at the Barrachina Restaurant, a stone's throw away from the Caribe Hilton. Although its origin may be a bit unclear, the Piña Colada is a fan favorite drink that will continue to be enjoyed for years to come, both on beaches and at bars.
The Bars
Archipelago
The only frozen drink on the menu at Archipelago, the U Street tiki bar serves up a delicious blend of coconut, white rum and pineapple in a tiki glass. (1201 U St, NW; 202-627-0794)
Farmers Fishers Bakers
Known for its tiki cocktail program, the Georgetown Waterfront restaurant offers three types of Piña Coladas (Shaken, Blended, and one made with Fernet) in addition to the drink's well-known spin-off, the Lava Flow (rum, coconut milk, pineapple, strawberry, bitters). (3000 K St, NW; 202-298-8783)
The underground cocktail bar's version of the Piña Colada is made with dark rum, pineapple, coconut, spices, and lime. Pro tip: come on Saturdays from 6 - 8 PM for Frappe Hour and get the drink for a discounted price of $9. (1800 14th St, NW)
Photo via Flickr user advencap
Recent Articles

Feedback
How are we doing? Tell us what you like or don't like and how we can improve. We would love to hear your thoughts!