Drinks Decoded: Hot Toddy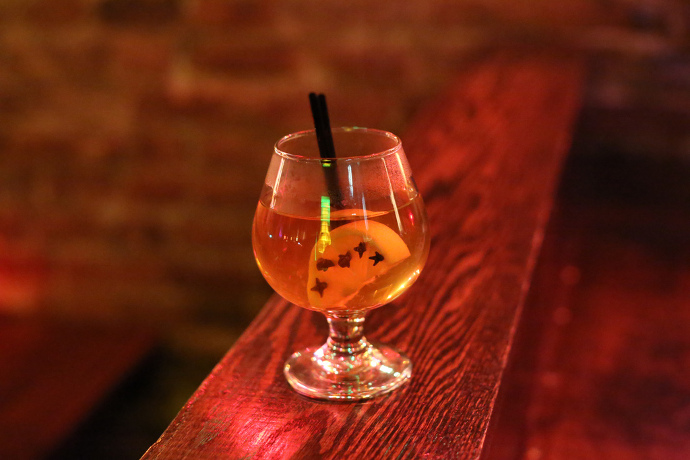 In this series, we take a closer look at well-known cocktails. Get to know the history behind these classic drinks as well as where you can find them in the DMV area. This week's Drinks Decoded takes on the Hot Toddy.
The Basics
Made with a combination of liquor, water, and a sweetener - usually sugar or honey - the hot toddy is traditionally drunk during cold weather or as a nightcap. There is no standard recipe and variations can be made from a number of spirits including rum, whiskey, brandy or bourbon. Likewise, the warm base can range from hot water and tea to cider or coffee. A highly versatile mixed drink, the Hot Toddy has become a favorite for chilly nights, easily modifiable with a number of flavors and spices.
The Background
The Hot Toddy is believed to have originated from 18th century Scotland where it was traditionally made with sugar, hot water and Scotch. The name "toddy" is said to have been derived from a spring in Edinburgh known as Tod's Well as attributed by a popular Allan Ramsay poem. As previously mentioned, the Hot Toddy was a warming drink and thought to have beneficial health properties as a cold cure. Although it has roots in the Highlands, since the Hot Toddy is such an easily modified beverage, variations have been known to be drunk during American colonial times (typically made with rum imported from the Caribbean) or whatever spirit was available locally.
The Bars
The Hot Toddy is on the newly updated seasonal cocktail list at Blackwall Hitch. Try their version, Earl's Honey Toddy - made with Cognac, Honey Jack and an Earl Grey syrup. (5 Cameron St, Alexandria; 703-739-6090)
For the classic Hot Toddy, head to Bourbon Steak at the Four Seasons. Here, the Toddy is made with Drambuie, black tea, cinnamon, fresh lemon and fresh orange and is served hot with your choice of: Barr Hill Gin, Jameson, Bulleit, Hennessy VS or Avion Reposado Tequila. The options are endless. (2800 Pennsylvania Ave, NW; 202-944-2026)
For a southern twist on the Toddy, head to the beloved coffeehouse in Adams Morgan and warm up with the Julep Toddy: bourbon, hot mint tea, sugar and mint leaves. (2459 18th St, NW; 202-232-5500)
Recent Articles

Feedback
How are we doing? Tell us what you like or don't like and how we can improve. We would love to hear your thoughts!