Drinks Decoded: Eggnog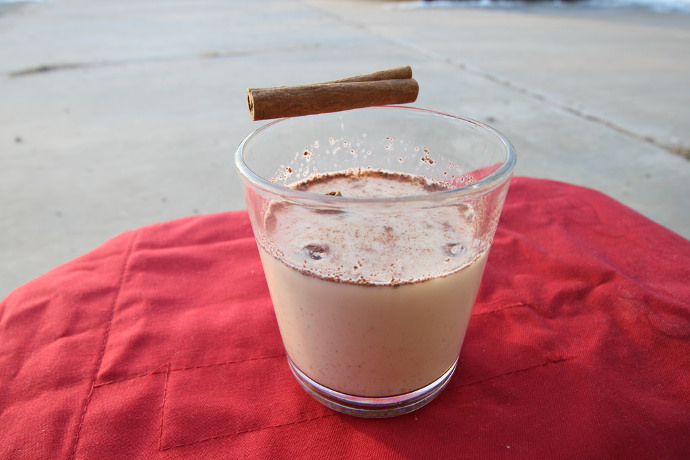 In this series, we take a closer look at well-known cocktails. Get to know the history behind these classic drinks as well as where you can find them in the DMV area. This week's Drinks Decoded takes on Eggnog - just in time for your holiday drinking.
The Basics
A seasonal drink, eggnog is a dairy-based beverage made with milk, cream, sugar, whipped raw eggs and a spirit - typically rum, bourbon, brandy or cognac. Although the drink contains raw eggs, the process of creating the drink (aging over a period of time in low, refrigerated temperatures) and the addition of alcohol (at least 20% of the drink must be alcoholic) will kill any bacterial pathogens.
The Background
Eggnog can be traced back to a medieval European drink, posset, which was made with hot milk and whatever alcoholic spirit was readily available (sherry, wine, ale). The name Eggnog can be traced back to the 1700s, where the term "noggin" described a small cup or mug used as a drinking vessel. Since the ingredients for Eggnog were mostly accessible to the wealthy, the drink was a favorite to use for toasts to good fortune and health during the winter months. The beverage was introduced to America from England during the 1700s - dairy products were easy to come by with the numerous farms found in colonial America. Due to Caribbean trading routes at the time and the fact that whiskey and wine were taxed items, rum was always on hand and was the liquor of choice for Eggnog. Once the Revolutionary War hit, most Eggnog ingredients were hard to come by and it became a beverage drunk on special occasions only. That part of eggnog's history has remained, as it is almost exclusively imbibed during the holiday seasons.
The Bars
From the traditional eggnog to fun twists on the classic, check out these DC bars serving up the Yuletide favorite during the holiday season:
Bayou Bakery
The New Orleans style coffee bar and restaurant offers its Bayou-nog each season: eggs cinnamon, nutmeg, vanilla and cream. Order the non-alcoholic version or get the Naughty Nog with the addition of bourbon for $7. Eggnog enthusiasts can also take home Bayou-nog by the quart to enjoy during Christmas festivities for $16. (901 Pennsylvania Ave, SE; 202-664-5307)
Maketto
For an Asian twist on the traditional nog, try Maketto's Mala Five Spice Egg Nog, made with rum, condensed milk, pandan extract and five-spice powder steeped in coconut milk for $12. (1351 H St, NE; 202-838-9972)
Tico
Michael Schlow's Mexican/Spanish influenced restaurant will have a Sweet Potato Nog this season. Made with sweet potato-infused cream, egg yolk, vanilla bean, nutmeg saffron and dry spiced rum from local distillery Cotton & Reed, it's available through the season for $12. (1926 14th St, NW; 202- 312-1400)
Photo via Flickr user Wheeler Cowperthwaite
Recent Articles

Feedback
How are we doing? Tell us what you like or don't like and how we can improve. We would love to hear your thoughts!