Bulleit is Releasing a Barrel Proof Frontier Whiskey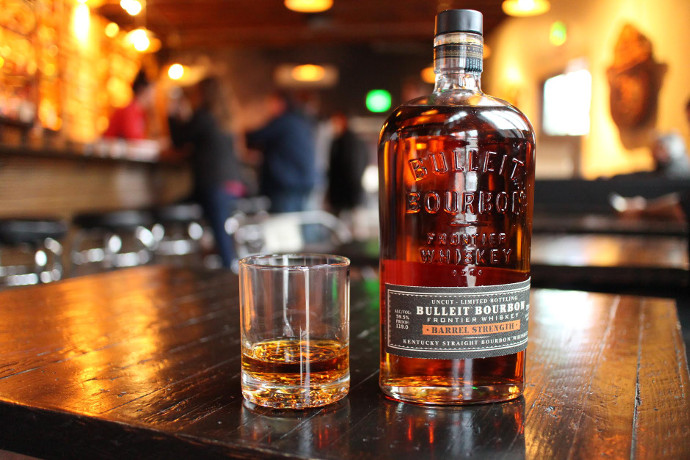 Whiskey fans have a new reason to celebrate: Bulleit, for the first time, is releasing a barrel proof bottle of its famous bourbon. First released in April of 2017 in Tom Bulleit's home state of Kentucky with only 5,000 cases available, it was difficult to come by for anyone not in The Bluegrass State. Now, the Bulleit Bourbon Frontier Whiskey, as it's being called, is coming to eight other states: Texas, California, New York, Illinois, Colorado, Oregon, Ohio, and Washington, D.C.

The bourbon is the same mash bill as the classic Bulleit Bourbon, with a high rye content that gives it its telltale spice: 2/3 corn to 1/3 rye. Instead of the usual 90 proof (45%), the barrel proof is around 120 to 125, depending on the bottle. Like its progenitor, the overproof bourbon is rich and smooth (especially for the alcohol level), with notes of vanilla, nutmeg, oak, and toffee, though it's drier and spicier.
Like the original Bulleit, the Frontier Whiskey is being designed with bartenders in mind, as well as in response to consumers' growing preference for overproof spirits, Diageo National Educator Douglas Kragel told The Drink Nation. Normally, bourbon is diluted before bottling to bring the alcohol down to a specific amount, often 80 proof or 100 proof for bonded whiskeys. But by transferring the spirits directly from the barrel to the bottle, Bulleit has "given the moment of dilution back to the bartender and the consumer," says Kragel. The additional heat, spice, and dryness means it's easy to work with in drinks like an old-fashioned, and perfectly stands up to the crushed ice and sugar in a mint julep.
The release of the barrel proof coincides with the opening of Bulleit's first distillery in spring of 2017, the product having been made in other distilleries previously. Given the long barrel aging time, it might be a while before we see any Bulleit products made entirely at the new distillery.
Bulleit Bourbon Frontier Whiskey's suggested retail is $59.99 for a 750 ml bottle.
Photo via Alexander Frane
Recent Articles

Feedback
How are we doing? Tell us what you like or don't like and how we can improve. We would love to hear your thoughts!