Drinks Decoded: Gin Rickey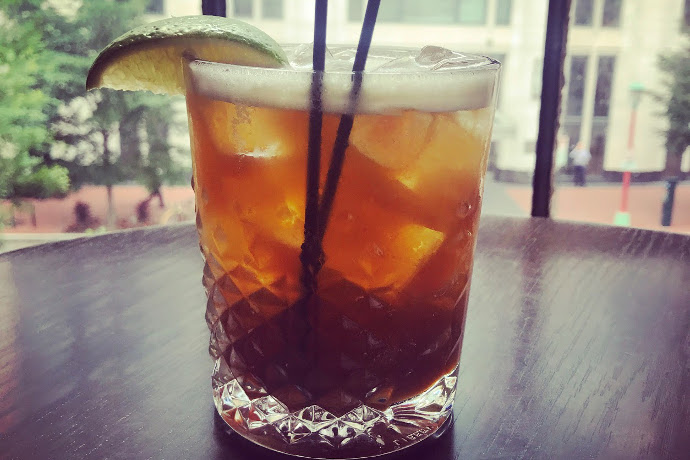 In this series, we take a closer look at well-known cocktails. Get to know the history behind classic drinks as well as where you can find them in the DMV area. This week's Drinks Decoded takes on The Rickey.

The Basics
DC's official cocktail is made with either gin or bourbon, sparkling water and a squeeze of lime juice. Garnished with half of a lime, it's typically served on the rocks in a highball glass. Although whiskey was first used to create the drink, most rickeys these days are of the gin variety. The refreshing drink is perfect for warding off DC's swamp-like summer days.
The Background
The cocktail is rooted in the nation's capital, having been invented by bartender George A. Williamson in DC around the 1880s (he allegedly had the help of lobbyist Colonel Joseph Rickey, a regular at Williamson's bar and whose name lends itself to the cocktail). The story has it that one day Williamson decided to add lime to Rickey's go-to libation: bourbon with ice and sparkling water, therefore creating the Rickey. A few years later, the drink's popularity skyrocketed when gin supplanted bourbon as the cocktail's foundation. In recent years, the Rickey has experienced a resurgence in popularity, especially in DC where the DC Craft Bartenders Guild successfully lobbied to name the Rickey DC's official cocktail in 2011, as well as naming July National Rickey Month in the district.
The Bars
Celebrate the last week of National Rickey Month by checking out these bars serving up their own interpretation on the classic DC cocktail.
Bar Deco
The rooftop bar in Chinatown serves up its version of the Rickey, made with Glendalough Wild Botanical Gin, Cotton & Reed's Allspice Dram, lime juice, simple syrup, and garnished with a lime. Sip it on the bar's rooftop overlooking Chinatown. $13. (717 6th St, NW; 202-774-5867)
Dino's Grotto
The Italian bistro in Shaw uses local gin from Green Hat in it's version of the Rickey: lime half, soda, black peppercorn and citrus bitters in addition to Green Hat gin. $10. (1914 9th St, NW; 202-686-2966)
Graffiato
Head to Mike Isabella's Italian outpost where there are three variations of the Rickey on the menu. For a spicy twist on the original drink, sample the Shot Through the Heart made with Bulleit bourbon, passionfruit, jalapeno, lime, angostura and club soda. $13. (707 6th St, NW; 202-289-3600)
Photo via Bar Deco
Recent Articles

Feedback
How are we doing? Tell us what you like or don't like and how we can improve. We would love to hear your thoughts!