Beer Brand Aurosa Makes Beer 'For Women,' Women Say They Already Have a Beer, and It's Called Beer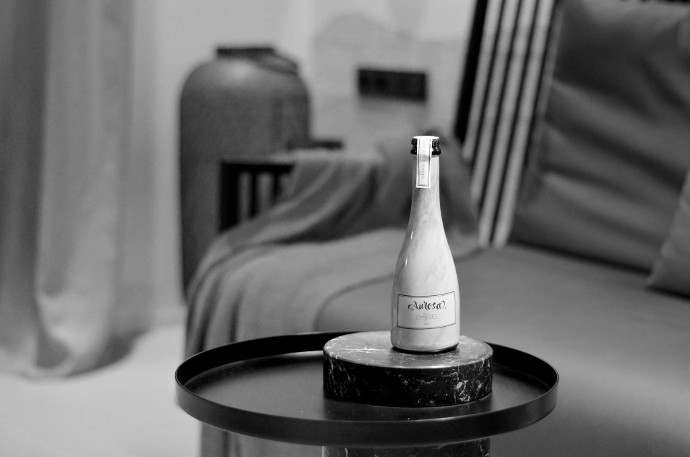 Throw away your beer stash ladies, because a Czech beer company has made the only beer we will need. The company, Aurosa, claims to have brewed the "first beer for her" (and trademarked the phrase) in a very blatant disregard of the fact that women have been drinking beer for centuries.
What makes this beer perfect for those of us with female reproductive organs? The premium, lifestyle beer is semi-dark Czech lager, which I'm sure after a ton of research and focus grouping was determined as the favorite style of an entire gender.
But what truly made us fall in love with this beer was of course the very deliberate marketing on
Aurosa's website
. The bottle, which looks like a granite countertop, is perfect for us gals who can't stand life outside the kitchen, and the website, which pictures the beer bottle daintily placed in piles of roses, will make any girl feel incredibly feminine. Did I mention that Aurosa is an official partner of Mercedes-Benz Prague Fashion Week? Because it is!
A description of the beer on the company's website explains our needs: "Aurosa is a representation of a woman's strength and a girl's tenderness. The two contrasting tempers, present in the female essence, are depicted through the elegant design yet the strong, unfiltered taste." Thank god! Now we don't have to only drink wine when we're feeling moody! Pretty beer!
"Aurosa was born to prove that women can succeed anywhere without having to adapt and sacrifice their natural femininity. Women have been disregarded in the beer industry but owing to determination and faith in herself, Aurosa is set to redefine the perception of beer."
Please tell the
Pink Boots Society
that they've been doing things all wrong, brewing beer only suitable for men for all these years!
Recent Articles

Feedback
How are we doing? Tell us what you like or don't like and how we can improve. We would love to hear your thoughts!