Drinks Decoded: Mulled Wine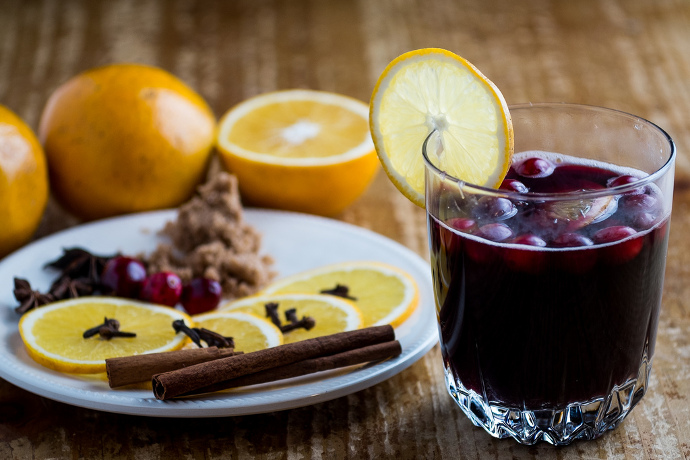 In this series, we take a closer look at well-known cocktails. Get to know the history behind classic drinks as well as where you can find them in the DMV area. This week's Drinks Decoded takes on mulled wine.
The Basics
Traditionally imbibed during the wintertime (especially around the holidays) Mulled wine is a warm concoction of red wine, spices (typically a mixture of cinnamon, nutmeg, cloves, cardamom and ginger with a citrus element - either orange or lemon) and in some cases, brandy or port; the ingredients are all added to a large pot and simmered. The mixture is then strained and poured into mugs for drinking with a garnish of a sliced oranges that have been studded with cloves.

The Background
Harkening back to the time of the Romans, mulled wine has a long and storied history - a warming agent that's been enjoyed by many over the centuries. The drink has been attributed to the Romans back in the 2nd century where extra wine was heated with spices; a necessity for staving off winter chills. The drink spread throughout Europe as the Romans conquered the region and made their way up and down the continent. Many European countries have their own variations of the drink - in Britain, mulled wine and mulled cider have become popular beverages to keep warm - in medieval times, the addition of spices was believed to be a health benefit; in the Germanic countries Gluhwein (made with red wine, cinnamon sticks, cloves, citrus and star anise) is a popular beverage during the holiday times; Glogg is the Nordic mulled wine variety and can be made with white wine, Port, brandy or traditional red wine. Many other countries including those in Europe and South America enjoy their own unique mulled wine variety - no matter where in the world it's imbibed, the drink is widely enjoyed during the colder months.
The Bars
The U Street wine bistro's version of mulled wine is made with House Red Wine, brandy, fresh orange, cardamom, clove, and star anise - enjoy it while playing bocce on the Plaza. (1940 11th St, NW; 202-332-9463)
Head to The Watergate's rooftop bar for an ice skating session and then warm up with a s'more and hot cocktail, including mulled wine with brandy, cloves, cardamom, citrus and cinnamon. $16. (2650 Virginia Ave, NW; 202-827-1600)
The H Street wine bar has a mulled wine featuring apple brandy from women-owned DC distillery Republic Restoratives. $10. (904 H St, NE; 202-506-3103)

Recent Articles

Feedback
How are we doing? Tell us what you like or don't like and how we can improve. We would love to hear your thoughts!