Drinks Decoded: Hot Buttered Rum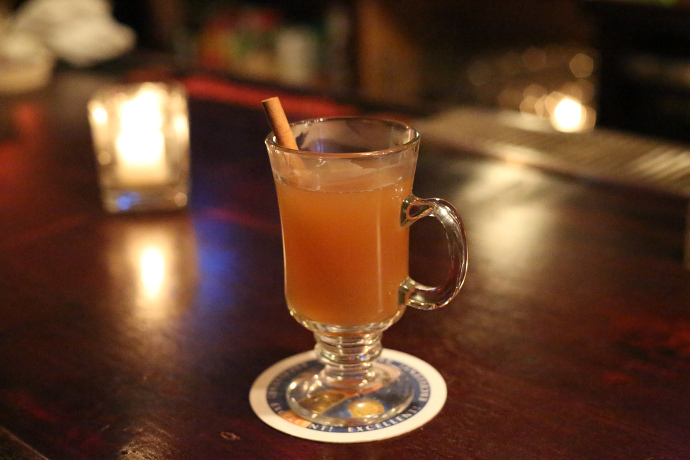 In this series, we take a closer look at well-known cocktails. Get to know the history behind classic drinks as well as where you can find them in the DMV area. This week's Drinks Decoded takes on the Hot Buttered Rum.
The Basics
A cocktail that includes the words "hot," "butter," and "rum" in its name should automatically warm you up from the inside out. This comforting drink does just that. As one could surmise from the name, the main ingredients of the mixed drink are rum, butter, a medley of spices (including cinnamon, nutmeg, cloves) combined with hot water or cider in a mug. Some bartenders prefer to create a batter or mixture of the butter and spices before adding to the liquid ingredients. The warm, boozy concoction of savory and spice flavors along with the heat from the liquid makes it the perfect fall and wintertime sipper.
The Background
The hot buttered rum goes back to pre-colonial America where the New World spirit, rum, was quickly becoming a favorite of traders and the British Royal Navy after the latter took hold of Jamaica in the late 1700's. For some time, folks had been mixing hot, spiced beverages with alcohol in their efforts to stave off long, wintry months. With the introduction of a new spirit, in the way of rum, (which led to a burgeoning distillery business for colonial America) the doors were opened to new beverage opportunities. The liquor soon found its way into hot drinks including what we know now as the hot toddy and hot buttered rum.
Come wintertime, the 18th Street bar has been known to whip up a hot buttered rum variation with walnut liqueur, apple brandy and port wine in addition to dark rum and a mixture of butter and spices. (1825 18th St, NW; 202-627-2183)
The classy Georgetown Bar's winter cocktail menu usually features the hot buttered rum. Their variation is made with dark rum, aged rum, vanilla bean and ginger. (2800 Pennsylvania Ave, NW; 202-944-2026)
The stately Willard InterContinental bar will typically offer the traditional hot buttered rum during the colder months, made with a mixture of cinnamon, nutmeg, cloves, and hot water. (1401 Pennsylvania Ave, NW; 202-628-9100)
Recent Articles

Feedback
How are we doing? Tell us what you like or don't like and how we can improve. We would love to hear your thoughts!