Stay Warm in D.C. This Winter With These Hot & Spiced Cocktails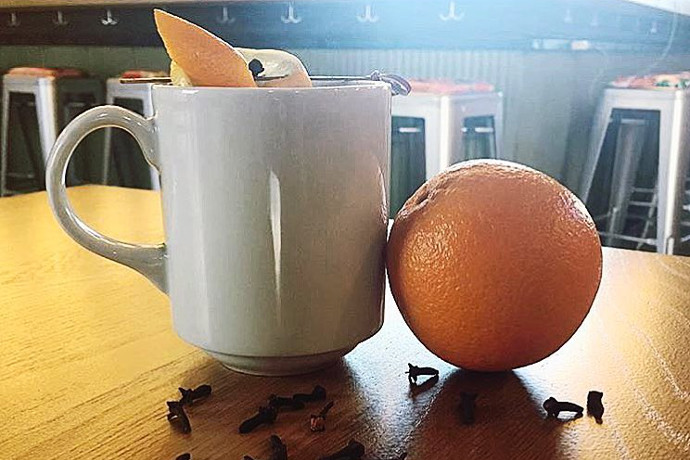 Showcasing fall and winter spices, these cocktails are the perfect drink options when the weather gets chilly. Here are our top picks for tipples that will warm you up from the inside out.
Seasonal sips at the Dupont Circle hotel bar include the Apple Mule with vodka, apple juice, cranberries, lime juice and ginger beer for $13. If you're looking for some heat, opt for The Dupont Hot Toddy - a mixture of Scotch whisky, cloves, lemon juice, orange peel, honey, and angostura bitters. (1500 New Hampshire Ave, NW; 202-797-0169)
Sip on the Blagden Alley's version of the Hot Toddy whilst taking in the sparkling lights of the outdoor patio. Their concoction features bourbon, honey, clove and lemon - ask your bartender for the off-menu drink. (50 Blagden Alley, NW; 202-791-0134)
Although the Cuban spot on 14th Street is known for its frozen drinks and summery alcoholic juice pouches, swing by the vibrant cafe/restaurant/bar during the cooler months and warm up with drinks incorporating spices prevalent in the Caribbean. The Vulcan Old Fashioned is a blend of banana-infused Bacardi 4 and angostura bitters or try the Carajllo combining aged rum, espresso and Licor 43 - the seasonal drink is served warm. (1405 T St, NW; 202-332-8800)
For a fun, warm, seasonal drink, look no further than Firefly's Bomb-Fire. The cocktail is made with Basil Hayden's bourbon, Kahlua, Nux walnut liqueur and St. Elizabeth allspice dram, served in a smoked glass and topped with a torched marshmallow. Another great seasonal option off the signature cocktails, try The Great Pumpkin: Jack Daniel's Rye, Belle Isle moonshine, organic pumpkin and carrot juice, pumpkin space, Madagascar vanilla bean and lemon zest. (1310 New Hampshire Ave, NW; 202-861-1310)
Jose Andres' National Harbor seafood outpost will highlight spirits and warm flavors during the colder months. Try the Mathilde Colonial with Appleton Estate Rare BLend rum, apples, lemon, ginger and maple or Like A Rattle Snake made with Appleton Estate Rare Blend rum, Port City Porter beer, vanilla, lime, chocolate bitters and nutmeg. (101 MGM National Ave., Oxon Hill, MD; 301-971-6050)
In addition to rib-sticking comfort food (hello meatballs, risotto, polenta, and pasta), the 14th Street newcomer also offers a range of seasonal drinks incorporating flavors and spices that will keep you warm against the chilliest of nights. Try the #Basic made with Cruzan rum, pumpkin, allspice and lemon or opt for the seasonal sangria - enjoy the fall/winter version, a mix of red wine brandy, apple, pear, citrus, and cinnamon. (1720 14th St, NW; 202-684-8564)
The Swiss-inspired restaurant on H Street offers a range of seasonal drinks on its cocktail menu. Sip on the Golden & Delicions made with JW Red Label, Lillet Blanc, Chapman's Apple Brandy, apple shrub and rosemary or warm up with the flavors of the Butterscotch: Kopper Kettle Bourbon, VA Butterscotch Moonshine, Stable Allspice Bitters. (1324 H St, NE; 202-733-4604)
The Petworth taqueria will slinging seasonal drinks this fall and winter including Fall in Guatemala with Aviation gin, orange juice, coriander syrup and pepitas; the Otono with Avua Cachaca, cranberry syrup, mint and lime; and the Miss Figgy Love Tacos, made with Evan Williams, fig syrup and Amontillado sherry. All cocktails are $11. (821 Upshur St, NW; 202-723-0200)
Recent Articles

Feedback
How are we doing? Tell us what you like or don't like and how we can improve. We would love to hear your thoughts!