Cold Weather = Warm Booze
Holiday Drinks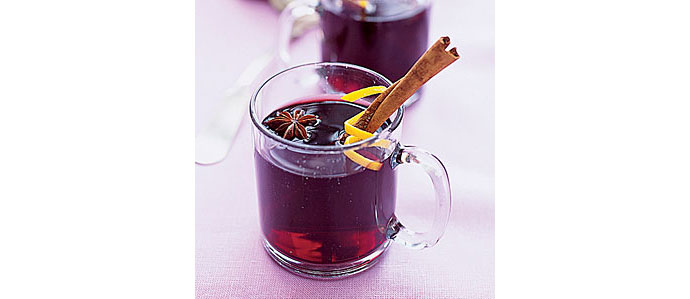 Tis the season to be jolly which, if you ask me, means safely ensconced inside, in front of a fire, warm drink in hand. And while I love me some coffee and do enjoy a mug of tea hit up with honey, my drink of choice is still wine.
Mulled wine may seem a little old school, and it is. Recipes for hot, spiced wine drinks date back to the 1400s and come from Sweden, Iceland, Germany and Great Britain. In other words, if it was cold, people were finding a tasty way to keep warm.
Perhaps best described as the winter's version of sangria, red wine is blended with sugar, fruit and spices like cinnamon, cardamom, ginger, cloves and nutmeg. For a little extra festiveness, add a bit of brandy or cognac.
The process is super simple, too: melt the sugar into water (which creates simple syrup), add wine, liquor, fruit and whole spices wrapped in cheesecloth or a tea ball and warm up on the stove-top until the flavors get friendly. And viola.
Zesty and sweet, this festive little toddy will have you warmed up in no time. Put on a pot for your holiday get together -- finding the super-cute little mugs to serve it in will probably take you longer than brewing up the beverage itself and your lucky guests will think you are a regular Martha Stewart.
Speaking of the domestic diva, if you are ready to give it a go but don't want to free-pour, check out Martha's step by step here.
12.13.10
---
Melissa Auman Greiner is a born and bred Philly girl with a soft spot for the city's growing food and wine scenes, leafy green squares and sultry summers. Just don't get her started on the inadequacy of SEPTA. With nearly 10 years of experience covering the city for a variety of newspapers, magazines and websites, it hasn't just been her pleasure to visit Philly's best bars and restaurants -- it's been her job. And with an advanced certification from the International Sommelier Guild under her belt, she brings her city savvy and wine know-how together to deliver Drink Philly readers the latest info on Philly vino.
---
Recent Articles

Feedback
How are we doing? Tell us what you like or don't like and how we can improve. We would love to hear your thoughts!