Brewmasters Officially Cancelled
Is Big Beer to Blame?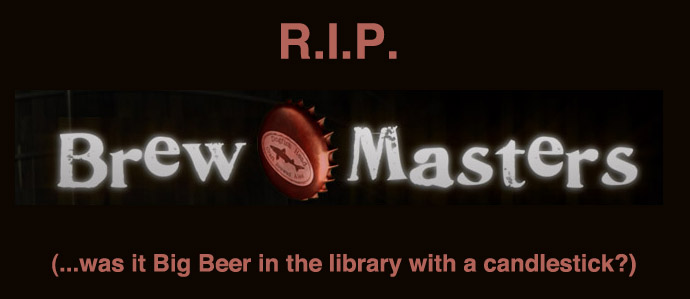 We recently received several confirmations from local sources that Brew Masters would not be returning for a second season on the Discovery Channel. This is pretty saddening because the show really gave quite a bit of exposure to the Craft Beer movement, right down to the individuals who make delicious craft beer happen and the jobs/communities that are developed in the process. Today, we also learned through our friends the Beer & Whiskey Brothers that it is quite possible that Big Beer company(s) threatened to pull all their ads from the Discovery Channel (and we can only assume all of the Discovery Networks) if they did not cancel Brewmasters.
While this kind of sucks because we really enjoyed the show, it does say something positive. It says the big guys are scared of Craft Brewers. It means the little guy can still make a difference, and while big beer can use their money to influence networks to take shows they don't like off the air, they still can't force you to buy or drink their fizzy yellow crap. In Philadelphia, we are fortunate enough to have multiple bars where you can get several different styles of delicious craft beer for under $5, and sometimes under $3! There is no excuse for us not to vote with our tastebuds and say no to anything less than Craft Beer every time we walk into a bar.
R.I.P. Brew Masters
Recent Articles

Feedback
How are we doing? Tell us what you like or don't like and how we can improve. We would love to hear your thoughts!