Autumnation: Hops Meet Pumpkin in Sixpoint's First Seasonal Can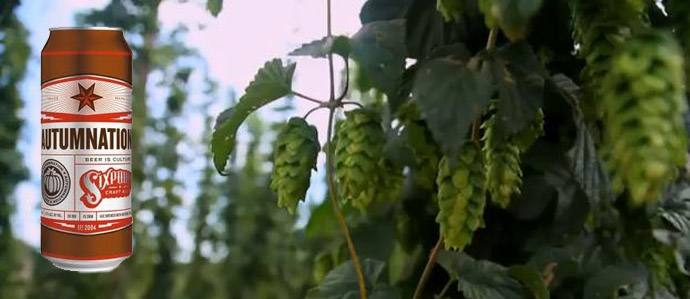 Starting next week, the first-ever seasonal brew from Brooklyn's Sixpoint Brewery will become available, and it looks to be a special offering. Autumnation is a 6.7% ABV pumpkin ale, served on tap or in 16-oz. cans (Sixpoint eschews glass bottles, choosing instead to exploit the added freshness and environmental friendliness of cans). What makes their new ale stand out is the use of specially obtained "wet" Citra hops, an ingredient that is not easy to come by.

Hops – the spicy herb that provides beer with its signature flavor – is only harvested once a year. Because the hop flowers cannot be kept all year long in their fresh state, they are usually dried and pelleted for easy shipping, storage and longevity. To produce Autumnation, the Sixpoint team made a trip to BT Loftus Farms in Yakima Valley, WA. There, they personally accompanied third-generation hop farmer Patrick Smith as he harvested 800 lbs. of fresh buds, which they then shipped overnight back to their operation in New York (must've been quite a FedEx bill).

The main benefit of using wet hops is the scent of the plant is intact, so they will impart a fresher and brighter flavor than the dried variety. If you've ever cooked with herbs straight from your garden instead of shaken from a plastic container purchased at the supermarket, you know exactly how this works.
Autumnation was brewed with canned pumpkin, fresh grated ginger, pepper and other spices, and then infused with the special hop shipment. To raise expectations even higher, Sixpoint released a cinematic trailer produced just for the release, showcasing the gorgeous Washington State farm and its verdant fields. Is all that bounty really in the can? We can't wait to get our hands on one to try it out.
Recent Articles

Feedback
How are we doing? Tell us what you like or don't like and how we can improve. We would love to hear your thoughts!