Thanksgiving Eve, the Biggest Drinking Night of the Year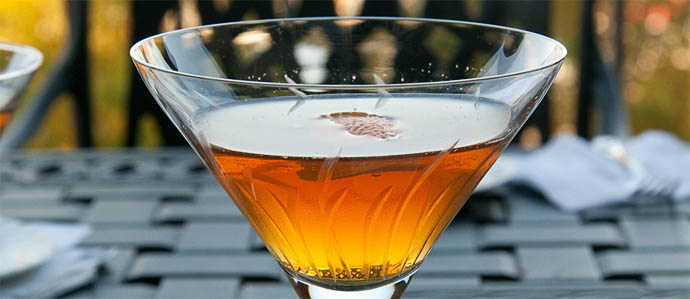 Though the Pilgrims did celebrate a harvest festival in late November, it wasn't until the Civil War that Thanksgiving became a regularly-commemorated (and official) holiday, thanks to a declaration by Abraham Lincoln. Whatever the origins, most Americans today recognize the event as the start of the winter holiday season, a time to gather with family on the fourth Thursday of the month for an ample feast. And right before that, to meet up with friends new and old for some good, old-fashioned partying.
There aren't any conclusive studies that Thanksgiving Eve is the biggest drinking day of the year, but anecdotal evidence shows it to be one of the biggest nights for liquor sales at bars and restaurants everywhere. College students head home and meet up with old buddies, working folk are freed to have fun by the forthcoming long weekend, and everyone takes the opportunity to de-stress in advance of a big family gathering.
Of course, law enforcement is aware of the night-before-turkey-day trend as well, and are out in full force to stop underage kids from being served and put a kibosh on drinking and driving. So check out our list of November 23 parties and drink deals, go find those old pals and buy them a round or two, but be sure to be safe in your merry-making. Happy Thanksgiving!
Thanksgiving Eve Special Edition of Bailamos!
Where: Cuba Libre
When: 10:30 PM
Specials: For this one night only, Bailamos! Saturdays will take place on a Wednesday.
$175 bottles for table reservations. Drink specials from 10:30 until midnight. Reduced admission until midnight for everyone on the guest list ($10 otherwise). To sign up on the guest list, send an e-mail to rsvpdc@cubalibrerestaurant.com

Thanksgiving Eve Bikini Tease
Where: Ultrabar
When: 9 PM
Specials: "Bikini Tease" party. Bikinis clad ladies will be competing for a $500 cash prize and a delicious dinner for two at Barcode! The two runners-up will also win cash prizes! Drink Specials Until Midnight.

Wednesday Power Hour
Where: LIMA
When: 4-7 PM
Specials: $4 beers, $5 mixed drinks, $5 wines by the glass and $7 Mojitos ($29 Mojito Pitchers too!). $5 Menu: Beef Empanada, Chicken Croquette duo, Ceviche shots, Mussels, Arepas and Queso Manchego.

Latin Wednesdays at Bar-Code
Where: Bar-Code
When: 10:30 PM
Specials: Premium Happy Hour with Drinks 1/2 off until 12 AM

Long Trail Brewery Turkey Lurkey
Where: Smith Commons
When: 6-9 PM
Specials: Long Trail Brewing Co. launch party, featuring beer tastings, giveaways, and drink specials.

Kostume Karaoke: Gobble Gobble Edition
Where: Solly's Tavern
When: 8-1:30 AM
Specials: HH specials until 8pm followed by Kostume Karaoke. Free beverage for anyone who arrives dressed as a pilgrim.

McFaddens Neighborhood Night
Where: McFaddens Restaurant and Saloon
When: All night
Specials: $10 domestic buckets featuring Sam Adams and $4 domestic bottles.

The Night Before Thanksgiving: American Rare Craft Beer Extravaganza
Where: ChurchKey
When: 6-9 PM
Specials: American craft brews on draft and cask. Amazing ales from Allagash, DC Brau, Stillwater, Stone, Great Lakes, Schlafly, Dogfish Head, Bell's, and maybe even some more beery surprises, await!
Black Wednesday with Dueling Pianos
Where: Bobby McKey's
When: 7 PM
Specials: $3 Coors Light Drafts; bring in a canned food item & get a free pumpkin shooter (limit one per person)
Holiday Growler Hours
Where: DC Brau
When: 2–8 PM
Specials: Come fill your growler with NATAS, Corruption, Public and CItizen
Photo via Flickr user chayday
Event Date: 11/23
Event Time: Various Times
Location: Various Bars
Price: Varies

Recent Articles

Feedback
How are we doing? Tell us what you like or don't like and how we can improve. We would love to hear your thoughts!