What to Drink at The Hamilton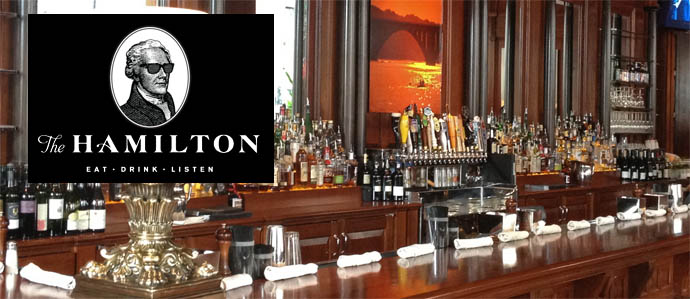 By now, you've heard a lot about Downtown's new bar/restaurant/music venue
The Hamilton
. You've perhaps heard they're open 24/7, have three bars, two dining rooms, and a live music lounge spanning 40,000 square feet of space. You've heard their mantra, "Eat, Drink, Listen." We set out to take a microscope to the "drink" part of that slogan and really explore what makes The Hamilton's bar experience special.
We had a chance to chat with The Hamilton's beverage director,
Samantha Withall
, about the drinks program here.
"We have one of the most beautiful restaurants in the city," she gushed, adding, "We're creating a different experience with warm and friendly bartenders who prepare beverages featuring fresh ingredients and artisanal spirits."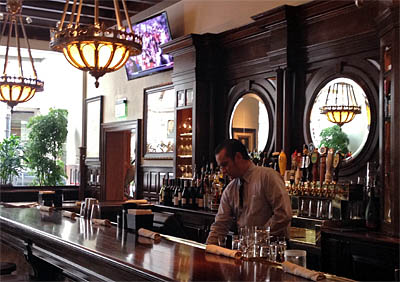 A former beer & wine buyer at Roots Organic Market and chef at
Jose Andres
' Cafe Atlantico, Withal brin
gs with her a history of honoring organic, sustainable, small craft and artisanal products, a philosophy she felt strongly about introducing to the
Clyde's Restaurant Group
's newest venture. To the portfolio of gin and bourbon featured at many of their existing restaurants, she added a special highlight on rye and vodka as well.
To build the liquor list, she put out a call for small batch, organically crafted, biodynamic American spirits and got down to the hard work of taste testing. Though it might sound like a dream task, Withall considered it one of the more difficult parts of the process. All of the liquors needed to be tested at room temperature and without any mixers, and they weren't always the best. Some of them, she said, were actually quite bad. It was important to find liquors that were not only small batch and organic but also superb in flavor.
When it came time to create the specialty cocktail menu, Withall wanted a classic cocktail program that was "not a muddle-fest" – meaning, not just adding mixers for the sake of a long ingredient list, which can overload of the drink. She also wanted drinks that were sophisticated but easy to assemble so the busy bars could efficiently handle high volume. The resulting list is a progressive take on classic cocktails, using fresh local ingredients and artisanal spirits. They don't use chemically-colored or altered liquors, and they don't carry Boones.
Withall's next endeavor was to assemble a mixology dream-team. There is a core group of "the best of Clyde's" bartenders, brought over from Old Ebbits and Clydes Restaurant, as well as new yet skilled and experienced bartenders. One such person is
Ken Curry
who will be mixing up his own concoctions in the loft bar where he will feature a unique daily cocktail of his choosing.
The beverage menus are extensive. Below we highlight of some of the more enticing offerings.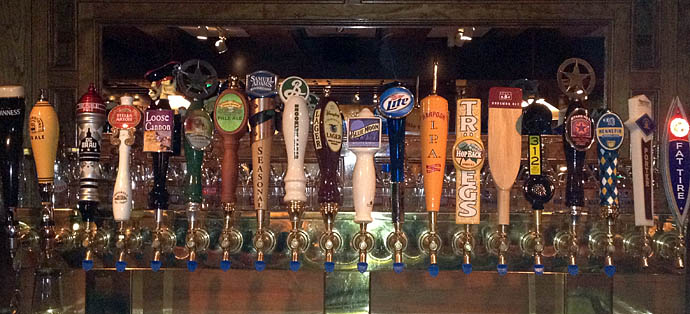 Liquors/Cocktails
Three types of specialty cocktails are served ($11–$13): vodka, gin or bourbon/rye. All are made with American brands. Featured local vodkas include Sloop Betty from MD and Cirrus from VA. Try the sweet & tart Betty's Apple – Sloop Betty Vodka and fresh apple juice, with an apple garnish.
The spirits list also underlines the resurgence of rye as an American quaff. To enjoy this pre-Prohibition favorite, check out the All American Julep, made with Riverboat Rye (KY), fresh mint and turbinado sugar. If gin is your thing, we'd suggest the Green Thumb
: Corsair gin (CO) with fresh cucumber juice, fresh lime juice, a hint of sweetness and a hint of salt.
Beer
There are a total of 20 craft brews on draft ($5.20–$6.75). The usual suspects at a Downtown bar – such as Miller Lite, Blue Moon and Sam Adams – do make appearances, but several local and unique selections enliven the list. Recently we saw on tap Troegs Hopback Amber Ale (PA), Heavy Seas Loose Cannon IPA (MD), and our city's own DC Brau, The Public Pale Ale. Additionally there are 14 offerings in bottles and cans, including a gluten-free Bards Tale lager.
Wine
The first thing that struck us about the list of specialized and rare wines is that they are not grouped by classification or region, but rather by the suggested food pairing. Brilliant. Next we noticed the case count running down the right side of the menu. Since they only carry small batch wines, you can see exactly how many cases were produced of each particular bottle. Bottles range from $24-$75, and glasses come in at $8-$13.
But wait, there's more – they also have a sake menu to go with fresh sushi, served until 5 AM.
To sum it all up, color us impressed.
1600 14th St. NW; 202-787-1000
Photos by Vanessa Carbajal
Recent Articles

Feedback
How are we doing? Tell us what you like or don't like and how we can improve. We would love to hear your thoughts!