Oyamel Toasts Spring with Tequila & Mezcal Festival
Early March fun for locals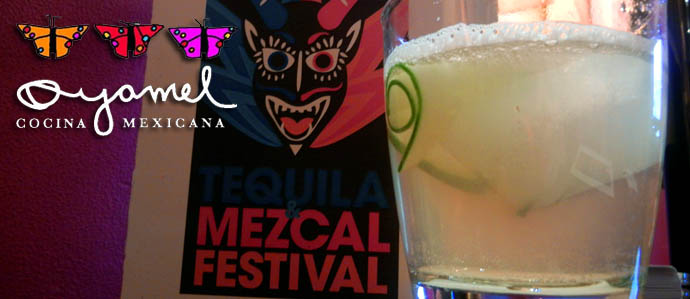 Nothing says warm weather like tequila, so it's fitting that after such a nice weekend, this week marks the beginning of Oyamel's Tequila & Mezcal Festival. The two-week celebration of Mexico's native spirits will include new cocktails, menu items, near-daily complimentary tastings and a four-course dinner series. Described by general manager Michael Iglesias as "something to warm your heart and welcome spring," the festival is designed as a locals-only event to celebrate the coming warmer months ahead of the cherry blossoms and the onslaught of tourists that will ensue. While it's nice to have something to celebrate that does not include Crocs and fanny packs, it's even nicer that it goes down so smooth.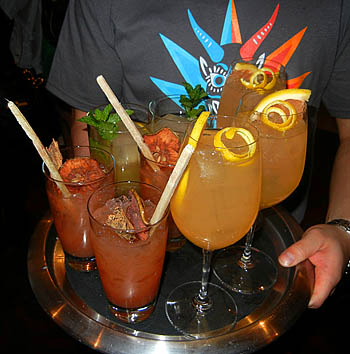 The new cocktail offerings are top-notch and made with house-infused spirits, homegrown botanicals and a slew of inventive garnishes including Oaxacan chocolate ice, cinnamon swizzle sticks, "spanked" basil and apple chips. It's enough to almost make an entire meal out of the beverage selection alone (though with new small plates such as sautéed Mexican squash, spiced orange chicken wings and spiced garbanzo beans, you won't need to).

"Joe [Cleveland] absolutely adores gin and tonics," said Iglesias at a press preview last week, adding that the head bartender also maintains a "shrine of botanicals" from which he plucks inspiration for his cocktails. Case in point: The T&T, which uses El Jimador Blanco 30-spice "ginquila" along with house-made sour orange and ice infused with lime and epazote, a faintly aromatic herb native to Mexico. The El Pescador, another tequila cocktail, is a more fruity pick with Orange Curacao, Maraschino, grapefruit and lemon with Velvet Falernum and Herradura. The Champs-Elysees and Mexican Tailor round out the tequila menu, but it's another agave-based spirit that has Cleveland's hart.

"Joe is completely in love with mezcal, it's outrageous" said Iglesias. It shows: The four mezcal cocktails are carefully paired with traditional Oaxacan flavors. The Oaxacan Swizzle stands out from the bunch; its spicy ginger and cinnamon notes and fresh-pressed apples are perfectly reflective of the region and pair well with Del Maguey mezcal. Just drink cautiously and take care not to lose an eye to that statuesque cinnamon stick! The High Tea is also an interesting canvas of flavors and combines chamomile tea with St. Germain, lemon, tobacco bitters and Los Nahuales Reposado mezcal, all sweetened as the Oaxacan chocolate ice melts.

In addition to new snackable antojitos – small plates – available at the bar, chef Omar Rodriguez is debuting a special menu featuring flavors from the Jalisco and Oaxaca regions. Choose from selections such as oyster-topped corn flour cake, lamb T-bones and chorizo-stuffed pork loin. And don't miss the homemade chips and guac – simple, but some of D.C.'s best.

Complimentary Tastings (4 PM – 6 PM)
3/6-3/8: Mezcal; Del Maguey, Sombra, and Illegal
3/12: "Highlands vs. Lowlands: A Cocktail Story" tequila cocktails
3/13-3/15: Tequila: Siembra Azul, Tequila Ocho, and Otto Hoernig III of Casa Noble

Dinner Series ($90, 7 PM, four courses with the following pairings)
3/6-3/7: Ron Cooper of Del Maguey mezcal
3/8: Stephen Myers from Illegal Mezcal
3/13: David Suro Siembra of Azul Tequila
3/14: Mark Drew of Herradura Tequila
3/15: Otto Hoernig III of Casa Noble Tequila

401 7th St. NW; 202-628-1005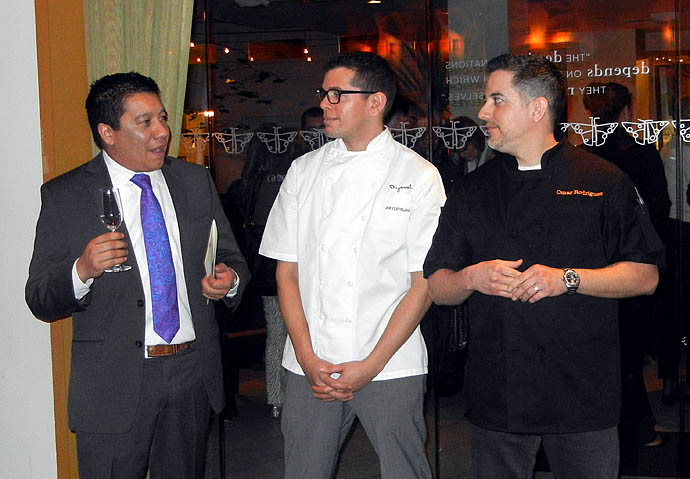 General Manager Michael Iglesias, head bartender Joe Cleaveland and chef Omar Rodriguez
Photos by Lauren Sloat
Recent Articles

Feedback
How are we doing? Tell us what you like or don't like and how we can improve. We would love to hear your thoughts!