The Ultimate Guide to Washington, D.C. Beer Gardens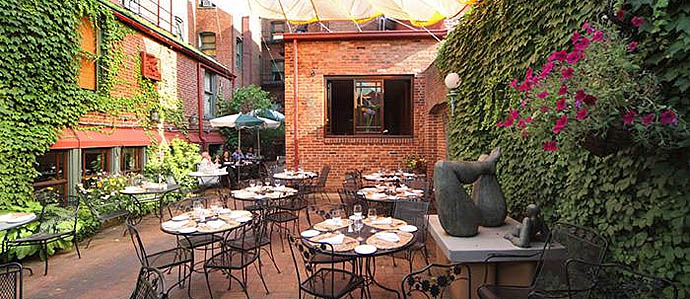 With the arrival of spring, sipping suds outdoors in warm and inviting weather is at the forefront of everyone's mind. As our recent look at the history of beer gardens shows, this is an age-old tradition, and happily, it's also one that can be easily accommodated in the D.C. area. We've tracked down 14 options where you can get your brews under the sun. Which is your favorite?

American Ice Company: Though it's one of the biggest outdoor spaces in the area, American Ice Company can be almost overwhelming on a seasonable Friday or Saturday evening in the spring. But the V Street NW spot is accommodating to the masses, with dozens of wooden picnic benches and a constantly hustling staff. Bartenders and servers come bearing beers in mason jars, a summery touch. And with not even a five-story building in its vicinity, American Ice gives you some of the best views of the evening sky (917 V St. NW; 202-758-3562).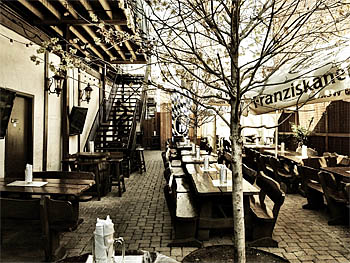 Biergarten Haus: Biergarten Haus on H Street NE is arguably the region's gold standard. This German-themed hall is home to some of the most boisterous crowds in the city, with patrons constantly clinking liter glasses of German lagers and bocks. The outdoor patio is open year-round and extends much farther back than one would expect. It's full of long, wooden picnic benches, and has ivy growing up its white-washed walls. The atmosphere transports you to Bavaria, and makes this the perfect place to settle down for an afternoon of suds and sun (1355 H St. NE; 202-388-4053).

Bourbon: Because it's almost always listed as one of the best-kept secrets in Washington, it is possible that the back patio at Bourbon's Adams Morgan location is one of the worst-kept secrets in D.C. However, that doesn't mean it's not secluded, with a nice high fence for privacy. A wood bench rings the patio and couples nicely with the brick floor. To drink, the bar always serves high-end drafts and, of course, unique bourbons (2321 18th St. NW; 202-332-0800).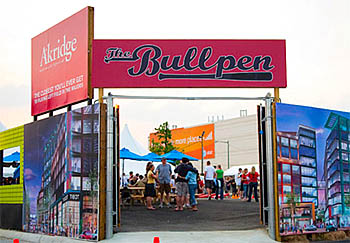 Das Bullpen: A seasonal affair, Das Bullpen just opened last summer, looking to fill a void to the underserved masses outside Nationals Park. The M Street SE bar is German-themed, but caters to an American crowd. They do it well, with Bavarian beer replacing Bud Light and knockwurst filling in for hot dogs. On game days, the tables are full and its standing room only, people sipping — okay, chugging — beers to get ready for an evening at the park (25 M St. SE; 202-297-5033).
Dodge City Restaurant: Most people don't know that Dodge City Restaurant has outdoor seating, with the entrance to its patio obscured by an always bustling dance floor. But this U Street corridor bar has the perfect back porch, small and quiet, certain to satisfy groups looking for a calm, neighborhood-friendly experience (917 U St. NW; 202-588-9080).
Elephant and Castle: Yes, it is a chain, but Elephant and Castle takes its outdoor seating — and its beer — seriously. The English-themed pub has two locations in the city limits. One is south of Dupont Circle, while the other is smack in the middle of Metro Center. Both have large, concrete outdoor patios full of metal chairs and tables. On a sunny day, it's a great spot to grab a cold hard cider or Extra Special Bitter and pretend you've jetted off to England for the afternoon (1201 Pennsylvania Ave. NW; 202-347-7707 and 900 19th St. NW; 202-296-2575).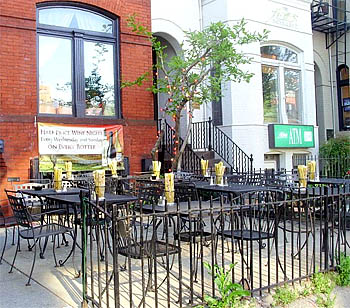 Floriana Restaurant: For something different, try the unknown and intimate patio of Floriana Restaurant, about four blocks northwest of Dupont Circle. It's a neighborhood space, fitting in perfectly with the surrounding row houses, though appropriately small, with just a few seats. Broad-leafed trees offer shade and quiet the surrounding noises. In fact, it's hard to believe you are just blocks away from the hustle and bustle of the Circle itself (1602 17th St. NW; 202-667-5937).
Galaxy Hut: In the heart of the Clarendon corridor on Clarendon Boulevard lies Galaxy Hut, which taps some of the most diverse drafts in the city. If anyone gets credit for creative space utilization, it's this bar, which turned its neighboring alley into an outdoor spot to for consuming hoppy IPAs. The space is so narrow you can touch either side, and the high walls of the surrounding buildings give it an edgy and grungy atmosphere. This also keeps the heat down, so you can experience an outdoor breeze without too much sun beating down on you (2711 Wilson Blvd, Arlington; 703-525-8646).
Marvin: Though it's not technically a garden, it wouldn't be fair to leave Marvin off the list. After all, it may be the most popular outdoor drinking spot in all of Washington. This rooftop, right on the corner of U Street and 14th, serves some of the best Belgian beers in the area. And as a plus, it has both a covered patio area and an open deck. Faded grey wood throughout the space gives it a rustic feel, and makes for a great place to sip (2007 14th St. NW; 202-797-7171).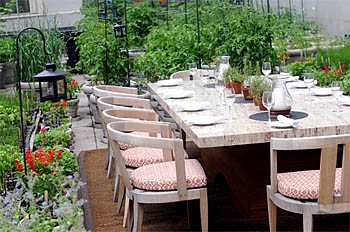 Poste Moderne Brasserie: The classiest of outdoor drinking spots in the city is also close to the largest. The patio of Penn Quarter's Poste Moderne Brasserie takes up the entire courtyard of the Hotel Monaco. The space is almost always full in the summer, with groups often choosing to host large events there. But because it's so big, there's never a surfeit of wrought-iron chairs to grab as you sip Belgian brews or one of the high-end cocktails the bartenders mix up so well (555 8th St.; 202-783-6060).

Tabard Inn: One of the most intimate spaces in the area, the courtyard of the Tabard Inn feels like something from the European countryside. Green ivy climbs red brick walls, and none of the patrons seem like they are in the least bit of rush. The spot is right in the heart of Dupont Circle, but once you order a drink, you'll forget you're in the middle of one of the busiest intersections in the city. You might even forget you are in the United States itself (1739 N St. NW; 202-331-8528).

Standard: The newest addition to the outdoor drinking scene, Standard is fast becoming one of D.C.'s most popular. It could be the ceramic liter mugs, like something out of Munich. It could be the succulent sausages that emerge from the tiny kitchen. Or it could just be that it is a massive space to drink outside right in the middle of Logan Circle. Whatever the reason, Standard's the spot to hit this season (1801 14th St. NW; no phone).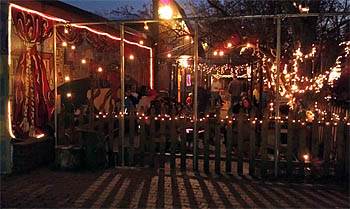 Westover Beer Garden: Westover Beer Garden is the only place on this list that is not part of a restaurant or bar. No, it's an offshoot of an Arlington grocery store, but it has what may be the best selection of beer in the entire D.C. Metro area. The draft list is forever changing, with the owners rolling out kegs of whatever they have in stock. The patio furniture is a mix of Adirondack chairs and hard plastic seats, and trees grow throughout the tiny space. It's an eclectic outdoor bar, one which immediately endears itself to you (5863 N. Washington Blvd., Arlington; 703-536-5040).

Wonderland Ballroom: The original Columbia Heights mainstay, Wonderland Ballroom is best known for evenings of raucous dancing on its second floor. But in the warm weather, the space out front opens up for drinkers. You have to head inside to grab a cocktail, but then the picnic benches and sun umbrellas are all yours. The outdoor patio resides right on the corner of Kenyon and 11th Street, with a massive, gnarled tree running through in the middle of it. It's a prime people watching space in a city full of them (1101 Kenyon St. NW; 202-232-5263).
Recent Articles

Feedback
How are we doing? Tell us what you like or don't like and how we can improve. We would love to hear your thoughts!