A Chat with Mixtress Gina Chersevani, Mixologist at Hank's Oyster Bar on the Hill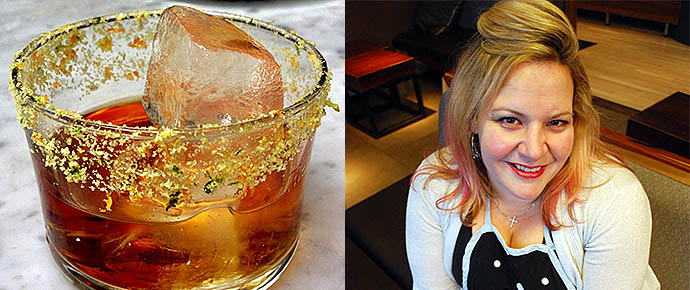 In April, the Hank's Oyster Bar team announced that it would add a third location on Capitol Hill by June, this one with an expanded cocktail program helmed by "The Mixtress" — celeb mixologist Gina Chersevani, most recently of PS 7's. With locations already in Dupont and Alexandria, the third installment of Hank's will differentiate itself with a 20-seat bar, accompanying cocktail-driven menu and, according to Chersevani, a new epithet: "swirling liquors and turbulent mixers."

What can we expect from the reteaming of chef Jamie Leeds with Chersevani, whom she hired at 15 ria in 2003? Chersevani has already revealed a few libations, including the Deadliest Catch (mezcal, rye and salt water taffy foam), the Land Lover (Chairman's reserved spiced rum, clove tincture and citrus salt) and the Siren's Call (Plymouth Gin, pineapple cardamom soda, beet and vanilla syrup). We reached out to Gina via email for a preview of what else to expect when Hank's opens next month — read on to find out what she has to say about being a Mixtress, the latest cocktail trend and a unique take on peaches and cream.

— When you left PS 7's, word was you were planning to a "cocktail deli." Is this that concept? How would you describe a cocktail deli?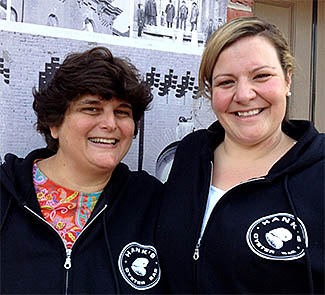 When I left PS 7's the cocktail deli was the plan, but as we all know things have a way of changing and usually for the best. I am so excited for the new Hank's on the Hill and I think the bar will really be something very special.

— You've practiced mixology at 15 ria, Rasika and PS 7's, among other places. How do you make sure that every cocktail list is unique and reflective of the restaurant's overall concept? Is there a cocktail, technique, or combination that you always come back to/that fans will recognize at Hank's?

I like the terms you use: "practicing mixology" and technique. I create cocktails unique to the place, cuisine, chef, season and general mood that I am in. Except for the Gnomes Water (gin, cointreau, lemon, lavender, and soda), no other cocktail on any of my menus been a repeat because I have never worked with the same chef. Jamie will be the first I have worked with twice (but if you knew how "green" — and I mean awful — my bartending was at 15 ria, you know I wasn't calling the shots back then).

On my long journey — through Penang, 15 ria, Poste, Rasika, Tallula, and PS 7's here in D.C., as well as countless consulting creations around the country (including Vegas, New Orleans and Chicago) — the one thing I am not ever afraid of is uniqueness. It just happens naturally.

The raw bar at Hank's is my focal point of inspiration, though I certainly don't mean each drink will have oysters in it. The word "raw" is what is intriguing to me; all ingredients used in an unmanipulated state, very fresh, with a sustainable program to mimic what oysters do every day.

— What makes you most excited to team up again with Jamie Leeds?

Teaming up with Jamie is a very natural thing for me, she has been one of the most influential people in my life. Sometimes things are just fate.

— Why is Hank's on the Hill the perfect spot for your next venture?

I would call it the right space, in a great location on Pennsylvania Avenue SE. The President lives on the same street, how could it be bad? Seriously, Hank's is all about neighborhoods and community and the location is in the heart of the Hill, with Eastern Market a few steps away. It's just right.

— Can you give us a preview of the cocktail list concept?

I have been travelling a lot these past few months and something hit me in the South: PEACHES and cream. It seems obvious, but our cream comes from beer and our peaches from the ocean. I will leave it at that — you'll have to come in to try it.

— You're known as "The Mixtress." How do you react to that? Any pressure in upholding such a title?

I was given that title by Mark Kuller, owner of Proof/ Estadio. He kind of said, "From now on, this is your title," and it stuck. In this field there is always pressure, but I love what I do. My passion comes through in everything. I had a lot of choices for careers, considering my education from the University of Maryland, but this career, "being a Mixtress," fits me like a glove!

— Whether it's a technique, era of inspiration or a particular liquor, what do you see as the most unique/interesting trends in cocktails now? Will we see that trend at Hank's?

Trending right now: ICE. And yes, you will see it at Hank's.

— What do you think people will find most surprising about the bar at Hank's?

The thing that will be so surprising at Hank's is the sense of family, the food and the drinks, which will be top notch. The sense of family and the people there will be most surprising and intriguing, and the reason you will return.
Top photo: the Land Lubber cocktail at Hanks, Gina Chersevani; bottom photo: Jamie Leeds and Gina Chersevani
Recent Articles

Feedback
How are we doing? Tell us what you like or don't like and how we can improve. We would love to hear your thoughts!