Last Call for America Eats Tavern and Fullsteam Brews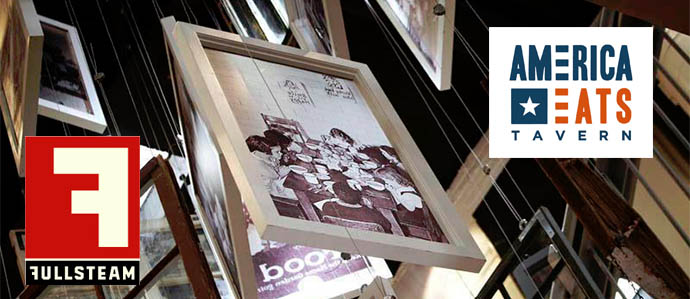 When America Eats Tavern opened its doors on July 4, 2011, it was only supposed to be open for six months. The Jose Andres eatery, created in tandem with the America Eats exhibit at the National Archives, took over the former Café Atlántico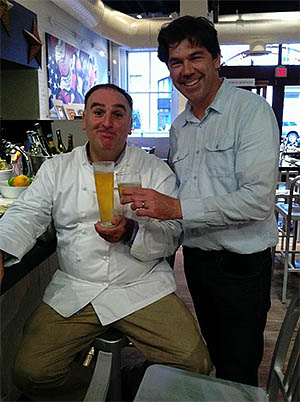 space with a well-researched menu of cocktails, food and beer reflective of the country's diverse and historical epicurean landscape. Six months soon turned into one year, allowing for the more patriotically timed tenure between independence days. Now, there are just a few weeks left to sample Think Food Group beverage director Owen Thomson's Americana cocktails, as well as brews from Fullsteam, a quirky North Carolina brewery operating out of a 1950s RC Cola plant.

America Eats has carried Fullsteam on tap since the venue opened last summer, and not only is it the only bar where you can find Fullsteam in D.C., it's the only bar that carries it outside North Carolina. We recently had the opportunity to sit down with Sean Lilly Wilson, Fullsteam's "Chief Executive Optimist" — a man filled with so much passion about his brewery that you can't help love Fullsteam for his enthusiasm alone.

Leading the double life of brewery rep and undercover writer, Wilson has been known to blog about his beers late into the night, whether writing about Fullsteam's unique forager program (which crowd-sources fruit from local fans for interesting new batches) or waxing poetic about persimmon beer. When Thomson stumbled upon one of Wilson's long narratives on the blog, he saw a natural tie-in to the restaurant's focus on storytelling and immediately contacted Fullsteam about joining the draft list. Since then, he's been known to drive to North Carolina himself, picking up kegs and returning them to D.C. where patrons can try the Southern brews alongside classic American dishes.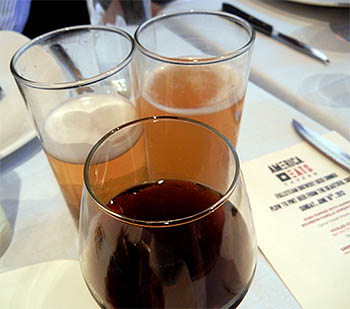 "There are beers for introspection and there are beers for conversation," says Wilson. "We don't try to out-compete the food that we're paired with." That might be true, but don't think Fullsteam produces run-of-the-mill brews. The 2011 Sour Summer Basil, for instance, was fermented for eight months in a gifted Chardonnay barrel, resulting in a refreshing but funky brew tinged with notes of basil. The Hogwash Hickory-Smoked Brown Porter, on the other hand, is a darker pour inspired by North Carolina barbecue, using barley that's house-smoked over hickory wood for 12 hours.

Though Fullsteam has produced an array of interesting brews during its two years of operation, there's much more still ahead for the brewery whose mission, explains Wilson, is to explore what it means to be a southern brewery. "I don't pretend to know the answers," he says, "but I'm having fun trying to figure it out."
Middle photo: Jose Andres and Sean Lily Wilson, via America Eats Tavern on Facebook; bottom photo by Lauren Sloat
Recent Articles

Feedback
How are we doing? Tell us what you like or don't like and how we can improve. We would love to hear your thoughts!