Bulleit Bourbon & Whiskey Tasting at Smith Commons, July 11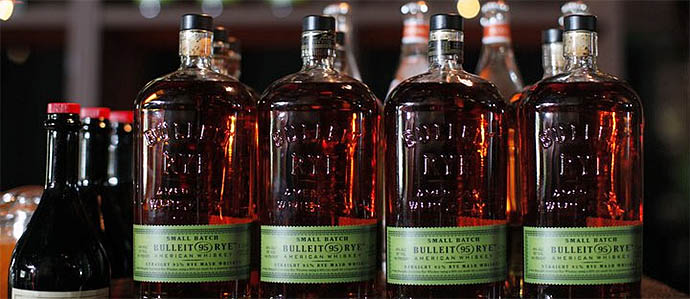 Washington whiskey lovers, it's your lucky week. On Wednesday, July 11, H Street's Smith Commons will host Bulleit Bourbon founder Tom Bulleit and Scotch whisky expert Ewan Morgan for an evening of brown spirit sampling and education.

Tastings will begin during happy hour (5–7 PM), and the main event begins at 7 PM. Chef Kamal Chanaka will whip up several whiskey-infused bites for guests to taste, and a featured cocktail — the Kentucky Buck — will be served (check out the recipe and thes pecial food menu, below).

From 7:30–8:30 PM, Tom and Evan will share their wisdom about rye, grain and the virtues of various types of whiskey (and whisky), along with samples of each. Following the talk will be an open-ended Q&A session with the liquor gurus.

Best part? The event is totally free, requiring only an online RSVP for enry. That's right... free. Why is all this whiskey goodness being offered at no charge? We can't say, but we do send gracious thanks to Bulleit Bourbon and Smith Commons for the opportunity. Make sure to use the hashtag #WashingtonBulleit to tweet about the event, and we hope to see you there.
Kentucky Buck
Adapted from a recipe by Erick Castro of Rickhouse

1½ oz. Bulleit bourbon
¼ oz. lime juice
½ oz. simple syrup
2 dashes Angostura bitters
2 medium strawberries
Ginger beer (not ginger ale)
Lemon wheel and strawberry, for garnish

Place lemon juice and strawberry into a mixing glass and muddle vigorously. Pour in bourbon, bitters and simple syrup. Add ice and shake. Strain over ice into collins glass and top with ginger beer. Garnish with finely sliced strawberry and lemon wheel.

Special Menu
Crafted to either mirror the distilling process and flavor profile or pair with Bulleit. These dishes will be available in the dining room thorughout the week; many are made with spent grain donated by 3 Stars Brewing Co.
• Oak Smoked Baby Romaine Hearts Salad •
Bourbon Pickled Red Onions, Smoked Gouda, Fried Lemon, Five Spice Croutons, Edible Flower, Garlic Salt, Licorice Vanilla Dressing

• Scallop Stuffed Shrimp •
Confit Yukon Gold Potatoes, Peppadew, Cumin Relish, Bulleit Bourbon Paste

• Orange Cinnamon Crust Foie Gras Terrine •
Poached Aromatic Figs, Rhubarb Bourbon Jam, Aged Balsamico, Coco Nibs, Smoked Salt

• Grilled Gochujang Chechen •
Kimchi, Julienne, Granny Smith Apples, Baby Cilantro, Green Onion Salad

• Chesapeake Crab Tower •
Bourbon Yuzu Curd, Brioche, Plantain Chips, Fenugreek Spuma

• Quattro Ravioli •
Vidalia, Chick Peas, Saffron, Spinach, Ray, Wheat, Malt, Massaca White Stew, Bok Choy, Grana Padana

• Loch Duart Salmon Miqie •
Brioche Melba Toast, Keta Caviar, Aromatic Bourbon Syrup, Tandoori Creme Fraiche, Apple Chips, Chive Flower

• Turducken •
Sous Vide Chicken Breast, Confit Duck Leg, Turkey Bacon, Oven Roasted New Potato, Wax Beans Bundle, Bourbon Chicken Glaze

• Bulleit Bourbon Braised Pork Belly •
Clementine Mash, Creamy Malt, Bourbon Caramel Jus, Fried Leeks

• Suet Sous Vide Filet Mignon •
Crispy Potato Pancake, Tourne Vegetables, Burbon Powder, Hibiscus Jus

• Bourbon Bread Pudding •
Raisin Puree, Gold Leaf, Raspberry Coulis, Bourbon Chocolate Tuile, Cereal Bourbon Gelato

• Texture of Hazelnut •
Hazelnut Puree, Powder, Roast Hazel Nut, Bourbon Jelly, Hazel Nut Ice Cream
Photo via Bulleit on Facebook
Event Date: 07/11
Event Time: 5-9 PM
Location: Smith Commons
Price: Free, PAYG
Type: Food,Spirits
Website: smithcommonsdc.com

Tags:
Food
,
Spirits
Recent Articles

Feedback
How are we doing? Tell us what you like or don't like and how we can improve. We would love to hear your thoughts!