Cocktail Recipe: Banderilla Maria at Boqueria
Drink your tomatoes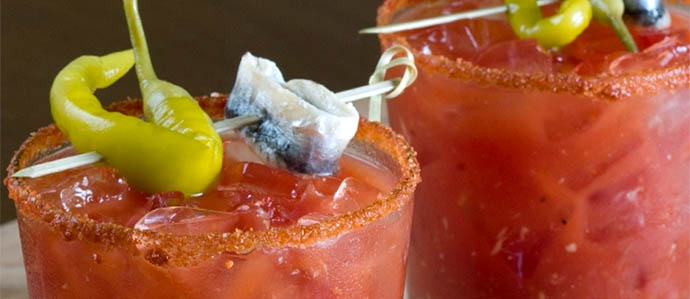 It's tomato season, and if you're lucky you're enjoying some backyard or even window box tomatoes of your own. Plenty of restaurant are taking advantage of the bounty to offer plates full of the sweet red fruits, but Dupont's Boqueria is taking the love a step further with a special tomato-based cocktail, the Banderilla Maria.

Inspiration comes from La Tomatina, a festival held on the last week in August each year in Buñol, Spain in celebration of the tomato. During this "tomato battle," thousands of people partake in what is essentially one of the world's largest food fights, hurtling thousands of pounds of the ripe fruit at each other, for fun.

Instead of instigating a toss-fest on M Street, Boqueria is offering this special cocktail instead, which is almost a meal on its own. Check out the recipe:

Banderilla Maria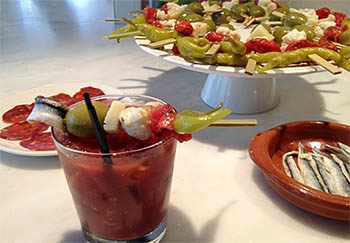 The Mix
1 qt. of tomato juice
1/4 cup horseradish
3/4 cups lemon juice
3/4 cups worchestire sauce
1 tbsp. ground Guindilla pepper
3 tbsp. Balsalmic Vinegar
1 tsp. Dijon mustard

The Skewer
1 green guindilla
1 pitted olive
1 piece pickled cauliflower
1 cube Idiazábal
1 piece of chorizo or 1 boqueron

The Drink
Fill rocks glass with ice. Pour 2 oz. vodka over ice. Fill with mix. Garnish with skewer.

Chef Marc Vidal, who hails from Barcelona, is also serving a rotating menu of dishes that take advantage of the tomato. Just don't throw them at your bartender — you'll never get another sangria again.
Recent Articles

Feedback
How are we doing? Tell us what you like or don't like and how we can improve. We would love to hear your thoughts!