Gina Chersevani at Hank's Oyster Bar: Don't Mess with the Mixtress
The Mixtress shakes up cocktails with attitude at The Eddy Bar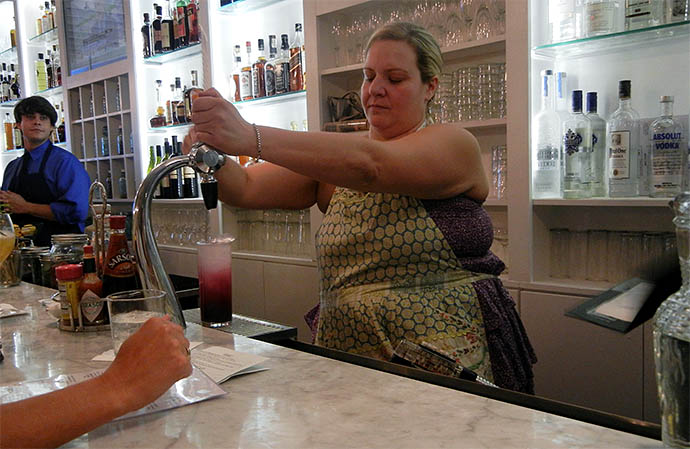 Gina Chersevani — the famed "Mixtress" behind the expanded beverage program at the Capitol Hill location of Hank's Oyster Bar — takes the craft of mixology to a whole new level. Though notoriously wary of those whom she calls "day-walkers," (that's non-restaurant industry folk to you and me) Chersevani is also disarmingly generous and candid when it comes to sharing the fruits (or in this case, sips) of her labor.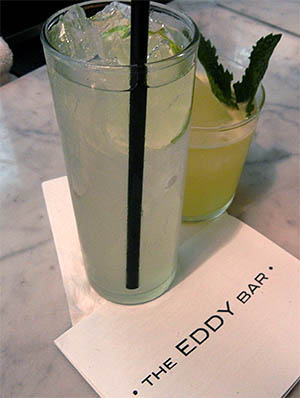 The mixologist's tough-talking rep belies a craft cocktail perfectionist influenced by old-fashioned soda fountains and the flavors of chef Jamie Leeds. After a Q&A preview of what to expect at Chersevani's new home away from home, we were eager to sample the uniquely sea-and-D.C. inspired cocktails and housemade sodas featured at The Eddy Bar, and welcomed the opportunity to sit down with Chersevani and drink our way through her new menu.

Named after a current of water, it makes sense that Eddy Bar — the 20 seat bar inside Hank's — would draw on ocean inspiration for both names and ingredients of its cocktails. But as Chersevani points out, "You've gotta have a little political something if you're to have a bar on the Hill." Case in point? The PT-109, a cocktail named after JFK's "Patrol Torpedo" boat, which was sunk by the Japanese off an island in the Pacific in August 1943. Made with coconut-cardamom soda, citrus and Bluecoat gin, it's a smooth and slightly tropical ode to the war heroism that likely elected our 35th President.

Enjoying a side of food with your cocktail? Try the Old Salt, made with Milagro tequila, lime and citrus salt and topped with watermelon foam from a whipped cream dispenser. Chersevani describes it as a "light and palatable" pairing with the oysters of the same name, and she should know: "I can eat a dozen oysters like an otter in the river!" she says.

Classic cocktail enthusiasts will like I Cannot Tell a Lie, the Hank's take on a Manhattan, made with pickled sour cherry and tropical Vermouth. Perhaps unsurprisingly for D.C., one of the most popular cocktails is the Hanky Panky Hill Style, a variation on a cocktail served at the original Hank's made with your choice of gin or vodka and a citrus-sage soda.

Squeezed Melons is a good choice for anyone watching their waist line — it's just 100 calories but packs a lot of flavor with the addition of cinnamon and mint to honeydew water and your choice of vodka or gin — while Gnomes Water Rebellion is a refreshing choice. Says Chersevani, "It's like ginger got in a fight with tarragon and made up over cucumber."

But if you drink one thing at Eddy Bar, let it be the non-alcoholic soda.

Chersevani's foray into soda-making began in 2007 with a chocolate version at Rasika. "My mom gave me so much shit," she says, explaining the beverage didn't live up to the soft drinks that her mother grew up drinking from traditional soda fountains. Chersevani seems to have found perfection with Eddy Bar's blueberry soda, one that she rightly describes as "bright" and "beautiful" and dispenses from a classic dual-stream fountain. She makes it with one particular variety of blueberry from Maine, which she buys it in batches, creating the syrup with the ripe fruit for use year-round. "I love busting out watermelon at soda and adding spices at Christmas time," she says. Whether or not it pleased her mother is uncertain: "My mom's my biggest critic," Chersevani says. "She looks at me and says, 'You'll do better.'"

Chersevani's openness to criticism is perhaps her biggest strength in that it allows her to continue tweaking recipes until they're just right; one of her favorite ways to test new drinks is to invite particularly demanding customers to a tasting. "I love it when people come back and say 'I can't go anywhere else.' When you change their palate — that's when you know you have them."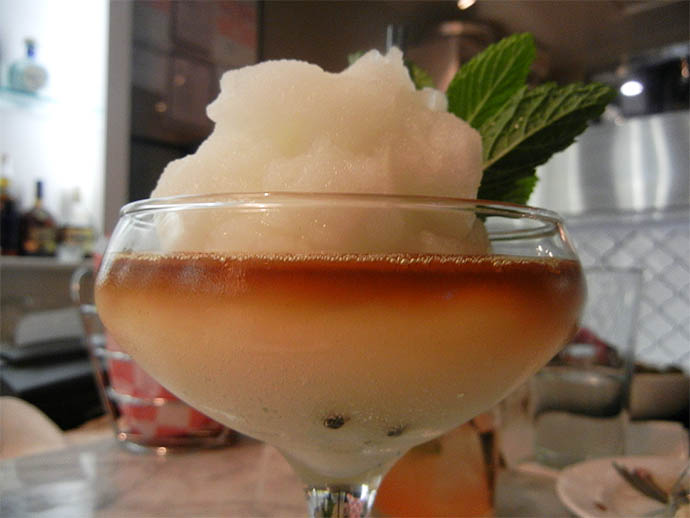 Photos by Lauren Sloat
Recent Articles

Feedback
How are we doing? Tell us what you like or don't like and how we can improve. We would love to hear your thoughts!