Sommelier Matt Carroll Wins Bottle Battle II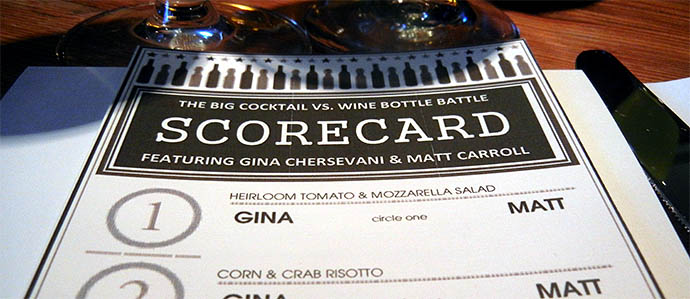 There's a new master of pairings in town! On Sunday night, Brabo sommelier Matt Carroll faced off against mixologist-about-town Gina Chersevani in a pairing competition with Firefly executive chef Daniel Bortnick's five-course menu. In addition to raising more than $3,000 for the Susan G. Koman 3-Day Walk for the Cure, the evening also marked Firefly's last before closing temporarily for two weeks of extensive renovations. After guests cast votes for either Carroll or Chersevani's pairing after each round, the results were tallied for a narrow three-vote win by the seasoned sommelier.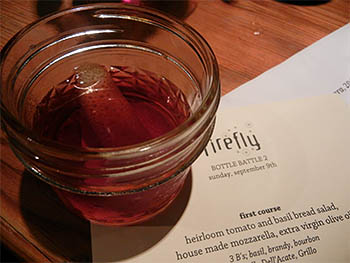 The wine and cocktail competition foreshadowed what will soon be an expanded beverage program at Firefly, one that coincides with larger and redesigned bar/lounge area. Though Chersevani won't be tending bar after the reopen, her involvement in the evening — and the unforgettable cocktails that passed through the space — say intriguing things about what may happen next at the Dupont restaurant.

Interestingly, the stand-out cocktail from the evening wasn't in the competition at all: the Welcome Punch, in which we indulged liberally, was a citrus and brandy bevvie with a hint of cinnamon that was the perfect welcome to fall on D.C.'s first truly non-humid day. Of course, anything conceptualized by Chersevani is a top-rate cocktail, and the Beetiful certainly wins our vote for most beautifully presented — the blood-red drink was served with a spoonful of cubed beet bites cooked with vanilla and sugar.

Carroll's picks, while not as outrageously presented, paired flawlessly with the meal. The 2011 Zagra from Valle dell' Acate delivered on Carroll's description as "sunshine in a glass," offering just enough acidity to balance Bortnick's heirloom tomato salad. Owen Roe Abbot's Table, the sole red wine of the evening and paired with Firefly's mini post roast, was also a standout pick and had many people at our table covertly asking for a second pour.

Though the end vote was close, one thing is certain: We're eager to see how Firefly's new beverage selection stacks up to the competition after the September 29 reopening.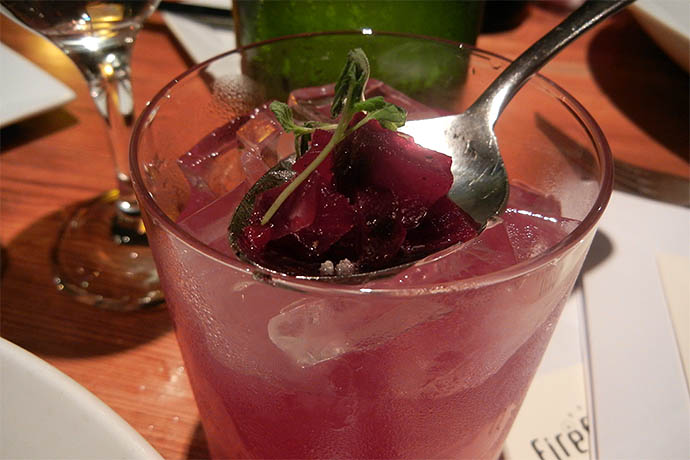 Photos by Lauren Sloat
Recent Articles

Feedback
How are we doing? Tell us what you like or don't like and how we can improve. We would love to hear your thoughts!