Ripple's Josh Berner Shares His Favorite Christmas Cocktail Recipes
Cocktail classes are set for January and February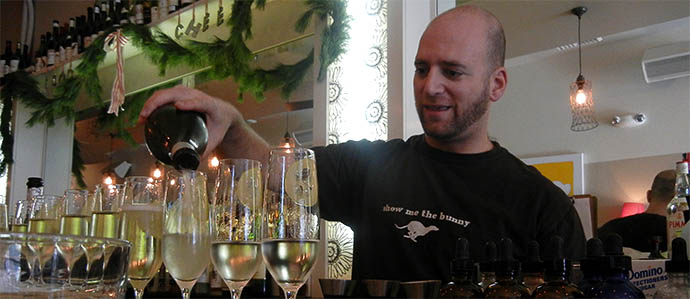 If there's one time of year to know how to make a great cocktail, it's during the always crazy, nonstop holiday season. Luckily, Ripple's resident mixologist Josh Berner has come to the rescue! While the Northwestern grad has applied his journalism degree and research skills to crafting nuanced libations at PX Lounge, Restaurant Eve, Bistro Bis and even the U Street location of Alero (where you can still ask for the Margarita Joshua), it's at the seasonally focused Cleveland Park bar and restaurant that he's begun teaching his skills to the general public in a series of themed classes. This month, Berner shares three festive, winter-worthy recipes.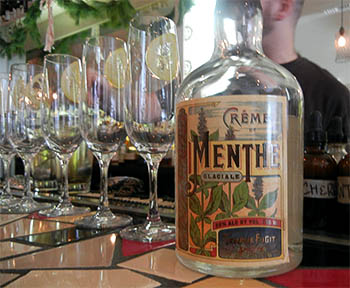 Eat the Lemon
"There's nothing better than Champagne to start off the night," says Berner, describing this light and minty cocktail garnished with a candied slice of lemon.

1 oz. Charbay Meyer Lemon vodka
½ oz. Tempus Fugit crème de menthe
2 dashes Fee Brothers peach bitters
4½ oz. sparkling wine

Stir vodka, creme de menthe and bitters with ice. Strain into a champagne flute and top with sparkling wine. Garnish with a candied lemon.

To make the candied lemon:
For 30 minutes, simmer lemon wheels (about 1/8 inch thick) in 1 cup water and 1 cup sugar. Strain. (You can keep the liquid to make a tasty lemon syrup).

Punch Me, I'm Irish!
Large-batch and long-lasting, this punch is something Berner recommends making up to a week in advance to keep on hand for holiday entertaining.

1 bottle Jameson Irish whisky
12 o.z Marie Brizzard Apry (apricot brandy)
12 oz. raspberry syrup (or, as was used in class, raspberry tea)
12 oz. water simmered with star anise, cinnamon, cloves, allspice for 5–10 minutes
12 oz .fresh lemon juice
8 tbs. confectioners sugar

Combine all ingredients in an airtight jar. Stir well. Refrigerate for 12–36 hours. Strain out solids. Before serving, stir again.

To serve: Pour 4-oz. punch over ice. Top with a splash of 7-Up. Garnish with fresh grated nutmeg and an orange slice. Makes 15-20 servings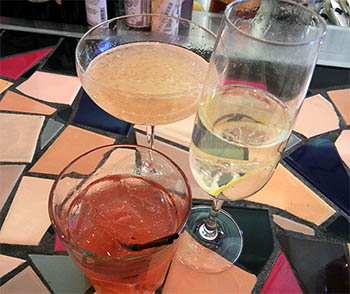 Sidecar
Berner calls this classic "the winter version of a margarita."

1½ oz. cognac
1 oz. Cointreau
½ oz. fresh lemon juice

Shake all ingredients with ice. Strain into a cocktail glass.

Next up in the winter series is a January 12 class on Champagne cocktails (perfect for ringing in the new year all month long, we say), followed by a Valentine's-appropriate Feburary 16 class on date night libations. The $45 class takes place from 3:30 PM to 5 PM and is inclusive of tax, tip, cocktails and a selection of bar snacks. Call 202-244-7995 or email josh@rippledc.com to reserve your spot.
Photos by Lauren Sloat
Recent Articles

Feedback
How are we doing? Tell us what you like or don't like and how we can improve. We would love to hear your thoughts!