Shake vs. Stir: Three Cocktail Experts Weigh In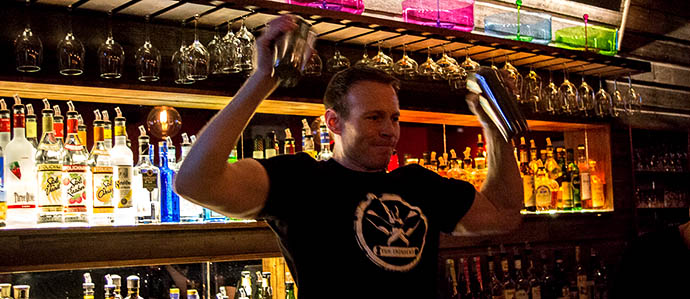 Shaken or stirred? The debate is one of the oldest in the cocktail world, with proponents of each fighting vigorously for their preferred method. But the answer isn't quite as clear cut as it may seem — the better query is "What should be shaken, and what should be stirred?" To get a professional take, we asked three renowned cocktail specialists to share theories on which cocktails should be shaken and which ones should be stirred, as well as opinions on ice. Next time you're wondering how to mix that drink, follow their expert advice.

First up, we spoke with Greg Seider, bartender at Summit Bar and beverage director at Moo Life Group.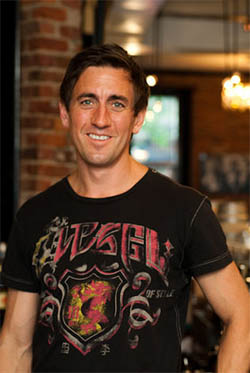 The Drink Nation: Why shake? Why stir?
Greg Seider: Shaking is good for citrus; it provides aeration and changes mouthfeel. Stirring provides no aeration — just mixing of ingredients, as well as some cooling.

TDN: Can you really bruise a gin by shaking it?
GS: Pretty sure that's more of a rumor than a fact.

TDN: Does that mean the shot luge is the best method of chilling spirits?
GS: Only if you found a way create a vortex and have the spirit rotate while going down the luge.

TDN: Bet we could. Wait... does this publication have a budget for that? [We'll see what we can do. — Ed.]
GS: I'd like to find a company that would make me that for my bar.

TDN: To clarify, are you saying an ice toilet would be the best way to chill a spirit?
GS: Are you sure you're a drinks writer?

After that elucidating exchange, we hit up, Joaquin Simo of Pouring Ribbons and Alchemy Consulting: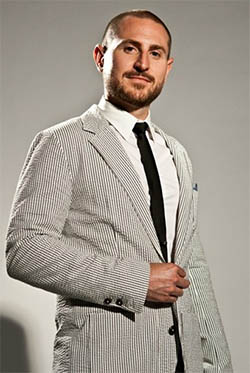 The Drink Nation: Explain the difference between shaking and stirring — pretend you're speaking to baby.
Joaquin Simo: A drunk baby?

TDN: There's plenty of drunk baby Twitter accounts. Do you follow drunk baby on Twitter?
JS: Um... No.

TDN: So, why shake versus stir?
JS: In general, it has to do with the texture of the ingredients and final product. Syrups, spirits, liqueurs and juices have very different viscosities, so with that mix you have to shake to combine. However, fortified wine, liqueurs and spirits have very similar viscosities, so if you're working with that combination of liquids, you can simply stir. Also, cocktails made with juice are designed to be refreshing, you want to shake them to aerate the drink. The goal is cold, wet velvet.

TDN: We want to drink cold, wet velvet?
JS: Yes. Yes you do.

TDN: What's the best ice to shake with?
JS: The stuff that comes out of your home freezer is best. Nice big chunks of hard, hard ice. Deli ice and home ice machines make ice like oversized contact lenses.

TDN: How much ice should one use?
JS: First, make sure you use clean, fresh ice. Use a little more than you think is necessary. You can't screw up a drink with too much ice. That being said, people always run out of ice!

TDN: You're right. So, lay it down for us: 20 people, three-hour cocktail party, how much ice?
JS: Think four to five drinks per person, so that's around 100 drinks. Order 50 pounds of ice. Most people have no place to store all that ice, so some will melt.

TDN: When you're ready to shake, how many shakes is the ideal number of shakes?
JS: Well, it depends on what kind of cocktail. If you're making a drink that is served in a stemmed glass, it will only ever be as cold as it will be when it leaves the tin. If the drink will be served over ice, you have to take that consideration as well.

TDN: And if you're stirring? How many stirs?
JS: Again, depends on what it is. But you mostly want it blindingly cold.

Last, but certainly not least, we chatted with Mayur Subbarao of Bittermens and Blueprint Spirits: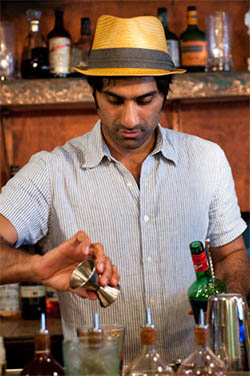 The Drink Nation: When and why do you choose to shake versus stir a cocktail?
Mayur Subbarao: If the cocktail contains juice, cream or eggs, it is getting shaken. Otherwise, stirring is the rule.

TDN: What is the best ice for shaking with a cocktail?
MS: It depends. I like either big ice or almost no ice at all depending on the drink. For drinks that will be served on the rocks, I tend to prefer whip shaking (shaking with just a couple of pebbles to emulsify everything). For drinks served up, I like to shake with a nice big rock.

TDN: And what is the ideal ice for stirring?
MS: It actually doesn't matter at all. The reason you want big ice for shaking is to control the rate at which dilution occurs. Essentially, you don't want excess water from the ice "leaking" into the drink too fast. When you go with stirring, you already control the rate of dilution.

TDN: So how do you know how long to shake/stir for?
MS: Good question. The shortest answer is "trial and error." The longer answer is that you test drinks for ideal temperature and texture. So for example, when stirring all my drinks, I used a probe thermometer in place of a bar spoon for a while and kept track of where they landed. Shaking is trickier. I really just judge by texture when shaking.

TDN: What temperature are you shooting for?
MS: -2°C. Possibly down to -5°C for a REALLY cold drink (that's about as cold as you can go). But I think that's too cold, unless you're worried the guest isn't going to take a sip promptly.

TDN: Let's go back to texture — what are you looking for?
MS: For stirred drinks, I like something as smooth as possible. You should be able to see how syrupy it looks when being poured from the mixing glass and know that it will work. For shaken drinks, it depends. If I'm whip shaking I want to see the entire drink come out looking like a foam before it settles. For full-shaken drinks, I expect creaminess and a half-inch "head." Unlike some people, though, I don't usually double-strain shaken drinks. I "close the gate" (meaning, I hold the edge of the strainer tight against the edge of the shaker) in order to minimize the number of ice chips), but I don't screen them out entirely.
Top photo by Danya Henninger; photo of Greg Seider by Vicky Wasik; Photo of Mayur Subbarao by Shannon Sturgis
Recent Articles

Feedback
How are we doing? Tell us what you like or don't like and how we can improve. We would love to hear your thoughts!