Bars with Jukeboxes in Washington, D.C.
by
Mara Kurlandsky
on Apr 22, 2014 in
Roundups
for
Big Hunt, The
,
Black Cat
,
Breadsoda
,
Dan's Cafe
,
Iron Horse Taproom
,
Raven Grill, The
,
Rocket Bar
,
Ventnor Sports Cafe
,
Wonderland Ballroom, The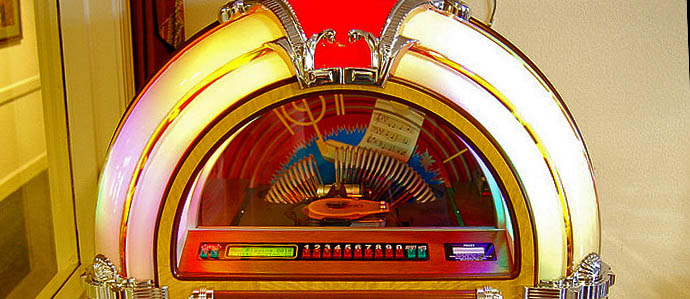 Beyond cheap beer, the presence of a jukebox is the quintessential hallmark of a D.C. dive. Below find some of our picks for where to trade the suit and fancy cocktails for your favorite jeans, a pint of whatever's on draft and an eclectic soundtrack of your choosing.
Big Hunt: You can't miss the brightly lit box when you enter this Dupont dive. Try one of the joint's own brews (Bad Ass Amber Bock or Lite Ass brew, anyone?) for just $2.50 during happy hour (1345 Connecticut Ave. NW; 202-785-2333).
Black Cat: It's only fitting that the Red Room Bar at this 14th Street music venue boasts a jukebox of its own — grab a beer post-set and you may just catch the band flipping through the indie-tastic selections (1811 14th St NW; 202-667-4490).
Rocket Bar: From shuffleboard and skeeball to pool and — yes — a jukebox (not to mention three bars), there's plenty with which to stay entertained at this subterranean Gallery Place spot...and rail drinks are just $4 between 4PM and 7PM daily (714 7th St. NW; 202-628-7665).
Stetson's: Head upstairs at this U Street institution for the jukebox, darts and a round of pool — go on a Monday for half-price burgers or Friday between 4:30 and 8 PM for 25-cent wings (1610 U St. NW; 202-667-6295).
Pharmacy Bar: The classics-packed jukebox is many a drinker's favorite feature at this apothecary-themed watering hole in Adams Morgan — just one of many reasons why Pharmacy Bar is a welcome respite from the strip's otherwise clubby vibe ((2337 18th St. NW; 202-483-1200).
Dan's Cafe: Nobody does "dive" better than Dan's, where the drinks are cheap, the bar is cash only and the jukebox hasn't been updated since you were in elementary school. Of course, it makes complete sense that patrons can play DJ while also mixing their own drinks (2315 18th St. NW; 202-265-0299).
The Raven: If the writing on the bathroom walls doesn't keep you entertained, then the tunes on the jukebox surely will. Mount Pleasant hipsters pack this tiny watering hole for cheap beer, good tunes and friendly bar staff (3125 Mt. Pleasant Ave. NW; 202-387-8411).
All Souls Bar: This Shaw newcomer prides itself on simplicity - it offers only three classic cocktails and makes sure they're done right. The jukebox has an eclectic mix of old soul, R&B, and jazz — the perfect soundtrack to sipping their signature cocktail (sparkling rose with a shot of Maker's Mark) at the elegant curved copper bar. (725 T St NW; 202-733-5929)

Board Room: All the board games from your childhood plus your new adult favorites (Cards Against Humanity sets get snapped up early) plus TV, plus video games, plus beer. Could you really ask for anything more? Yes - a jukebox that also speaks to your inner hedonist - it's loaded with plenty of 80's hair metal, 90's pop and country.
(1737 Connecticut Ave NW; 202-518-7666)
Iron Horse Tap Room: It's hard to pull off trendy motorcycle bar without seeming cheesy, but this Penn Quarter bar manages it with a strong focus on a huge selection of craft beers on draft and a quality jukebox selection to get your mind focused for games of skeeball and shuffleboard. Happy hours give you $2 off all drafts. (507 7th St NW; 202-347-7665)

Ivy & Coney: If you're from Detroit or Chicago (or have a deep love of the Midwest), you'll feel instantly at home in this divey hometown bar. The jukebox plays Motown and blues and all your favorite beers are here: Strohs (always $3), Goose Island 312, and of course Bell's Two Hearted. Ask one of the owners nicely and he may do his Harry Carey impression for you. (1537 7th St NW; 202-670-9489)
Showtime Lounge: Tiny Bloomingdale dive Showtime Lounge is killing it: both Washington Post and Washington City Paper called their jukebox the best in the city. The love of music extends onto the walls with some sweet murals of local music legends, and the jukebox is appropriately named "The Treasure Chest." Come for the mix of old-school rap, blues, R&B and rockabilly, and stay for the $3 cans, $4 wine, and $5 whiskeys. (113 Rhode Island Ave NW; no phone)
Trusty's Full-Serve Bar: When they say Full-Serve, they mean full serve. The jukebox at this friendly Capitol Hill neighborhood bar has pretty much anything you could want. But since you'll sipping your beers from a mason jar on the patio, may as well through on some classic rock and enjoy the nice weather.
(1420 Pennsylvania Ave SE; 202-547-1010)

Looking for more tunes? Try these other great bars with jukeboxes: Atomic Billiards, Toledo Lounge, The Wonderland Ballroom,Ventnor Sports Cafe, Buffalo Billiards, Breadsoda, H Street Country Club
Photo via Flickr user danorth1
Tags:
Bar Crawl
,
Beer
,
Cocktails
,
Music
,
Wine
Recent Articles

Feedback
How are we doing? Tell us what you like or don't like and how we can improve. We would love to hear your thoughts!