Cherry Blossom Festival Drink Specials, March 20-April 14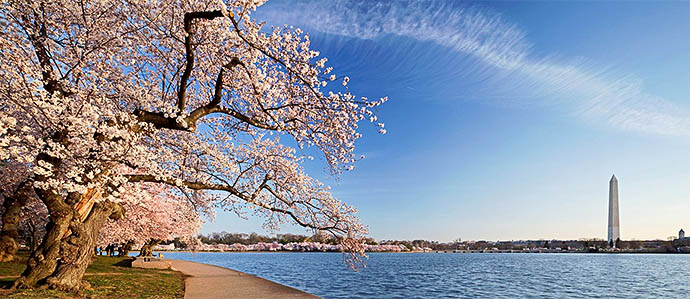 There's a lot going on in D.C. this spring, but one of the most enduring (and most beautiful) is the National Cherry Blossom Festival. For the 101st year, the city and the nation will celebrate the Tidal Basin's 3,000-plus cherry trees with galas, cruises, dinners and — of most importance — cherry-themed drink specials. Here's a roundup of cherry-related things to drink and to do around Washington for the festival this year.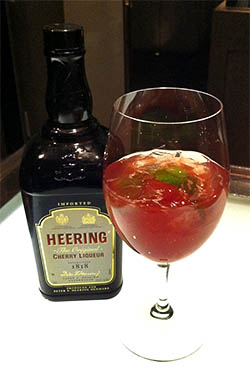 Zaytinya
Jose Andres' Mediterranean goes all-American with the drink special. The Southern Blossom is made with bourbon, cherry blossom syrup, rhubarb aperitif and citrus ($15).
Legal Sea Foods
At the Chinatown outpost of this seafooder, sip on a Cherry Blossom, made with Cherry Heering, lemon, Fee Brothers cherry bitters and cava ($10). The restaurant is also offering four cherry-inclusive food dishes.
Blue Duck Tavern
In the West End, the Blossom is for drinking. This concoction is a combination of actual cherry blossom syrup, Cherry Heering, Prairie vodka, Pok Pok Som honey drinking vinegar, lime zest, Amarena and Maraschino cherries and a splash of soda ($14).
Oyamel
Jose Andres' Penn Quarter Mexican puts a fiesta touch on the fest with La Japonesa, made with tequila, cherry liqueur, cherry blossom soda and lime ($15).
District Commons
The Gin Rickey is the official drink of DC, and here it gets a cherry twist. Small's gin mixes with Leopold's cherry liqueur, lime juice, Fee Brothers cherry bitters and soda, and is topped with a cherry garnish.
Jaleo
There's nothing particularly Spanish about the special at this Jose Andres spot, it just tastes good. The Sakura DC includes gin, cherry blossom syrup and triple sec ($15).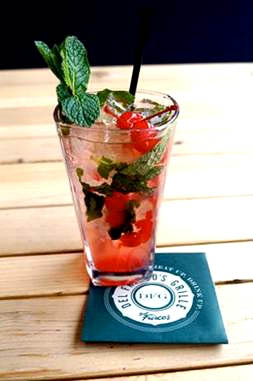 Del Frisco's Grille
At this Penn Quarter steakhouse, you'll find a special cherry mojito, made with muddled cherries among the leaves of fresh mint. If you're hungry, order the seared scallops with a cherry gastrique.
Assaggi Mozzarella Bar
Out in Bethesda, you can toast spring with the Assaggi Jubilee, made from cherry vodka, triple sec, crushed fresh cherries and prosecco ($13).
Art and Soul
The Capitol Hill spot goes Asian with a special cocktail combining vodka, sake, cherry reduction ginger, yuzu and a fresh rose ($11). There's also a $55, three-course Japanese dinner including pork buns, grilled tuna and an yuzu-ginger dessert.
Quill
The lounge at The Jefferson is offering the Sparkling Sakura, made with cherry puree, cherry blossom syrup (from a cherry blossom tea infusion) and prosecco.
Ceiba
The Cherry Blossom Combo matches the Cereza Bloom cocktail (Veev açaí spirit, Leopold's Cherry, sour mix; $10) with an appetizer of duck meatballs and cherry ranchero salsa ($9).
Lincoln Restaurant
Sunday April 14, 10:30 AM-4 PM
A full slate of chef Demetrio Zavala's cherry-inspired dishes will be served alongside cherry blossom bellinis with house-made cherry sorbet.
Mari Vanna
The Dupont vodka haven is offering both a signature cherry blossom cocktail and sipping shots of house-infused cherry vodka.
Brasserie Beck
The Awesome! Blossom! cocktail at the Belgian spot not only contains exclamation points, it also has Hennessey, cherry brandy, house-made grenadine, and fresh lemon.
51st State
The Foggy Bottom tavern will featuring a signature cocktail called the Cherry Blossom and also serve Potomac Punch.
Boqueria
The Dupont tapas house is offering a cherry-lime-cava sangria. To make it, pitted cherries are soaked for 24 hours in a mixture of raw sugar simple syrup, vodka, lime juice, patxaran and toasted vanilla beans. The cherries are then removed, and the remaining liquid is mixed with a half-pitcher of cava.
Spirit of Washington Dinner Cruises
March 21–April 7
Monday–Thursday, Boarding time 6:30 PM, Cruise 7 PM–10 PM
Friday–Saturday, Boarding Time 7:30 PM, Cruise 8 PM–11 PM
Sunday, Boarding time 5:30 PM, Cruise 6 PM–9 PM
Join Spirit Cruises in celebrating the history and beauty of our decorated Potomac River bank during the National Cherry Blossom Festival. Prices start at $77.90 per person.
Cherry Blast Art & Music Dance Party
Friday, March 29, 8 PM–2 AM
500 Penn Street, NE
A multi-media festival filled with visual and performance art, cutting-edge DJs and interactive sensory experiences. Tickets are $10 per person.
Taste of Japan Gala
Thursday, April 4, 7–9 PM
Carnegie Library – 801 K Street, NW
A celebration of Japanese culture and springtime. Enjoy food from premier Japanese restaurants in the area and sample sake and craft beer by brewers from Japan. Tickets start at $100 per person.
Tags:
Cocktails
,
Holiday
Recent Articles

Feedback
How are we doing? Tell us what you like or don't like and how we can improve. We would love to hear your thoughts!