Ping Pong Dim Sum "Mans Up" Cocktail Program
The U.K.-Based Dim Sum Eatery Adds Mixologist Chris Bassett to Team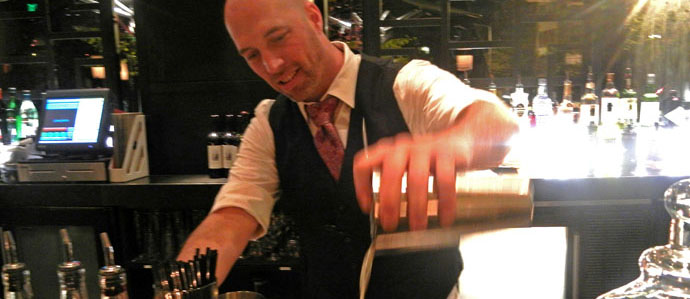 When Chris Bassett left a consulting gig with PX's legendary mixologist Todd Thrasher to join the team at Dupont's Ping Pong Dim Sum, he had one goal in mind: to "man up" a cocktail list that, while delicious, was known more for drinks such as the lychee-and-roses martini than it was for bold, rich flavors.
Applying a personal love of Asian ingredients to a lineup of more old-school drinks, Bassett's take on classics like the Old Fashioned, Margarita, and Negoroni are reinvented with notes of spice and smoke.
On cold nights, warm up with the Chinese Warm Winter Punch, a rum and Punch Abruzzo-based sip steeped in cloves and orange zest, and served with its own carafe of hot chocolate tea — so you can dilute with as much or as little as you like.
With whiskey, tobacco liqueur and chocolate bitters, the Chocolate and Tobacco Old Fashioned is sure to become one of Ping Pong's most popular drinks this season; its brown sugar and chocolate notes just sweet enough for mass appeal but with hints of tobacco and smoke for that bolder edge.
Top off the evening (or start the night, if that's how you roll), with the deliciously rich Pop Raisin Alexander. A sweet complement to Ping Pong Dim Sum's Chinese chocolate and sesame doughnuts, this drink is made with Cognac and Pedro Ximenez Triana, shaken with half and half and white cacao, and served in a coup glass with chocolate popping candy. You may need to roll yourself home afterward, but it's well worth it.
Because he's "not mature enough to drink Scotch by itself," Bassett's favorite cocktail — made with Yamazaki single malt whiskey, chartreuse, lemon juice and honey-infused green tea — is the Emperor's Cure, followed by the Yuzu and Ginger Sour (which uses bourbon, fresh ginger syrup, and a plum wine float).
All the new additions pair nicely with Ping Pong's also-new collection of signature dishes, such as spicy braised pork belly and crispy beef, served in decidedly larger portions than usual — still shareable but perfect for those who never quite got the appeal of small plates. Men: Raise your chocolate and tobacco Old Fashioned...we're looking at you.
Tags:
Cocktails
Recent Articles

Feedback
How are we doing? Tell us what you like or don't like and how we can improve. We would love to hear your thoughts!